Above: Fernilee Gunpowder Mill expanded significantly between 1846 and the late 1890s. The trees along the C&HPR track to the right also show that it had been abandoned.
The detailed 1846 plans of the valley discovered by Alan Roberts for his research into the proposed railways are the earliest I've ever seen. So it's fascinating to compare them with OS maps from the late 1890s. I've highlighted a couple of examples in the fades below. Simply click the 'Now' button to see the later view, or drag the green slider.
Fernilee Gunpowder Mill (which now lies under the northern end of Fernilee Reservoir) had significantly expanded during the last half of the 19th Century, including the construction of a network of tramways to transport materials and gunpowder around the site.
Nearby Masters Farm also seems to have doubled in size. The Cromford & High Peak Railway track is on the far right. This was opened in 1831 but closed in 1892  and shown as 'disused' on the later map, and looks like it had become covered with trees.
In the hamlet of Goyt's Bridge (which now lies under the southern end of Errwood Reservoir) a fairly substantial building behind Errwood Cottage had been demolished by the 1890s. And Goyt's Bridge school erected in the garden (above FB). There were also changes to both Goytshead and Goytsbridge farmhouses and outbuildings.
Grimshaw to Grimshawe
Another point of interest is revealed in the list of local land-owners. The spelling of the local squire's surname, Grimshaw, had gained an 'e' between 1846 and the late 1890s.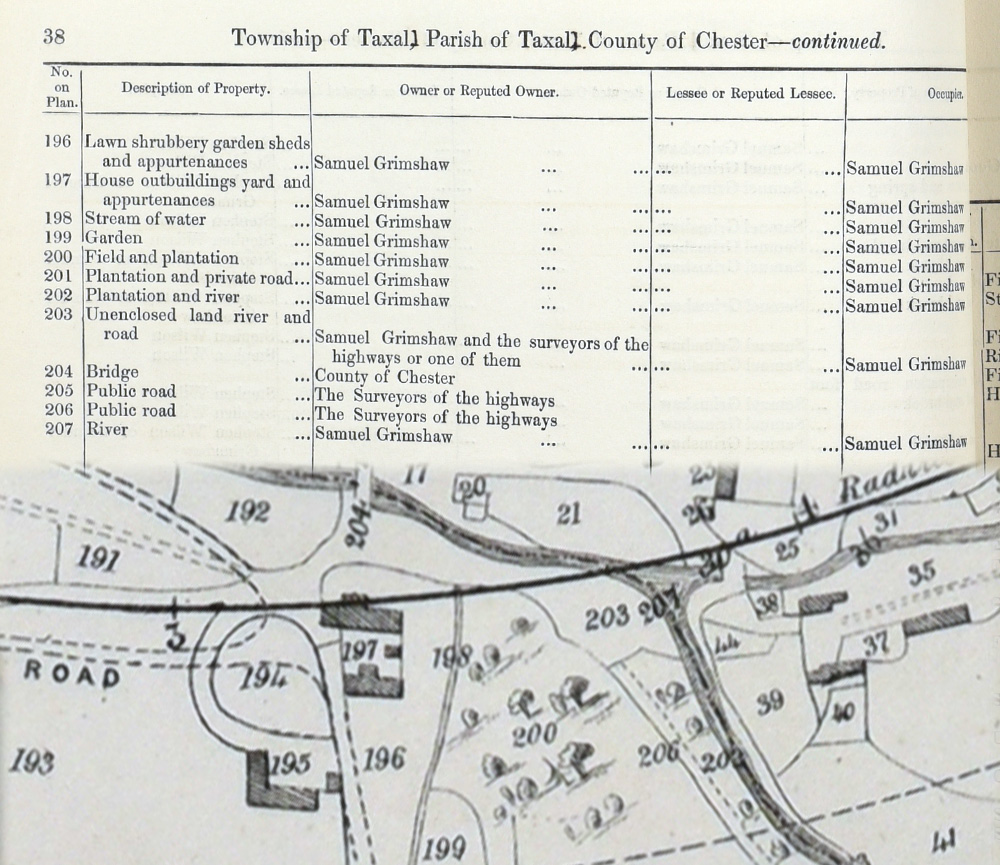 Above: The plans include a highly-detailed list of local landowners. Samuel Grimshaw is shown as both owner and occupier of virtually everything in Goyt's Bridge, including the river. But not the roads and bridges. (Click to enlarge.)
Samuel had purchased the 2010 acre Errwood Estate in 1832. But as far as we know he never lived at Errwood Hall. The building work was overseen by his son, also called Samuel, and completed around 1845. The son then moved into the hall and inherited the entire estate on the death of his father in 1851.
The younger Samuel died in 1883 and the inscription on his cross in the hill-top graveyard above Errwood Hall spells his surname as Grimshawe. I'd have expected the spelling of his father and mothers' 1851 memorial in Taxal Church to be without the 'e'. But seemingly not (see below). So perhaps this was a decision agreed by both father and son.
I'm not sure of the significance of the extra 'e'. Perhaps they simply considered it to be more sophisticated and less 'northern'.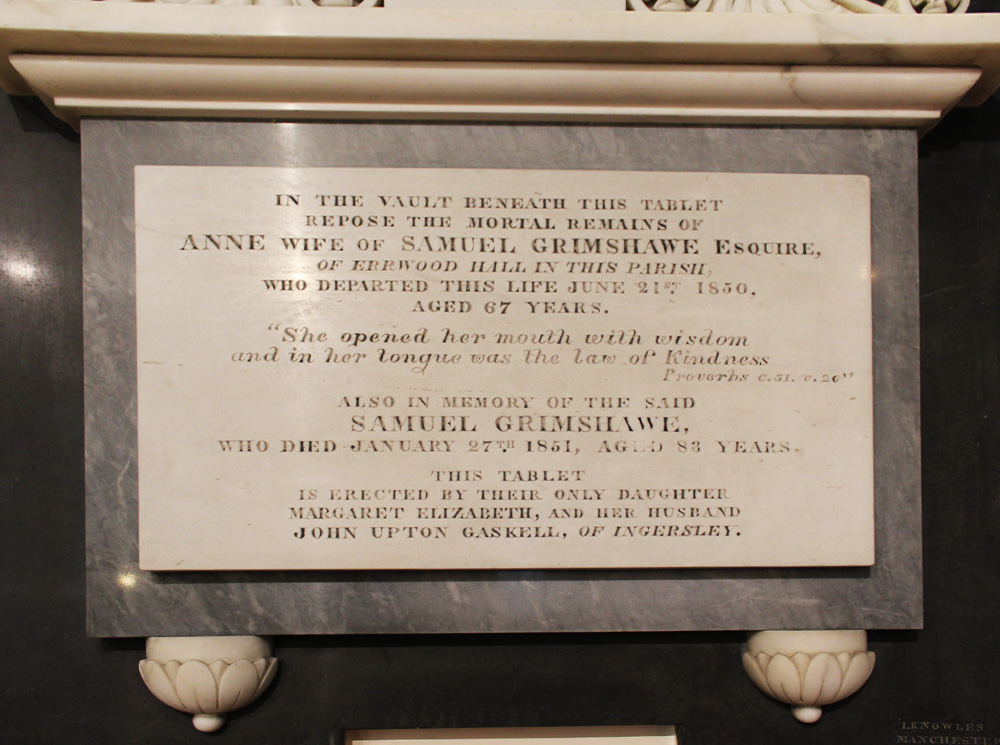 Above: The absence of Samuel's name from his parents' memorial seems to reveal a falling-out between him and his sister (click to enlarge). Possibly over his conversion to Catholicism soon after their father's death.