Above: Anne and Samuel Grimshawe's memorial in Taxal Church.
Although it's usually locked, Taxal Church is well worth a visit if you can get hold of the key. There are some fascinating memorials inside, including one to George II's 'Yeaoman of the Mouth'. He was the king's food taster and died in 1768 at the ripe old age of 75, which considering the amount of rich food he must have eaten, seems quite an achievement!
The most prominent memorial lies at the foot of the chancel and is dedicated to members of the Jodrell family, one of whom fought at the Battle of Agincourt in 1415.
It was a later member of the Jodrell family who sold Samuel Grimshawe the Errwood Estate – in 1832 for £9250. There's a memorial to Samuel's son – also called Samuel – and his wife Anne, on a nearby wall.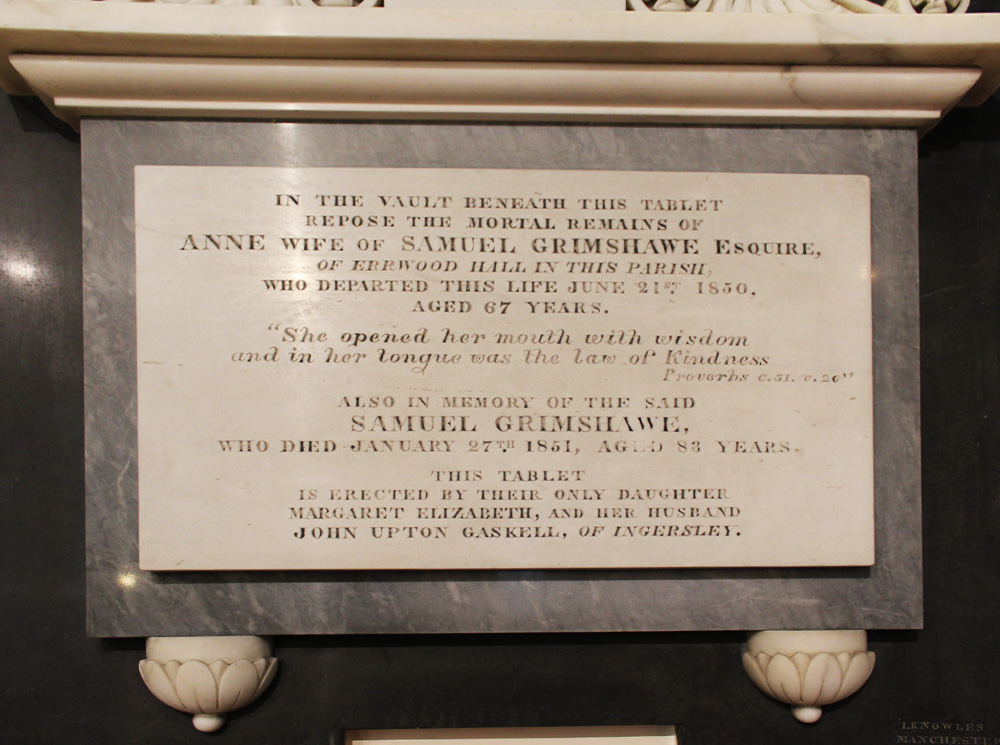 The inscription (click to enlarge) says it was erected by their only daughter – Margaret Elizabeth Grimshawe, and her husband John Upton Gaskell, of Ingersley. Margeret's mother, Anne, died in 1850 aged 67, and her father, Samuel, the following year at 83.
Margaret and John's son, Fredrick Upton Gaskell, features in the set of four hunting party photos taken outside Errwood Cottage in the 1880s (click to view)
The Gaskells had lived at Ingersley Hall in Bollington since 1775. It was purchased by a Catholic religious order in the 1950s and renamed Savio House. It's now used as a retreat.
Samuel Grimshawe converted to Catholicism on the death of his father in 1851, and was a great benefactor to the Church. He donated £100 towards the building of  St Anne's Church in Buxton, and his seven-year-old daughter, Genevieve, laid the foundation stone in 1860.
As a local magistrate, Samuel faced considerable criticism when he converted. One writer to a Manchester newspaper in 1852 complained:
And is the Samual Grimshaw who introduced this pseudo bishop, Samual Grimshaw, Esq. the county magistrate, who lately apostatized from the Protestant faith, and who lately had a mass-house consecrated by the aforesaid pretended bishop, for family, as well as public, service? If this be so, is this not a case for the just interference of the government? Is it fit that the said Mr. Grimshaw should be continued a magistrate?
Family conflict?
The fact that the memorial doesn't mention any contribution by Margaret's brother makes me wonder whether there may have been some family conflict over Samuel's conversion to Catholicism. It's also fairly unusual – at that time – for the wife's name to appear above the husband's, even if she pre-deceased him.
But perhaps the biggest question is why Samuel wasn't buried alongside his wife, given that they died only a year apart. I'll update this page if I discover any more facts.