Above: Children in their 'Sunday Best' pictured near the school to the rear of Gatehouse Cottage. There are lots more photos on this website. Select from the top menu to view them.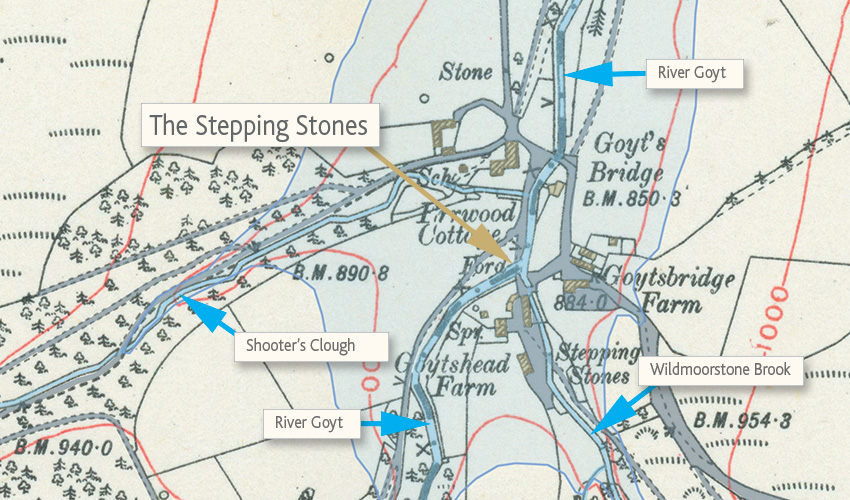 I've traced the position of places now lost under the twin reservoirs on old OS maps, and also shown the areas now submerged in blue. This one shows the much-photographed Stepping Stones in the centre of Goyt's Bridge. Click on any of these maps and they should enlarge.
The construction of the two reservoirs – Fernileee completed in 1937 and Errwood in 1968 – completely changed the landscape of the Goyt Valley. But providing clean drinking water to the fast-growing industrial town of Stockport and surrounding villages came at a considerable cost to families who had lived and worked in the Goyt Valley for many generations.
The tiny hamlet of Goyts Bridge with its one-room school and stone-built farm houses disappeared beneath the cold waters of Errwood Reservoir. And perched on the slopes above, the grand country house of the local land-owners, Errwood Hall, was torn down stone by stone. Life in this wonderfully scenic valley was never going to be the same again.

Above: Errwood Hall in all its former glory, and the sad scene today (click to enlarge).
Thanks to some local enthusiasts, including local author Gerald Hancock, I've managed to post a unique collection of old photographs of the valley which provide a fascinating picture of life before the flood. There's even a couple of videos taken during the construction of Fernilee in the 1930s.
Simply click on the links at the top to view any of these pages. And please do get in touch if you have any information or photos you'd like to share. (I won't publish anything without prior approval.)