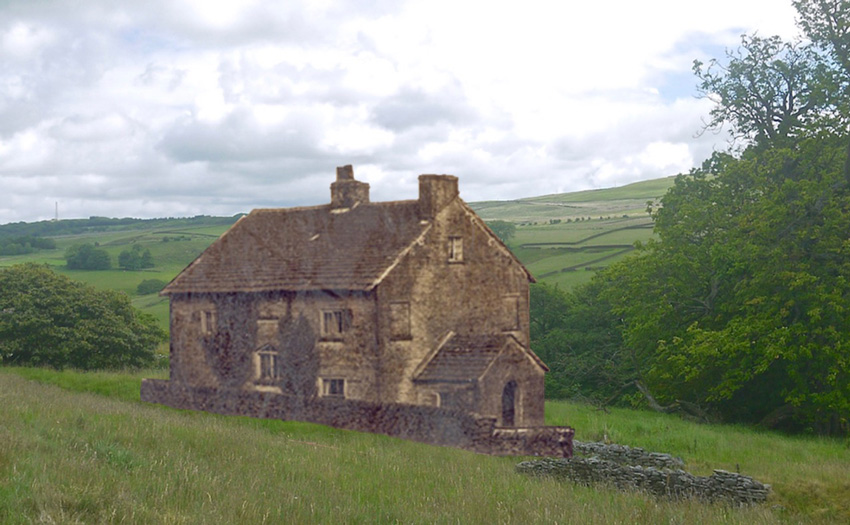 Above: The old photo superimposed on exactly the same position in the landscape today (click to enlarge). My thanks to George for sending it.
Sarah Dugdale sent a message back in 2013 saying her grandparents once lived at Errwood Farm. But that although she understood it had been the lowest-lying farm not to be submerged, she's been unable to locate the ruins.
Click here
to read her message on the Guestbook page.
I've found an old photo marked 'Errwood Farm' (above). But haven't been able to find it marked on any of the old pre-reservoirs maps. But I'm now wondering whether it's the buildings shown on the map below as 'Errwood'. I think the curved stone walls on the fields opposite could be those marked 'Barker Brow' on the map.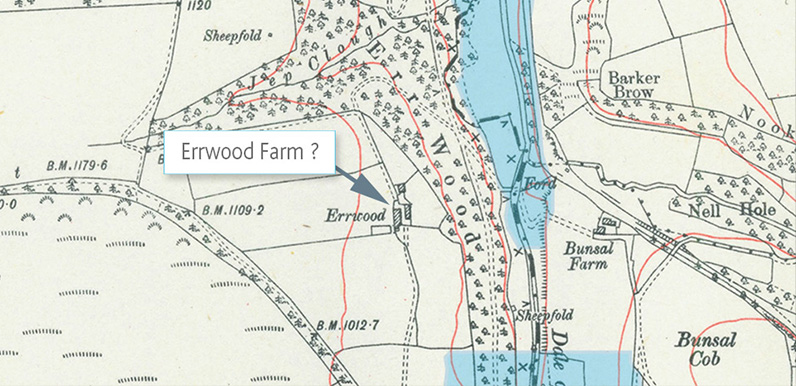 The track on the bottom left of the map is the old Roman road, The Street, and heads up from the main car park towards Pym Chair. I've also overlaid the two reservoirs in pale blue – Fernilee to the north and Errwood below – to show where the ruins could lie.
I no longer live in Buxton, otherwise I'd nip out to check. But I think I can recall some stones in the grass around here which could well have been the ruins of Errwood Farm. So if anyone fancies a challenge, it would be great to answer Sarah's quest to find where her grandparents had lived. And any photos would be an added bonus – particularly if you could get the same angle with the field walls in the distance.
If you think you can help, simply add a comment below. Or click here to send me a message.

Page updates
Click here to view a more recent page about Errwood Farm, with census records of the families who once lived here.
And click here to view a composite image of the farmhouse superimposed on today's landscape, with 'then and now' fades.