Above: Castedge Farm Cottage in its prime.
Above inset: Kathleen Nall (second from right) with her parents and (presumably) elder brother and sister.
On the far right is her friend, Brenda Hewitt, who lived at the nearby Shooters' Clough Cottage.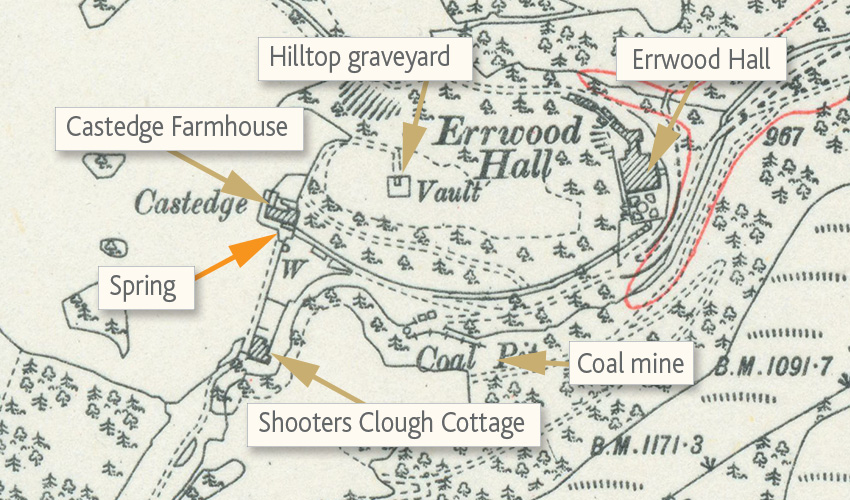 Above: This 1890s map shows the position of the spring. (Click to enlarge.)
The 'then and now' fade below features one of my favourite photos of the Goyt Valley. It shows Kathleen Nall gathering water from the spring outside her family home, Castedge Farm Cottage.
Simply click either button to fade between the old and the new, or drag the green slider.
The attractive cottage is now a sad pile of stones lying behind the ruins of Errwood Hall, and below the Grimshawe family graveyard. But the spring is still there, within the wall on the opposite side of the path.
The Nall family doesn't appear in any of the census records we've managed to find. So it's likely they moved into the house sometime after 1911.
I'd guess the photo would have been taken in the late '20s or early '30s, shortly before all the buildings in Goyt's Bridge were demolished during the construction of Fernilee Reservoir.
The house at the other end of the path is Shooters' Clough Cottage. Again this is now just another pile of stones. But at this time it was the home of the manager of the nearby coal mine, Jack Hewitt, and his family.
On the left are the cottage gardens which once provided vegetables to Errwood Hall. And on the hillside on the right it's still possible to make out the Grimshawe family's tennis court.