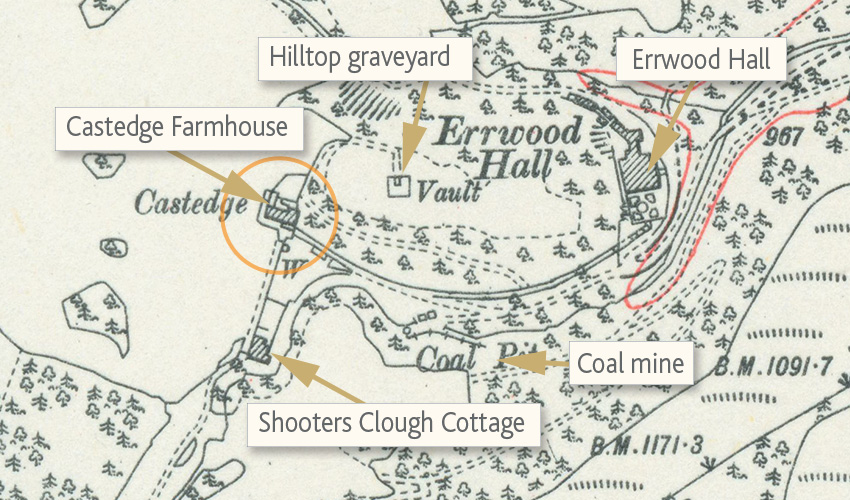 This 1890 map shows Castedge Farmhouse lying below the Grimshawe family's hill-top mausoleum, and close to Errwood Hall (click to enlarge).
I think the other Castage mentioned in the census may be Shooter's Clough Cottage. In the early 1900s this was home to the mine manager, Jack Hewitt, and his family.
Castedge Cottage
Castedge is probably the most visited of the farmhouses that were demolished in the 1930s. But few people realise as they pass by the ruins. Today, it's just a sad pile of stones at a junction of footpaths (see inset above), below the Grimshawe family's hill-top graves. But at one time, it was quite a substantial building.
The spelling of the name seems to have changed from Castage to Castedge* – which makes the census records slightly confusing (see below). And there's more than one building listed under the name Castage.
There was another cottage close-by which Gerald Hancock in his Goyt Valley Romance identifies as Shooter's Clough Cottage, and was home to the manager of the nearby coal mine. So I'm guessing this could be the other building.
Looking at the census records, there was a steady change of families living here – virtually one every 10 years. (My thanks to Mike for providing the census records.)
Thomas Braddock is listed as a gamekeeper in the 1881 census. His grave lies in the Grimshawe family's hill-top cemetery. The stone also includes the name of his daughter, Elizabeth, who died aged just 19 in 1903, which puts the year of her birth at either 1883-4. By the time of the next census in 1891, the Braddock family seems to have moved away from Castedge so she doesn't appear on these records.
*Mike has forwarded me a link to a site listing changes in place-name over the years (click to view). It shows that this location was first mentioned in 1629 as Castid, then Castids in 1665, followed by Castage in 1831. The easiest OS map I've seen calling it Castedge is dated 1890.

Page update 7.3.22:
I hadn't realised that Mike has family connections to Castedge Farmhouse. He writes:
"My 2x great grandparents – John and Elizabeth Carter – are shown in the 1871 census returns (below). At that time he was the Farm Bailiff. In the previous 1861 census he was living in Errwood Hall as Butler and newly married. My great grandmother – also Elizabeth – was born in Errwood Hall in 1862. By the 1881 census he was in Buxton, running a lodge. When looking at the hall history he was probably replaced with the butler from France, and the yacht captain later replaced him as Farm Bailiff."
Surname
First name
Born (Died)
Relationship
Occupation
Birth place
1841 Census (Castage)
Hulse
William
c.1809
Head
Ag. labourer / Gamekeeper
Fernilee
Hulse
Mary
c.1806
Wife
Fernilee
Hulse
Ellen
c.1827
Daughter
Fernilee
Hulse
Samuel
c.1831
Son
Fernilee
Hulse
William
c.1832
Son
Fernilee
Hulse
Jane
c.1835
Daughter
1851 Census (Castage)
Brown
William
Head
Agricultural labourer
Bakewell
Brown
Anne
Daughter
Bakewell
Brown
Maria
Daughter
Bakewell
1861 Census (Castage House)
Lupton
Robert
c.1836
Head
Head shepherd
Berry Brow
Lupton
Ellen
c.1845
Wife
Berry Brow
Lupton
John
c.1852
Son
Taxal
Lupton
George
c.1854
Son
Taxal
Lupton
Joseph
c.1856
Son
Taxal
Lupton
Robert
c.1861
Son
Taxal
Weston
Edward
c.1839
Under shepherd
Taxal
Flyn
Bridget
c.1847
Servant
Ireland
1871 Census (Castage)
Carter
John
c.1816
Head
Farm bailiff
Kirby Hill
Carter
Elizabeth
c.1829
Wife
Macclesfield
Carter
Elizabeth M
c.1862
Daughter
Taxal
Carter
Charles A
c.1864
Son
Taxal
Carter
Catherine
c.1866
Daughter
Taxal
1871 Census (Castage Cottage)
Morten
John
1843
Head
Gamekeeper
Taxal
Morten
Martha
1846
Wife
Taxal
1881 Census (Castage)
Reidy
John
c.1846
Head
Farm steward
Ireland
Reidy
Mary
c. 1849
Wife
Dairy maid
Ireland
Reidy
Pierce
c.1871
Son
Ireland
Reidy
James
c.1873
Son
Ireland
Reidy
John
c.1875
Son
Ireland
Reidy
Joanna
c.1876
Daughter
Ireland
Reidy
Patrick
1879
Son
Taxal
Braddock
Thomas
c1841
Head
Gamekeeper
Disley
Braddock
Ann
c1845
Wife
Laundress
Disley
Braddock
Joseph
c1868
Son
Whaley Bridge
Braddock
Mary H
c1871
Daughter
Whaley Bridge
Braddock
Margaret
c1879
Daughter
Taxal
Braddock
James
c1881
Son
Taxal
1891 Census (Castage Farm)
Edge
Thomas
c.1851
Head
Farmer
Buxton
Edge
Maria
c.1845
Wife
Whaley Bridge
Edge
Sarah Jane
c.1876
Daughter
Kettleshulme
Edge
Mary Hannah
c.1879
Daughter
Fernilee
Turner
Fredrick
c.1876
Nephew
Stockport
Turner
Lillian
c.1880
Niece
Buxton
Turner
Alice
c.1883
Niece
Buxton
1901 Census (Castage No.1)
Edge
Thomas
c.1851
Head
Farmer
Buxton
Edge
Maria
c.1845
Wife
Whaley Bridge
Edge
Sarah Jane
c.1876
Daughter
Kettleshulme
Whelan
Martha
c.1873
Boarder
School mistress
Ireland
1901 Census (Castage No.2)
O'Brien
Justine Marie Paculine
c.1864
Head
Dressmaker
Dubasque
O'Brien
Madeline
c.1890
Daughter
Errwood
O'Brien
Harry
c.1892
Son
Errwood
O'Brien
Genevive Irma R E
c.1894
Daughter
Falmouth
1911 Census (The Castage No.1)
Critchlow
James
c.1882
Head
Ag. labourer
Buxton
Critchlow
Minnie
c.1885
Wife
Dartmouth Derbyshire
Critchlow
Mary
c.1906
Daughter
Errwood Taxal
Critchlow
Nora
c.1908
Daughter
Errwood Taxal
Critchlow
Winifred
c.1910
Daughter
Errwood Taxal