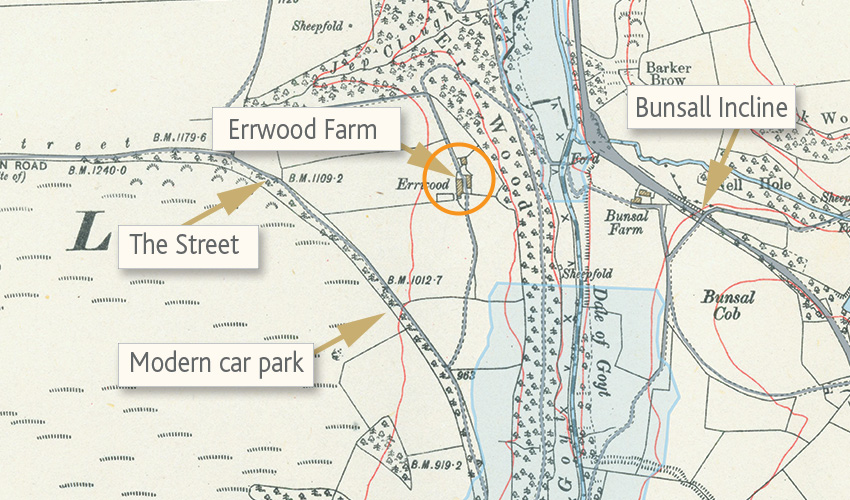 Above: This 1907 map (click to enlarge) shows where Errwood Farm once stood. The blue shaded area shows the twin reservoirs today. I've also marked the position of the main car park.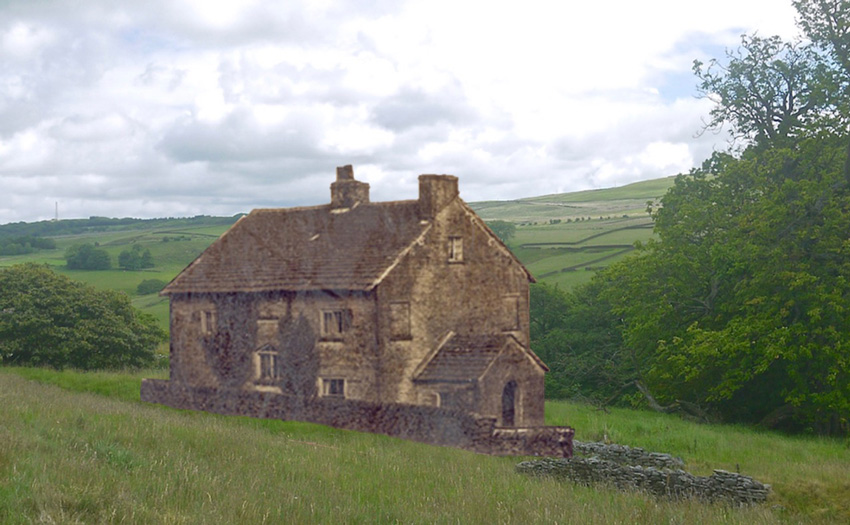 Above: An old photo of Errwood Farm superimposed on the same spot today (click to enlarge). My thanks to George for sending it.
Click here to view a 'then and now' fade of the old and new photos.
Above: This photo is one of very few I've found of the farmhouses that were demolished in 1934. It's possible to find some remains if you walk from the main car park towards Fernilee Reservoir, go though the small gate, and then head diagonally left up the slope.
Errwood Farm
The first recorded tenant of Errwood Farm was Daniel Rose in the 1851 census. But it was his son-in-law, Thomas Swindells, who seems to have been the farmer. Errwood Farm was one of the largest on the estate, and the family could afford a servant, Sarah Capwell.
Gerald Hancock, author of 'Goyt Valley Romance', thought that Samuel Grimshawe's son – also called Samuel – may have stayed here whilst supervising the construction of Errwood Hall in the early 1840s.
The Swindells were followed by the Ferns family. And then the Hibberts and the Brocklehursts.
John Hibbert was recorded living here in 1891, together with his younger brother, Joseph, and sister, Ellen. By 1901 he was living by by himself. And in 1911, following his parent's death, he had moved back to Bunsal Farm to join is brother and sister. John's brother was Thomas Bennett Hibbert (see 'Tracing TB Hibbert').
I'm not sure if the Brocklehursts were the last tenants of Errwood Farm. I received a message some time ago from Sarah Dugdale who thought her grandparents, George and Edith Dugdale, may have lived here with their three children. (Click for details.)


Page updates:
Gail has managed to track down the press clipping above dated 2nd August 1929 showing that the Dugdales were advertising holiday lets at Errwood Farmhouse for 2 guineas a week. So it's likely they were the last tenants before the farmhouse was demolished in the 1930s.
15.3.22: Click here to read about the years Errwood Farmhouse served as a Youth Hostel.
Surname
First name
Born
Relationship
Occupation
Birthplace
1851 Census
Rose
Daniel
1777
Head
Agricultural labourer
Wildboarclough
Swindells
Thomas
c.1800
Son in Law
Farmer
Kettleshulme
Swindells
Martha
1808
Wife
Bollington
Swindells
William
1845
Grandson
Taxal
Swindells
Hannah
1849
Granddaughter
Taxal
Swindells
Jonathan
1850
Grandson
Farmer
Taxal
Capewell
Sarah
1831
House servant
Taxal
1861 Census
Swindells
Thomas
c.1800
Head
Farmer 80 acres
Kettleshulme
Swindells
Martha
1808
Wife
Bollington
Swindells
Hannah
1849
Daughter
Taxal
Swindells
Jonathan
1850
Son
Taxal
Swindells
Elizabeth
1853
Daughter
Taxal
1871 Census
Fern
John
1811
Head
Farmer 70 acres
Hartingdon
Fern
Mary
1812
Wife
Alstonfield
Fern
James
1836
Son
Stone Mason
Alstonfield
Fern
Hannah
1838
Daughter
Biggen Hartingdon
Fern
John
1850
Son
Hartingdon
1881 Census
Fern
Mary
1812
Head
Alstonfield
Fern
James
1836
Son
Stone mason
Alstonfield
Fern
Hannah
1838
Daughter
Biggin
1891 Census
Hibbert
John
1867
Head
Farmer
Bonsal Hartington
Hibbert
Joeseph
1869
Brother
Farm servant
Hartington
Hibbert
Ellen
1872
Sister
Housekeeper
Hartington
1901 Census
Hibbert
John
1867
Head
Farmer
Bonsal Hartington
1911 Census
Brocklehurst
James
1852
Head
Farmer
Alderley Edge
Brocklehurst
Sarah Jane
1852
Wife
Mottram St Andrew