Above: A wonderful photo captioned "Morning toilet at the Goyt Valley hostel". Click below to expand the full image. Photo YHA Archive.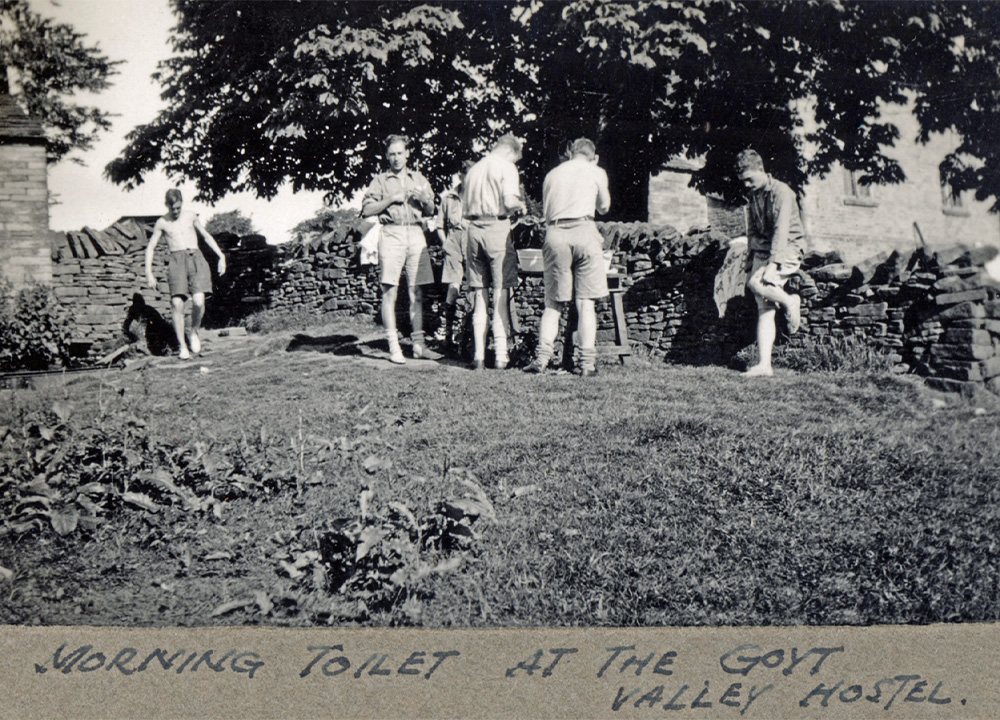 I'd always understood that Errwood Hall was used as a Youth Hostel for a couple of years between Mary Grimshawe's death in 1930 and its demolition in around 1932. I can't remember where I read it, but it now seems that's not correct.
John Martin is Volunteer Archivist for the YHA. He kindly allowed me to copy these excerpts from a document he recently produced, based on records he discovered in the YHA archive (click to view pdf).

By John Martin [© John Martin, YHA Voluntary Archivist.]
The hostel was at Errwood Farm a mile or so to the north of Errwood Hall. It is now demolished. It is a fairly common misconception that the youth hostel was at Errwood Hall itself.
YHA called it Goyt Valley hostel. It was one of the very first youth hostels in this country, amongst a little knot of more than a dozen hostels that opened in time for Easter, 1931. I went for a ramble over the site of the hostel several years ago, but all I could find were a pile of stones and a bit of evidence of a farm entrance. The road sites have changed considerably in this area.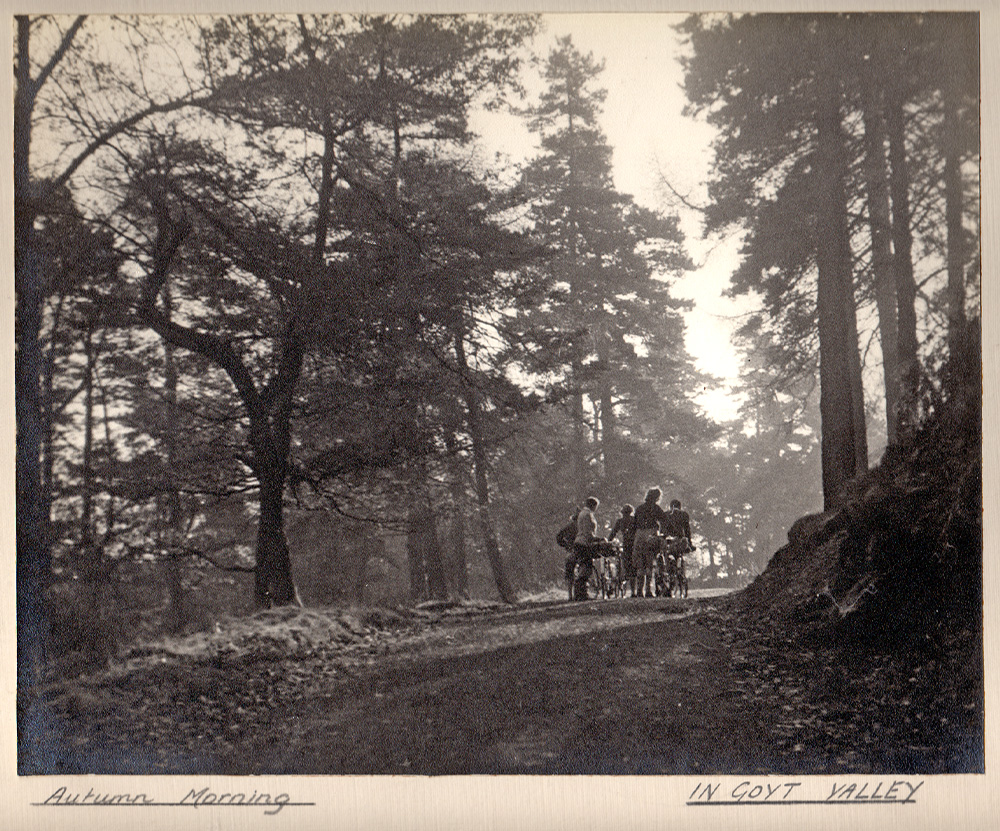 Above: Another image from the YHA Historical Archive on the Goyt Valley Youth Hostel (click to enlarge). Today it would be on the lane running south from Errwood Hall car park towards Goytsclough. Photo YHA Archive.
These records are also taken from the archive:
Opened Easter 1931, at first for men only [Hiker and Camper 10/1932]. There were 364 bednights in 1931 [YHA Manchester region annual report 1931].
Closed 30/9/1935, for the construction of Goyt Reservoir. The warden, Mrs J Hannam, moved to Bennetston Hall youth hostel, though there was a brief overlap of hostels.
Property profile: the land here is not submerged, but the farm has been reduced to a few scattered stones.
Reports, recollections and observations:
Up, and yet up, for the hostel stands at 1,200 feet. We were greeted by a lean woman, a thorough North Country type. Personally, I liked her; she was abrupt and definite.

Errwood Farm was, after the splendid [YHA] halls, rather primitive, an old place – how the wind moaned around the top of my bed. The warden was certainly not in sympathy with the really large hostels. I think we did more [duty] work here than at any of the mansions [Lilian 'Jane' Ash, holiday log, July 1934].
The colourised image on the Goyt Valley website (click to view) is from a postcard that may have originated from the B&B days of the late 1920s, with the Dugdales, but Hannam family were the final residents; Mrs Hannam ran the youth hostel.
Mr Hannam is not mentioned, but may have been part of the set-up and perhaps farmed here. In 1935 Miss Hannam helped with the running of the place. It certainly closed in 1935 for demolition, not 1934: these are the numbers of hostellers who stayed each year, according to YHA Manchester region annual reports:
1931: 364 (men only) / 1932: 818 / 1933: not known / 1934: 1306 / 1935: 1454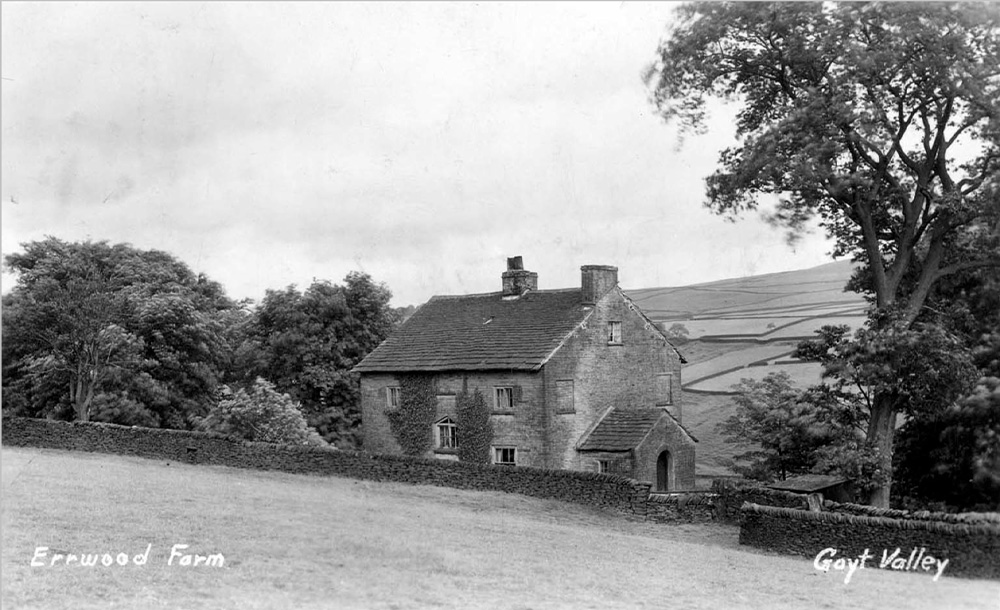 Photo YHA Archive.
I have the postcard in my own collection (above); it was clearly sold from the youth hostel, according to comments recorded on the reverse and the date stamp.
The Hannam family moved in 1935 to the larger Bennetston Hall youth hostel, on the A623 just below Sparrowpit, Chapel-en-le-Frith, and Miss Hannam, as Mrs Hamilton, ran that place from 1945, probably up to its closure the following year. It was a much busier youth hostel than Goyt Valley, but apparently quite primitive.

This 1932 video should open about half way through. It shows walkers going up the lane towards Goytsclough – at around the same point in the photo above, and at a similar time. Perhaps they stayed in the youth hostel.
More links…
Click here to view more information about Errwood Farm, as well as census records of the families who once lived here.
Click here to read about Sarah's search for the house in which her grandparents once lived (includes a 'then & now' fade of the farmhouse).
Duncan Simpson has a wonderful website dedicated to the history of British youth hostels. Click here to view a page on those in Derbyshire.