Above; Don asks whether anyone knows what might once have been here, at the junction of the Long Hill road and Goyt's Lane.
I've recently moved back to Buxton, which is the reason for the recent flurry of posts as I try to catch up with all the projects I've been wanting to tackle. My wife thinks I'm getting a touch of OCD about the valley. And she may well be right.
But it makes the effort worthwhile when people get in touch who share an interest in the social and industrial history of the area. Don recently sent me this message…
Thank you for your enthusiasm for 'our valley'. As you turn off Long Hill near the cattle grid, do you know what the iron railings and what looks like foundations of buildings were, over the wall near the old packhorse lane?

I believe also, on your left, the ruts that follow the road down to Errwood are old packhorse tracks which, when they got to worn, people just moved across to create a new track.
This fade shows a satellite image of the view today, and an 1890s map which reveals that there was once a fairly significant set of buildings here.
My initial thought was that it may have been a toll house since it seems an unlikely place for any kind of dwelling. But I don't have a wonderful record when it comes to guesswork. So any ideas or suggestions would be very welcome.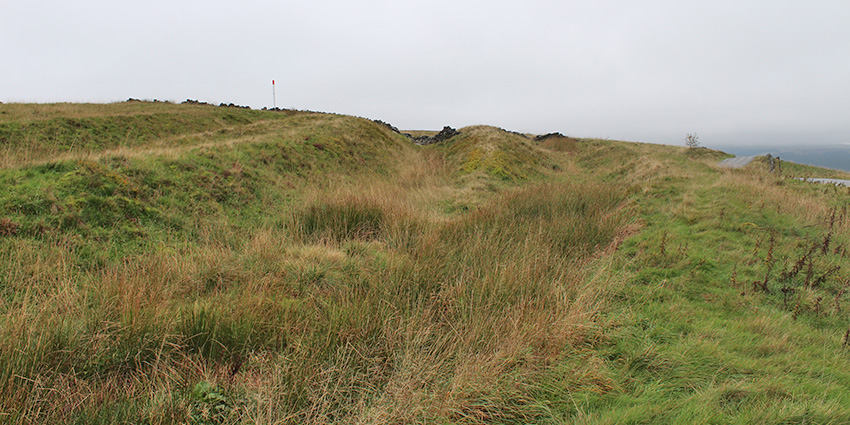 Ancient 'holloways'
Don also mentions the remains of old packhorse routes on the opposite side of Goyt's Lane (above). Known as 'holloways', they're clearly visible on the satellite image. They cross over the Long Hill road, merging into the landscape a short distance further.
There's some excellent information on the history of local roads, tracks and trails – including those through the Goyt Valley – on the Whaley Bridge Local History website: see Part 1 & Part 2. Here's an extract about the tracks Don mentions;
Holloways are formed by countless travellers wearing down the soft peat causing deep hollows, when they became to difficult to pass they just moved sideways on a new pathway.

You may have driven past many times and never noticed one of the best examples, next time you cross the top of long hill stop where you turn to Errwood and look both sides of the road those deep furrows are not naturally occuring.

You can trace them all the way down toward The Goyt to Cromford High Peak railway / Sandy Lane, likewise they can be seen heading for Buxton in the fields top side of Long Hill until you get to ground that has been ploughed.