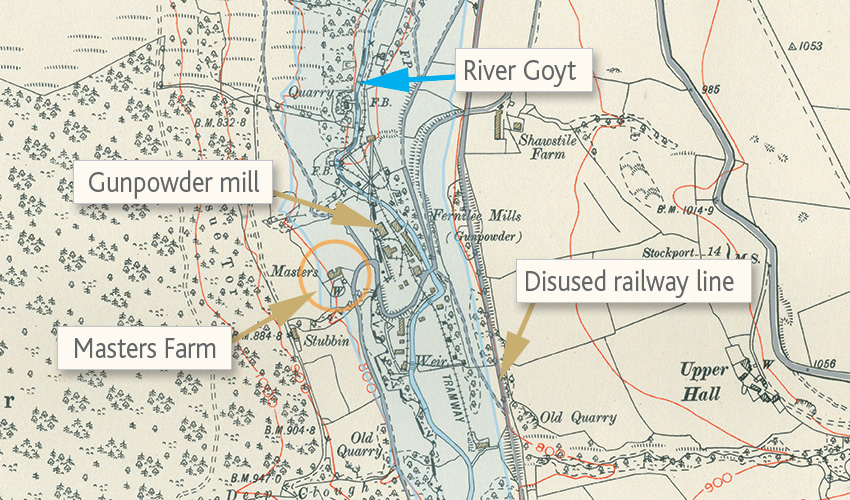 Above: This 1890 map (click to enlarge) shows how close the farm was to the gunpowder mill. The ruins of both now lie under the waters of Fernilee Reservoir (the blue shaded line area).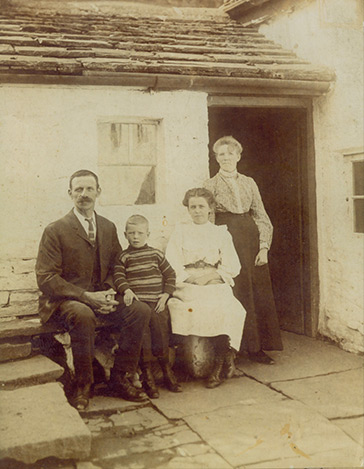 Above: The Lowe family pictured outside Masters Farmhouse; Richard, John, Elizabeth and Mary. John was four at the time of the 1911 census. So I'd guess the photo was taken shortly after.
Gerald Hancock mentions a Johnny Lowe in his 'Goyt Valley Romance' as one of the miners at the Castedge coal pit. It's likely he's the boy in the photo.
Above: This view of Masters Farm is taken from the old road which once ran from Goyt's Bridge to Fernilee, via the Gunpowder Mill, and then north to Whaley Bridge or south to Buxton. Today, sections of the same road form the path which runs along the western shore of the reservoir.
Masters Farm
A newspaper report of a fatal accident at the Gunpowder Mills in 1836 mentions Masters Farm;
On Thursday week, about six o'clock in the morning, one of the most dreadful accidents which we have ever had to record, occurred at Shallcross, in the County of Derby, about eight miles from Macclesfield. The powder mills of Messrs Williamson, which contained at the time a ton and a half of gunpowder, blew up with a tremendous explosion.

George Heaps, a married man, with a wife and four children, who was in the mill at the time, was blown a distance of six hundred yards, to his master's farm at Taxal, in this county, Shallcross being on the border of Cheshire and Derbyshire. He was, of course, quite dead when found.
It's likely the reporter got his facts wrong (nothing new there!). Rather than "his master's farm", it would have been Masters Farm. Click here for more information about the Gunpowder Mills and the accidents which often occurred there.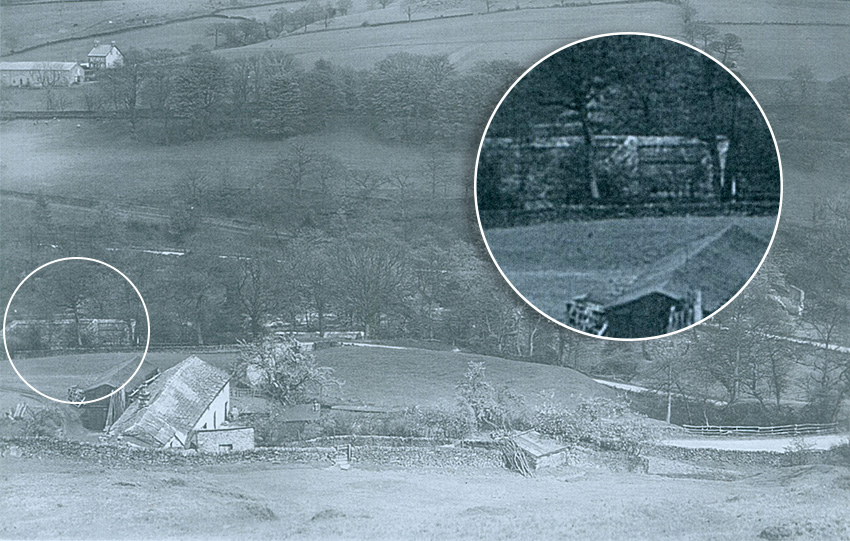 This photo (click to enlarge) shows the view over Masters Farm towards Shawstyle Farm top left. It's just possible to make out some of the Gunpowder Mill buildings in the valley below.
Surname
First name
Born
Relationship
Occupation
Birth place
1841 Census
Wilson
Ann
1806
Farmer
Wilson
George
1801
Ag. labourer
Wilson
Mathew
1811
Ag. labourer
Wilson
Edward
1816
Engineer
Wilson
William
1816
Ag. labourer
Wilson
Jane
1821
1861 Census
Lomas
George
c1801
Head
Farmer of 7 acres
Fernilee
Lomas
Ann
c1836
Wife
Fernilee
Wilson
George
c1821
Uncle
Agric. labourer
Taxal
Lomas
Isaac
c1847
Cousin
Cotton factory worker
Hayfield
Lomas
James
c1849
Cousin
Cotton factory worker
Hayfield
1871 Census
Wilson
George
1801
Head
Farmer of 7 acres
Taxal
Lomas
John
1816
Nephew
Labourer
Fernilee
Lomas
Ann
1835
Wife
Fernilee
Lomas
George
1862
Son
Scholar
Taxal
Lomas
Elizabeth
1864
Daughter
Scholar
Taxal
Lomas
Mary
1870
Daughter
Taxal
Sepledge
Thomas
1811
Lodger
Cooper
Stockport
1881 Census
Lomas
John
1815
Head
Farmer 28 acres
Fernilee
Lomas
Ann
1834
Wife
Fernilee
Lomas
George
1862
Son
Farmer
Taxal
Lomas
Elizabeth
1864
Daughter
Scholar
Taxal
Lomas
Mary
1870
Daughter
Scholar
Taxal
Lomas
William
1874
Son
Scholar
Taxal
Lomas
Peter
1874
Visitor
Scholar
Taxal
1891 Census
Lomas
John
c.1815
Head
Farmer
Fernilee
Lomas
Ann
c.1834
Wife
Taxal
Lomas
Mary Ellen
c.1868
Daughter
Cartridge lapper at gunpowder mill
Taxal
Lomas
William
c.1875
Son
Taxal
Bennet
Robert E
c.1858
Son in law
Farmer
Fernilee
Bennet
John
c.1891
Grandson
Taxal
1901 Census
Lomas
Ann
c.1834
Head
Farmer
Taxal
Lomas
William
c.1875
Son
Labourer at gunpowder mills
Taxal
Bennet
John
c.1891
Grandson
Taxal
Simpson
William
c.1871
Lodger
Labourer at gunpowder mills
Chapel en le Frith
1911 census
Lowe
Richard
c.1866
Head
Carter on farm
Kettleshulme
Lowe
Mary Ellen
c.1869
Wife
Masters Farm Taxal
Lowe
Elizabeth Ann
c.1898
Daughter
Fernilee
Lowe
John Charles
c.1907
Son
Masters Farm Taxal