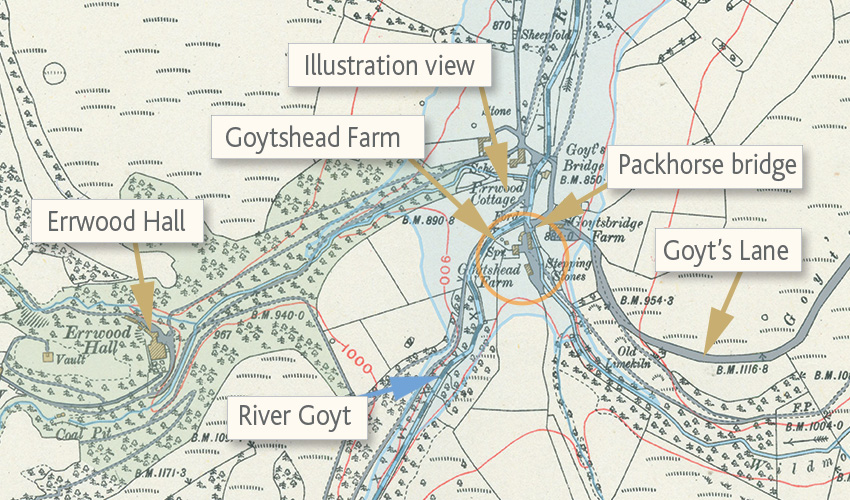 Above: This 1890 map of Goyt's Bridge (click to enlarge) shows the position of Goytsbridge Farm, as well as the packhorse bridge. I've also shown the viewpoint taken by the artist for the top illustration.
The shaded blue area shows Errwood Reservoir today. It's sad to think that this picturesque spot now lies in ruins under the waters.
Above: This wonderful illustration – probably from a Victorian postcard – featured on the cover of Gerald Hancock's 'Goyt Valley Romance'. With the old packhorse bridge on the left, it was a very picturesque and popular view. Goytshead Farm is the building on the far right.
Goytshead Farm
Goytshead Farm was one of two farmhouses in Goyt's Bridge, the other being Goytsbridge Farm which was on the other side of the packhorse bridge. Both served teas and refreshments to the many visitors who came to enjoy the picturesque tranquility of the valley.
There's more information about both tea rooms – as well a number of photos – on this page.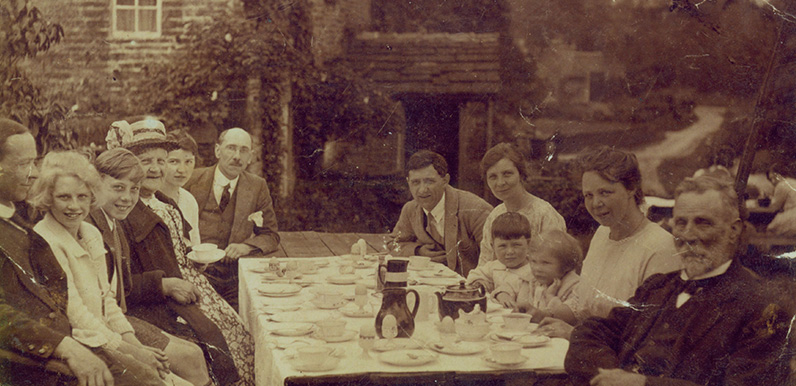 Above: This photo – probably dating to the early 1930s – shows a family enjoying quite a spread in the garden at the Goytsbridge Farm Cafe. And if you look closely, you can just see another customer looking towards the camera on the far right. The porch in the background can also be seen on the Victorian illustration at the top of the page, but from the opposite direction.
Unfortunately, it's not easy finding who lived in either farmhouse. The census entries don't seem to identify the separate buildings within Goyt's Bridge, so it's a bit of a guessing game.
Gerald provides a few clues in his 'Goyt Valley Romance' and I'm hoping these will help me trace the families. Writing his first book back in the late 1990s, Gerald was helped in his research by one of the last surviving residents of Goyt's Bridge; Brenda Hewitt. We think the girl on the left may be Brenda (who is now in her 90s).