Above: The circled area of the postcard includes the ruins of the paint mill, as well as Goytsclough Farm high on the hillside, and the paint mill cottages.
Zooming into the ruins of the mill seems to show an area of stone walling which I think may have housed the giant waterwheel.
I occasionally buy any reasonably-priced old postcards of the Goyt Valley I come across. And a recent example revealed a bit more detail about Goytsclough, the open area beside the narrow road between Errwood Reservoir and Derbyshire Bridge.
As regular followers of this blog will know, I've been trying to discover more about the giant waterwheel that was used at both Goytsclough Quarry and the later paint mill, and reputed to have been the second largest in the world.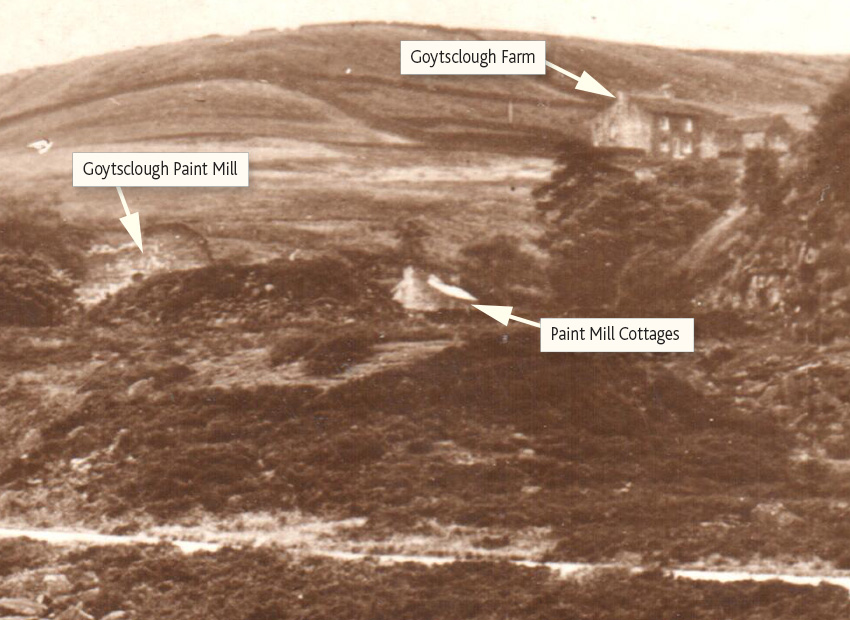 Above: The narrow track in the foreground is the present road between Errwood Reservoir (to the right) and Derbyshire Bridge (click to enlarge).
The large building at top right is Goytsclough Farm. Below that, in the centre, are the Paint Mill Cottages. And the area to the left of the cottages is where the paint mill once stood. And this is where I think the giant waterwheel must have been located, fed by the small reservoir on the hillside above.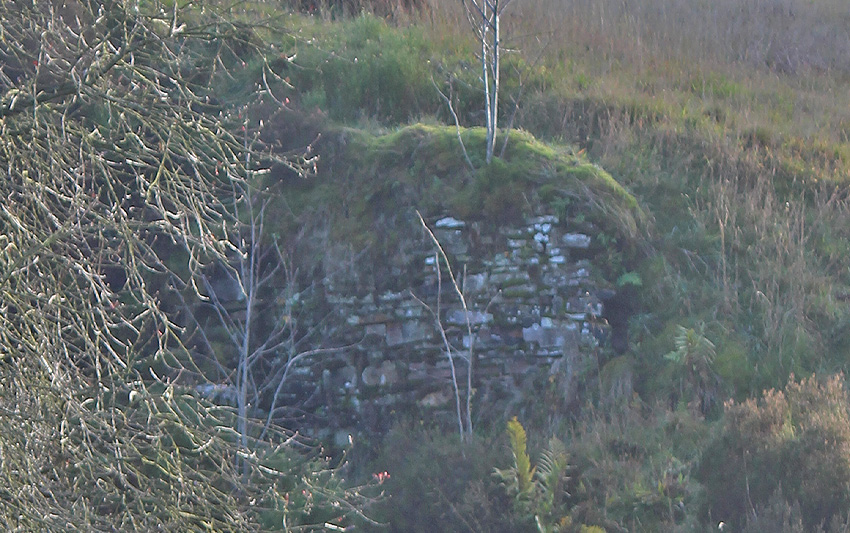 A close look at this area today reveals a small section of stone walling (above). And I think a much larger section of this wall is captured in the old postcard.
I'll admit that it doesn't seem much to get excited about. But I find it fascinating that an area of such quiet solitude today was once a centre of industrial activity. All of which has completely vanished from the landscape in little over 100 years.

Page update: August 2020
I created this 'then & now' fade from a postcard that recently appeared on ebay showing a similar view of Goytsclough. I asked on the Goyt Valley Facebook Group whether anyone could identify the car. Peter responded:
"…by its design looks to be quite possibly late 1910s to early 1920s. Ford Model T's of the 1910 era tended to oval rear view windows and became rectangular later on. I'm not saying it is a Model T but manufacturers even then tended to follow fashion traits. The rear view aspect is very upright/tophat-ish with the classic spare tyre."