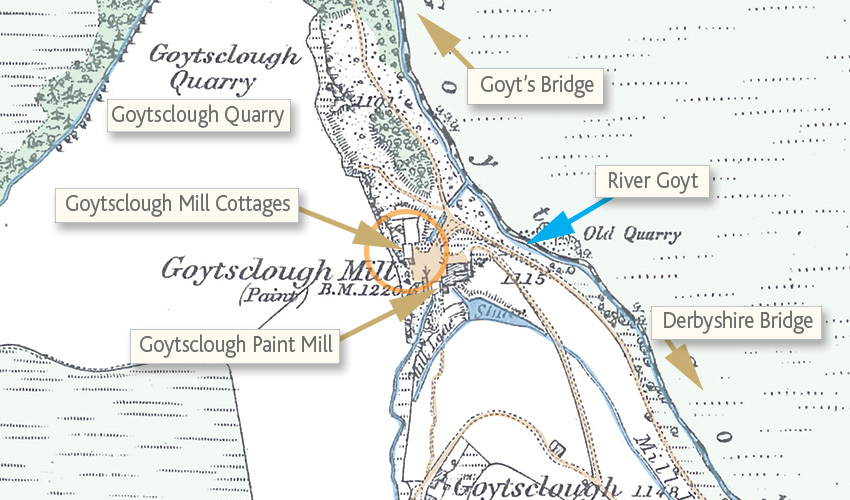 Above: This 1890 map (click to enlarge) shows the mill building and workers cottages. It also shows the stream and man-made channels, as well as sluices, which controlled the water to power the mill stones.
Above: These two views show both sides of the mill-workers' cottages. The one on the left (probably 1930s) was taken from the loading area for the milled material, which was used in the manufacture of paint. And the one on the right (perhaps late 1890s) was taken from beside Deep Clough; a stream which fed water to power the mill stones. The mill buildings were to the far right, sheltering against the natural stone face.
Goytsclough Mill Cottages
This substantial terraced house once stood alongside the Goytsclough Paint Mill. On the road between Goyt's Bridge and Derbyshire Bridge. And just next to Goytsbridge Stone Quarry. I've always assumed it must have been for the managers of the paint mill and their families.
The paint mill closed in 1890. I attempted to discover more about it on Walk 15 from Errwood to Goytsclough. But there's very little evidence on the ground, apart from some water channels, sluices and reservoirs which powered the grinding stones, and a rectangular raised area where the cottages once stood.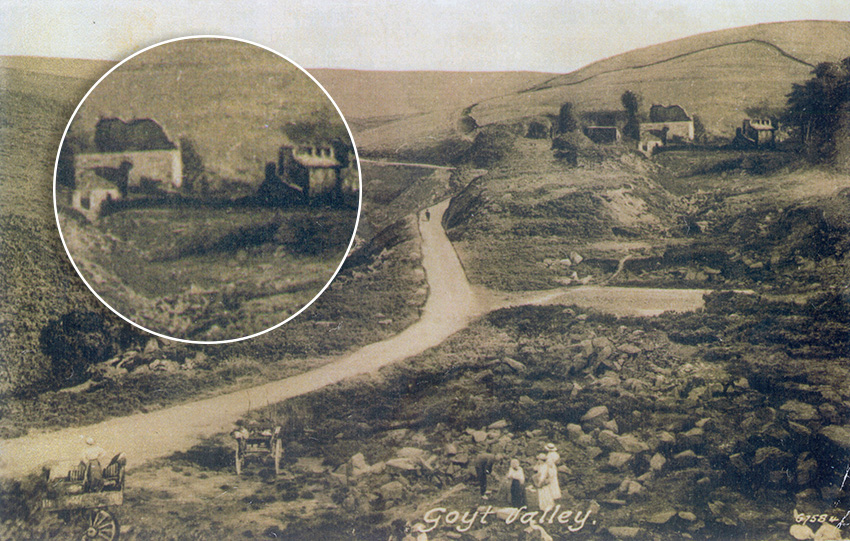 Above: This early 1900s photo (click to enlarge), taken from Goytsclough Quarry, shows the view along the road to Derbyshire Bridge. The buildings top right are the paint mill and the cottages. It looks as though the paint mill is in ruins, but the cottages still seem intact. So perhaps the houses survived until the 1930s, when they were demolished with all the other properties on the Errwood Estate.
I'll update this page with census returns – if I can trace any.