Above: Taken from the hillside above the quarry, looking towards Derbyshire Bridge, this early 1900s photo shows local families loading stone onto horse-drawn wagons. The buildings in the distance belong to Goytsclough Paint Mill.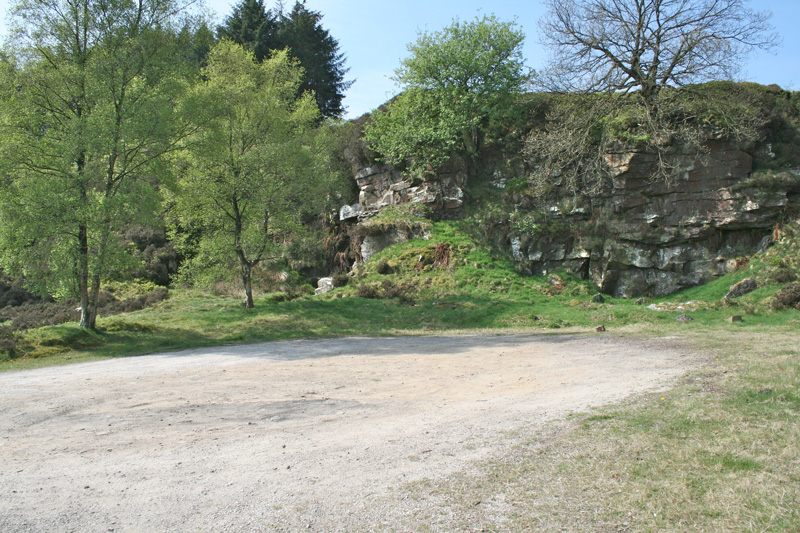 Above: Walk 5 from Errwood Reservoir to the packhorse bridge passes the loading area for Goytsclough Quarry. Today it provides parking for a few cars.
It's difficult to imagine trains of up to 50 packhorses transporting stone from here to pave London's world-famous Regent and Oxford Streets.
Today, few signs remain of Goytsclough Quarry; a once-noisy and bustling industry which exported stone all over the country. The area used for loading the stone onto packhorses and wagons now provides a few parking spaces beside the single-track road which runs from Errwood Reservoir to Derbyshire Bridge, and on to the Buxton to Leek and Macclesfield roads.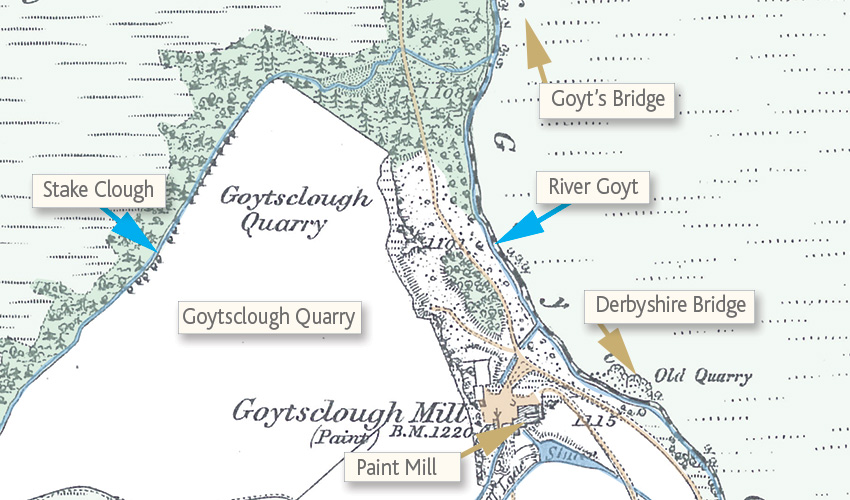 Above: This 1890 map (click to enlarge) shows the extent of the workings.
Worked stone from the quarry was loaded onto wagons in the area of today's car park, to be taken south to Derbyshire Bridge and the old Buxton to Macclesfield road, or north through the hamlet of Goyt's Bridge towards the industrial cities of Stockport and Manchester.
It's said that the famous removals firm of Pickfords started in this very spot. I've taken this information from Gerald Hancock's wonderful little book, 'Goyt Valley Romance' (slightly reworded):
Goytsclough Quarry has a fascinating history. Although stone would have been quarried here for centuries, it was developed into a major local industry in around 1670 by Thomas Pickford, and formed the start of the famous Pickfords Removal Company.

The Pickford family came from Adlington, south of Manchester and later from nearby Poynton. After the Civil War, Thomas Pickford had his lands sequestrated for co-operating with the Royalists. He later purchased the quarry.

Around 1695 he was in the business of mending roads. The company expanded after he was awarded a contract to provide paving stones for Macclesfield. And then grew even further following a profitable government contract to supply Regent Street and Oxford Street in London.

It was said that trains of up to 50 packhorses would transport these slabs in specially made panniers. But instead of returning empty, the packhorses would carry back goods for local towns and villages, making Pickfords a carrier.

The business progressed during the 18th century with one James Pickford, known as the 'London to Manchester Waggoner', who had his headquarters at Blossoms Inn, and at the Bell Inn in Wood Street, Cheapside.

General goods were carried at one halfpenny per hundredweight per mile in summer, and at three farthings per hundredweight in the winter. Pickfords are still in business today as one of the major removal and storage companies in Europe.
Note: I'm not sure when the quarry closed down. I'll update this page when I get any further information. (Please get in touch if you know the answer, or can offer any more information.)