Above: Alexander Roos's original drawing for Errwood Hall from the early 1840s (courtesy of Buxton Museum).
Above: A Vanity Fair caricature of Alexander Beresford Hope. Click here to view his Wikipedia entry.
Judging by the previous post (click to view), there's some confusion over who designed Errwood Hall – Alexander Hope or Alexander Roos. As ever, I reached for Gerald Hancock's wonderful little book, 'Goyt Valley Romance', for some clarity. He writes about Hope:
Alexander Beresford Hope (1820-1887) was well known to the Grimshawe family, indeed he may have been related. The young infant son Samuel, who so sadly died after only fifteen months in 1851, was christened Samuel Arthur Hope, and Beresford Hope's daughter, Agnes, was a guest at the wedding of Genevieve and Capt. Preston in 1891, which indicates a connection.
Gerald goes on to explain that Hope used his considerable wealth to rebuild several churches. Which is how he came into contact with Alexander Roos:
Roos (1810-1881) was engaged [as an architect] in alterations at Kilndown Church, which was close to Hope's home at Bedgebury Park in Kent. Hope's brother, Henry Thomas Hope, had his house, the 'Deepdene', remodelled in the Italian style by Alexander Roos.
Roos studied architecture in Rome in the late 1820s and arrived in England some time after 1834. Early in his career he worked for the Dowager Lady Bute at her Welsh estate. She commented that he was a 'very agreeable and gentlemanlike, as well as clever in his profession'.
It would have been Hope who recommended Roos to Samuel Grimshawe to design Errwood Hall. Roos wrote to a friend in 1845 that he was about to begin two new buildings, one in the Italian style [Errwood Hall] and another in the gothic style, adding;
"I was snowed up for – or rather blocked up – for four days last week, at a gentleman's house near Buxton in Derbyshire".
This is likely to have been at Errwood Farm, where Gerald thinks Samuel Grimshawe lived during the construction of the hall. We don't know exactly when the hall was built. The Errwood Estate was purchased in 1832 and it must have been fairly soon after Roos's letter in 1845.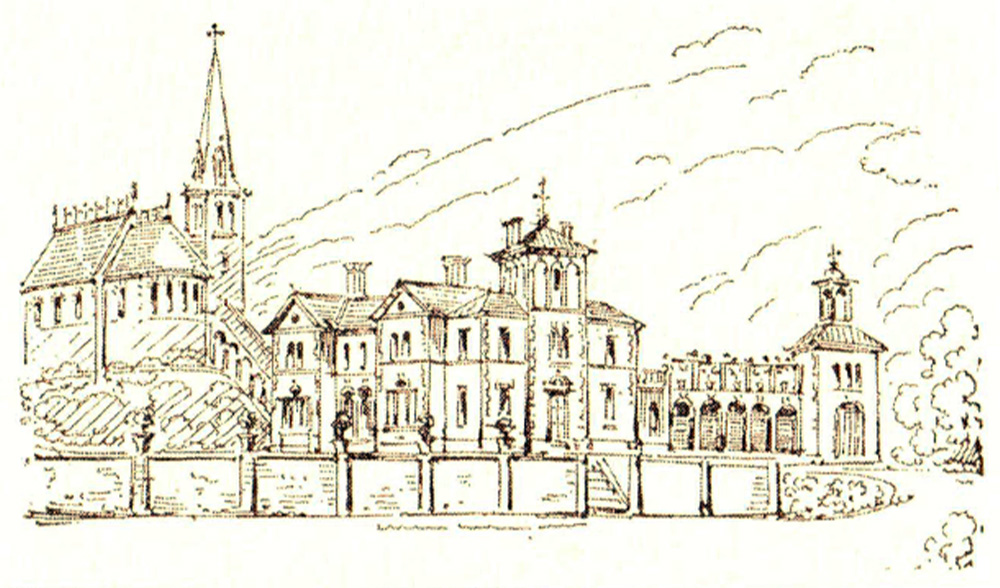 Above: A sketch showing an out-of-scale, Italianate-style chapel on the slopes behind Errwood Hall taken from Goyt Valley Romance.
Hope was president of the Royal Institute of British Architects and it's thought that he added the chapel to Roos's drawing. But Samuel Grimshawe obviously considered this was far too extravagant and situated the family chapel above the northern wing of the hall (click for details).
The Grimshawe family cemetery now lies where the chapel would have stood (click to view).