Above: 19-year-old Elizabeth Braddock died some eight years before her father and must have held a special place in the heart of the Grimshawe sisters to be buried on the family's hill-top cemetery.
One of the graves at the Grimshawe's family cemetery, above the ruins of Errwood Hall, has always intrigued me. It commemorates Elizabeth Braddock, who died at just 19 in 1903. Also her father, Thomas, who died eight years later aged 71.
There were many farming families living on the Errwood Estate, but it was only a select few that were buried alongside the Grimshawes. And the Braddock memorial seems to have a particularly prominent position, standing at the front and closest to the main Grimshawe memorial.
Elizabeth died eight years before her father. Which makes me wonder whether she had a strong connection with one or both of the Grimshawe sisters, Mary and Genevieve, who had inherited the estate on their mother's death in 1893.
1881 census
The earliest census records I can find show Thomas and his family living at Castedge Cottage in 1881. He is recorded as a gamekeeper, and his wife Anne as a laundress – presumably employed at the hall. At that time they had four children – Joseph (13), Mary (10), Margaret (2) and James (under 1).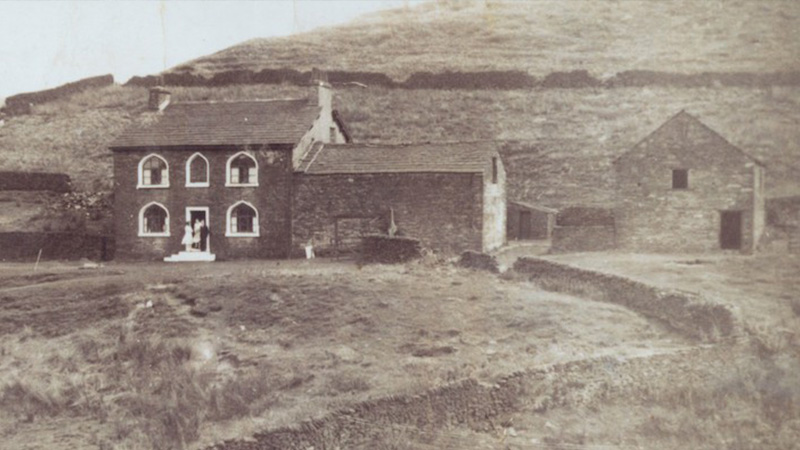 1891 census
By the time of the following census, in 1891, the family had moved to Goytsclough Farm (above). The three eldest eldest children had all left home. And Anne has had two more children – Elizabeth Anne (7) and William Henry (4).
The two eldest girls now appear in the 1891 census records for Errwood Hall – Mary (20) as a domestic servant and Margaret (12) as a visiting scholar. Joseph (23) has either died or moved away.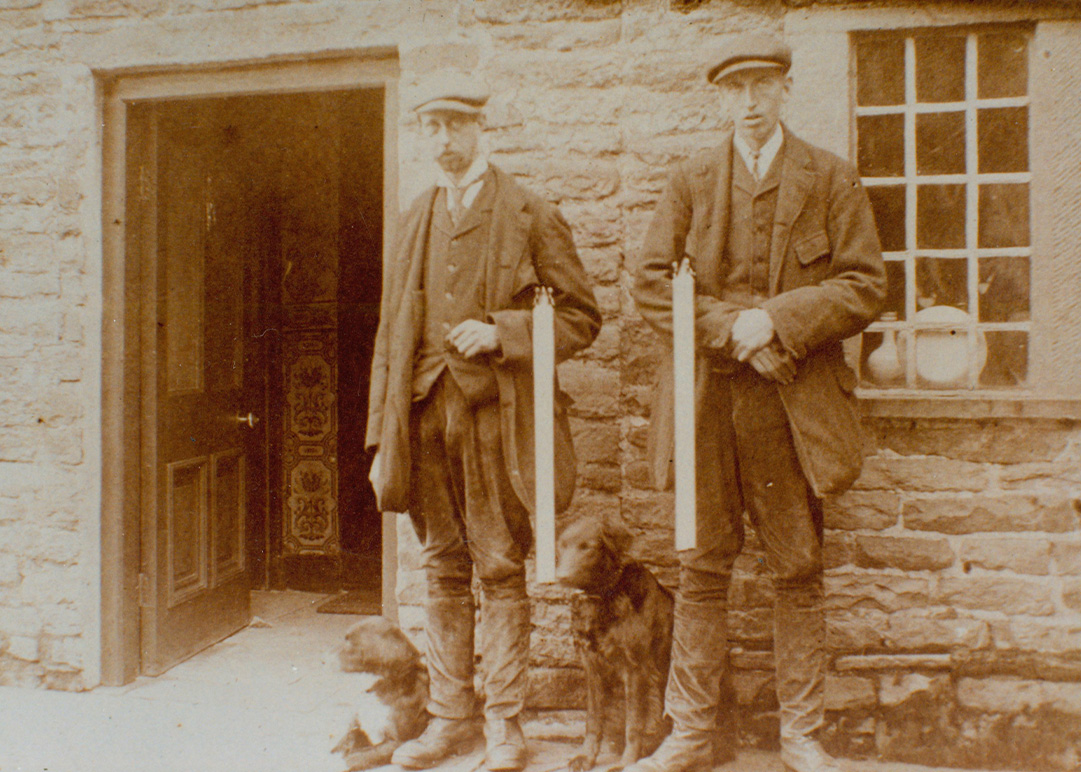 Above: This photo appears in Gerald Hancock's 'Goyt Valley Romance'. The caption reads 'Braddock brothers, Keepers, 1911'. So I'd guess is was James on the left and the younger William on the right.
1901 census
The Braddocks were still living at Goytsclough at the time of the next census in 1901. But only James (20) and William (14) are listed with their parents. Elizabeth's grave shows she died in 1903, so she must have moved out of the family home some time before 1901. I did wonder whether she may have been living and working at the Hall, but I can't find any further entries for her.
1911 census
The last record I have for the Braddocks is the 1911 census. Thomas (71) is now listed as 'Head gamekeeper'. Other family members include his wife Anne (66) and their youngest son, William (24) who is also listed as a gamekeeper.
James (30) has married and is now listed as a gamekeeper and farmer at another house in Goytsclough – perhaps the mill workers cottages. They have three sons – Edward (4), Robert (3) and William (1).
Thomas died in the same year as the 1911 census. The only other mention I can find for his family is the death of William during WW1 on the Commonwealth War Graves website. It says he was a gunner in the Royal Field Artillery and died on 2nd May 1917 aged 30, and is buried at Bailleul Communal Cemetery Extension, Nord.
*Page update. Chris has done some further research: "Elizabeth Ann Braddock was born April/May/June of 1884 and died in March 1903, just short of her 20th birthday. Her death was registered in Manchester (no district given). It's likely she went to find employment in the mills, or in service."
It's also possible that Elizabeth may have worked at another of the Grimshawe's properties, in Manchester.