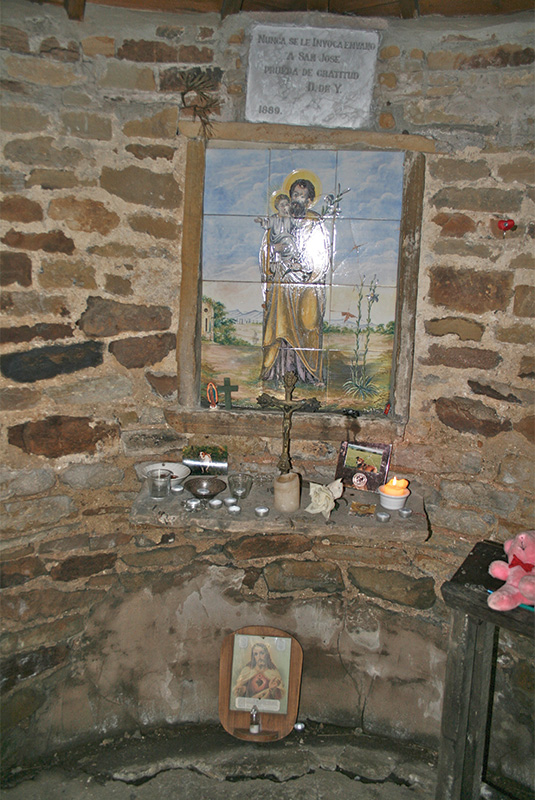 Inside St Joseph's Shrine. Click to enlarge.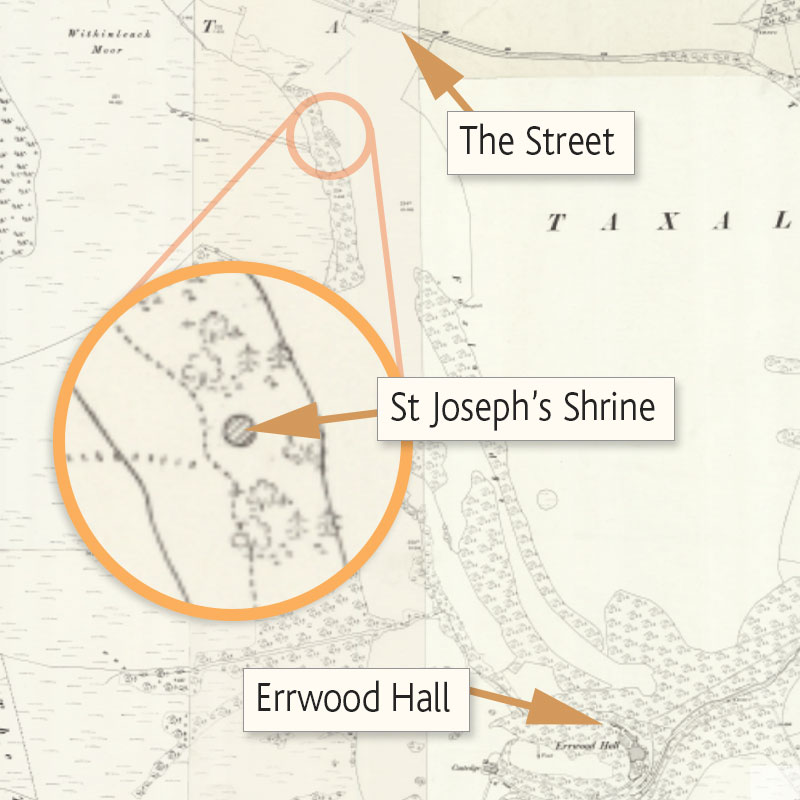 Above: The Shrine is just a short walk from a small lay-by on the old Roman road known as The Street, which runs between Errwood Reservoir and Pym Chair (click to enlarge).
Two walks on this website pass this evocative small building; walk 4 from the ruins of Errwood Hall, and walk 17 from the nearby lay-by.
Text taken from Gerald Hancock's book, 'Goyt valley Romance'.
The Shrine is situated to the rear of the Hall, some three quarters of a mile from the ruins of Castedge Farm. Those who make the trek up the steep winding track do not go unrewarded, for the Shrine is glimpsed quite suddenly, hiding almost secretly among a few weather worn pine trees.
A small round stone building with a conical stone roof, and a strong oak door, standing here quite alone to all the elements. Perhaps sheltered a little by the rough pasture of Foxlow Edge and the pine forest reaching tip to Pym chair.
Here in the peaceful seclusion, the walker may pray among the freedom of the surrounding hills. When the oak door is opened, directly in view is the small altar with St. Joseph pictured holding Jesus as a baby.
The coloured glazed tiles, of Spanish origin, were set here at Errwood in a wooden frame before being assembled in the Shrine. Just above the picture of St. Joseph is a small marble slab with the carved inscription, 'Munca se Ic Invoca evano a San Jose prueba de gratitud' (No one asks in vain of St. Joseph, a token of gratitude). Fresh flowers are placed on the altar at regular intervals, though by whom no one knows.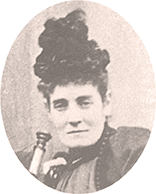 Sister Dolores
The initials D de Y, are those of Dolores, Sister Dolores (right), underneath the inscription along with the date 1889. Dolores was Spanish and came to Errwood soon after the death of Samuel Grimshawe in 1883 as companion to his widow, Jessie. She set up the first school at the Hall and taught needlework and other subjects to  estate children. (Click here for more information about the school.)
The ruined farm, close to the shrine, was known as Withenleach Farm and was last occupied in 1835 by one of the Hibbert family.
Click here to read about the damage to the tiles showing St Joseph carrying the baby Jesus. And Mary Grimshawe's reaction to the desecration.

Page update: Dec 2018
I recently came across this wonderful line illustration of St Joseph's Shrine on display in Buxton's Tourist Information Centre (click to enlarge).
It's by Howard Levitt and prints are available to purchase from his website.