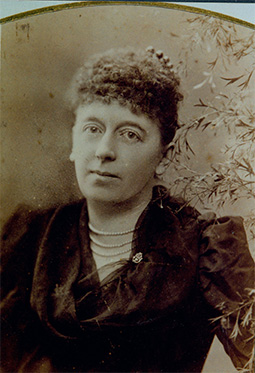 Above: Mary, the last of the Grimshawe family who once owned the Errwood estate.
Below: Dolores de Ybarguen, the Spanish lady to whom the shrine is dedicated.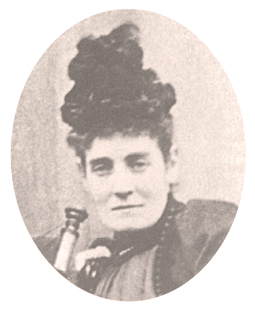 Many thanks to Mike for sending me a newspaper cutting about the closure of public access to Errwood Hall estate.
Anyone who has visited the St Joseph's Shrine – the small circular stone building about a mile from the ruins of Errwood Hall – will have seen the damage to the tiles on the wall showing Joseph carrying the infant Jesus, and wondered why someone would vandalise them.
I assumed it must have been done fairly recently. But it seems it happened over 100 years ago – in 1901 when the eldest Grimshawe sister, Mary, was living in the hall. The newspaper clipping from the Buxton Advertiser shows that she was so upset by the damage that she closed the grounds to the public.
I'm not sure how much of the estate was affected, or how long the ban lasted. Mary died in 1930 and the hall was demolished four years later.
The shrine is dedicated to Dona Maria Dolores de Ybarguen, a Spanish lady of noble birth who came to live at Errwood Hall in 1883 as a companion to Mary's mother, soon after the death of her father. Which perhaps explains Mary's distress.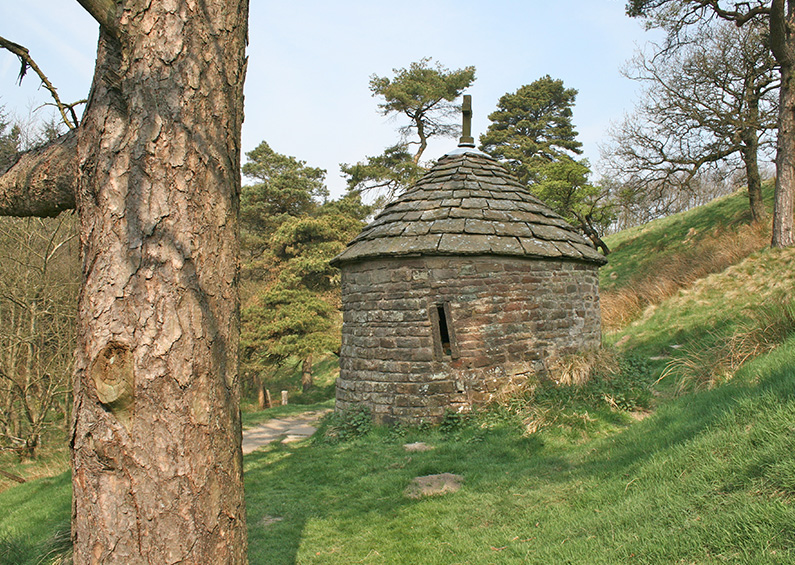 Disgraceful char-a-banc party
Mike has just sent another press clipping (click to enlarge) about the problems Mary Grimshawe had with public access to the Errwood Estate.
Dated 3rd August 1907, she complains about the "disgraceful conduct of a char-a-banc party". And announces that she is closing the drive along the Goyt Valey to all vehicles – except private carriages.
Not being sure what a char-a-banc party was, I checked online and found a charabanc was 'a large old-fashioned bus, especially one used by groups for visiting places of interest'.
I wonder what Mary would have made of the occasional raves held on the ruins of Errwood Hall. I think she must be turning in her hill-top grave!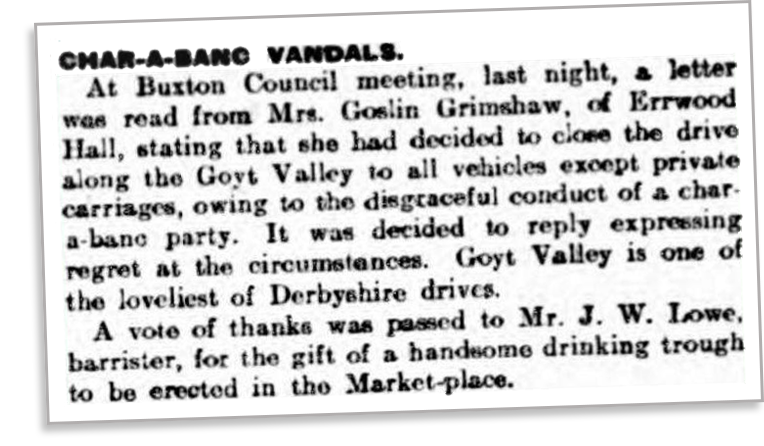 Above: This press clipping from 1907 (click to enlarge) shows that Mary Grimshawe was less than impressed with the "disgraceful conduct" of a coach-load of visitors. I can't help wondering what on earth they could have done to make her close the road along the Goyt Valley. A route which the report says "is one of the loveliest of Derbyshire drives".

Page update 31.7.18:
Mike has discovered another report about the scandalous behaviour of the same charabanc party; this one published in The Nottingham Evening Post on 3rd August 1907
(click to enlarge)
.
The writer takes a very dim view of "the reprobates who should be haled [sic] before the magistrates and punished". And understands Mary's decision to close the road through the Goyt Valley, saying; "…no reasonable rounds for complaint against the owner can be urged".
Different times!