Above: A wonderful view of the now-drowned hamlet of Goyt's Bridge, taken from close to the Bunsal Incline. Errwood Cottage is in the centre, with Errwood Hall just visible in the distance.
I've managed to obtain a photo I'd never seen before, showing a view across the Goyt Valley before the construction of the twin reservoirs. The same scene today looks across the southern end of Errwood Reservoir.
I think the photo was probably taken from close to the Bunsall Incline, the steep descent into the valley that was once the track of the Cromford & High Peak Railway.
In the foreground is Errwood Cottage, standing beside the gates to the lane leading up to Errwood Hall. And in the distance it's just possible to make out the hall, half-hidden amongst the trees (circled in the photo above).
The room in the top-storey tower served as the Grimshawe family's catholic chapel, which had a light left burning throughout the night which could be seen for miles around.
The buildings just below the hall are two large barns. The River Goyt flows from left to right. The hamlet of Goyt's Bridge, with its ancient packhorse bridge, is just out of the photo to the far left. And the lane running from Goyt's Bridge across to the right is the old Roman road known as The Street.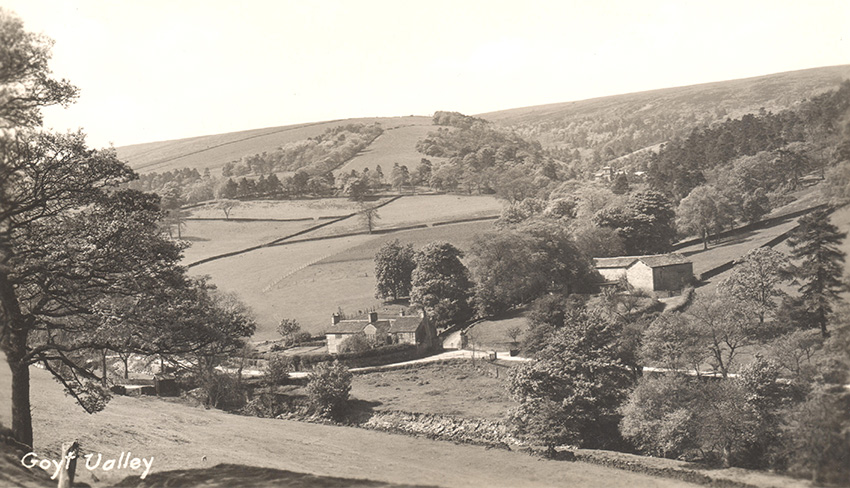 This is an un-cropped version of the photo (click to enlarge). I'm not sure when it was taken, but I would guess sometime in the 1920s. It was produced as a postcard and the reverse shows it was taken by HW Plant of Whaley Bridge.
Later postcards were printed by a process which reduced the image to a series of small dots. But this is a 'continuous-tone' photograph, which means it's possible to zoom in and capture some fascinating detail (below).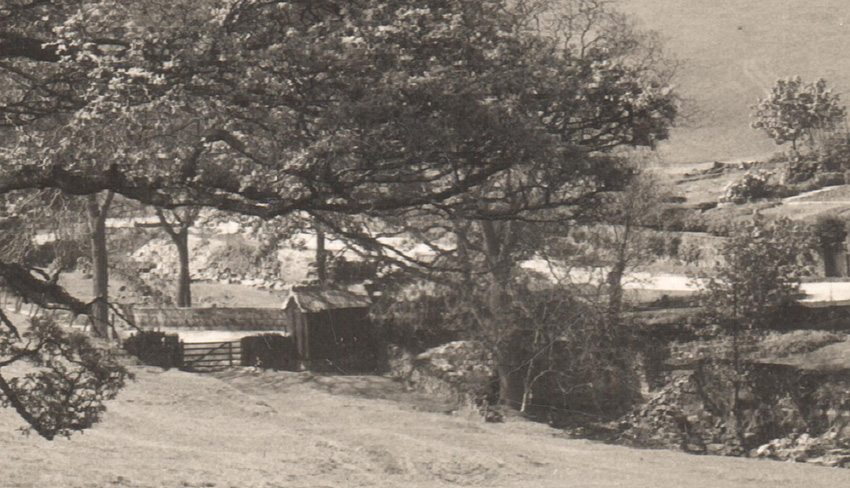 Above: This close-up shows Errwood Bridge which was the main crossing point over the river in Goyt's Bridge (click to enlarge).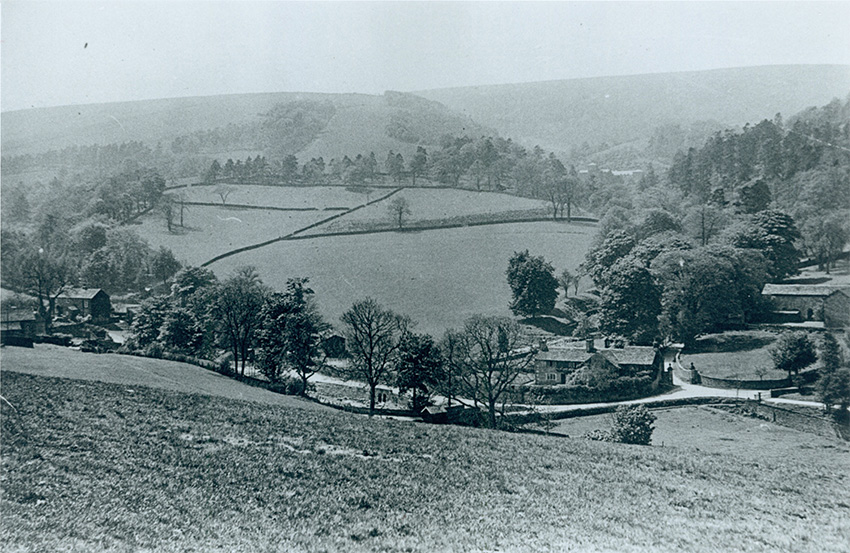 This photo
(click to enlarge)
already appears on the website and must have been taken by the same photographer at the same time, but from higher up the slope. Again, it's just possible to make out Errwood Hall in the far distance, but it's not as clear.
In this photo the hamlet of Goyt's Bridge is visible on the far left. Click here to view a post where I try to trace where the photographer must have been standing.