Above: The main bridge in Goyt's Bridge emerges from the water during the drought of 1984.
The viewpoint shows where Gary was standing to take the photo. See the main text for a key to the numbered arrows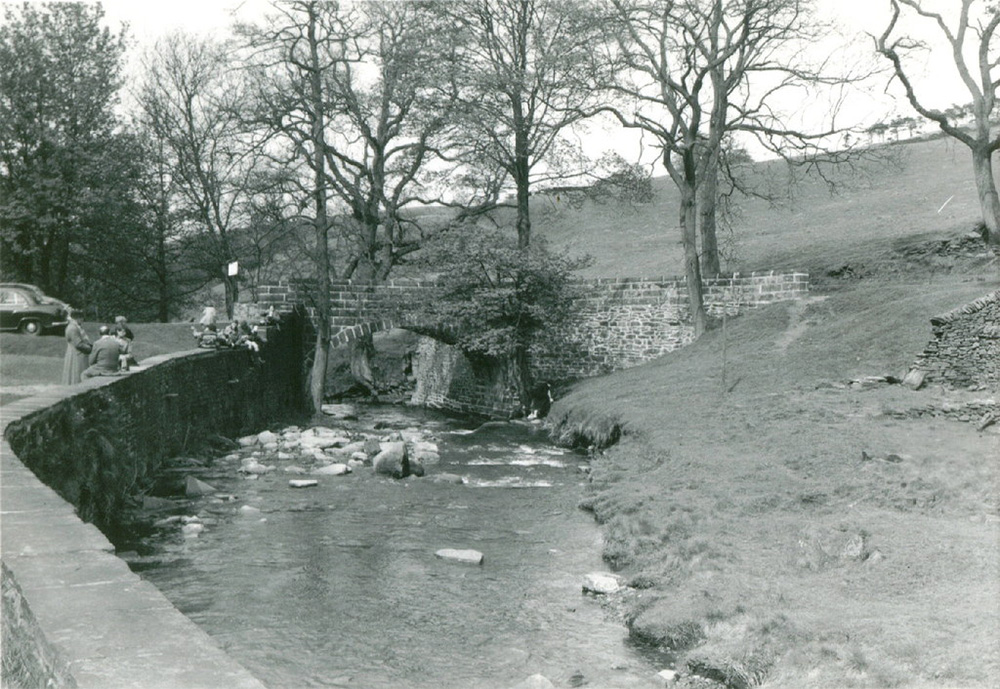 Above: This photo of the bridge was sent in by Chris Belton (click to enlarge) and dates back to 1958.
This was some 20 years after Fernilee Reservoir had been constructed to the north. And 10 years before the completion of Errwood Reservoir, which would flood this part of the valley.
Gary Dixon's photos taken during the drought of 1984 sparked a lot of interest (view previous post). Some readers have asked for a better idea of where the bridge was in relation to Errwood Reservoir today. This then & now fade reveals all…
The bridge on the far left of the satellite photo is the one just before Errwood Hall carpark. The entrance drive to Errwood Hall now lies under this modern bridge.
On the photo, it's possible to make out four tracks converging on the other side of the bridge. And these can be seen on the 1890s map. I've marked them on the image at the top of the page.
The lower road to the left (1) goes towards Goytshead Farm and the packhorse bridge. And then forks right to follow the Goyt all the way to Derbyshire Bridge. The road above it (2) is the drive to Errwood Hall.
The lower track on the right (3) is the carriageway which ran past the Gunpowder Mill to Fernilee and the Long Hill road. And the one rising up the slope just above it (4) is The Street, which passes Pym Chair on its way to Rainow. Today, The Street runs beside the main car park, which lies close to the dam separating the two reservoirs.
I've put another version of the gallery showing all of Gary's 1984 photos below. I've also added captions, some of which I'm still not sure about. Click any image to enlarge and then scroll through the collection. And please comment below, or send me a message, if you can add any more information – or correct any mistakes.

Page update (24.9.19):
I think the photo captions are now as correct as they'll ever be. My thanks to Bill Brocklehurst.