Above: Goyt's Moss Farmhouse lay beside the Old Buxton to Macclesfield Turnpike.
The single-track road to the twin reservoirs is just out of the picture on the right.
And the road snaking away into the distance ends close to the Cat & Fiddle, at the A537.
I wasn't planning on creating so many posts in such a short space of time. But it's such a wet and windy weekend – and I've got so many ideas for posts in the pipeline – that I thought I'd hunker down and do some more.
This is another photo from the album I found at Matlock's Public Records Office. It shows Goyt's Moss Farm in ruins, covered with snow. I think the album dates back to the early '60s.
The farmhouse would have probably have been empty since Stockport Corporation purchased the Errwood Estate to build the twin reservoirs in 1930 – some 30 years before the photo was taken. So I'm not sure why it wasn't demolished, along with all the other farmhouses on the land.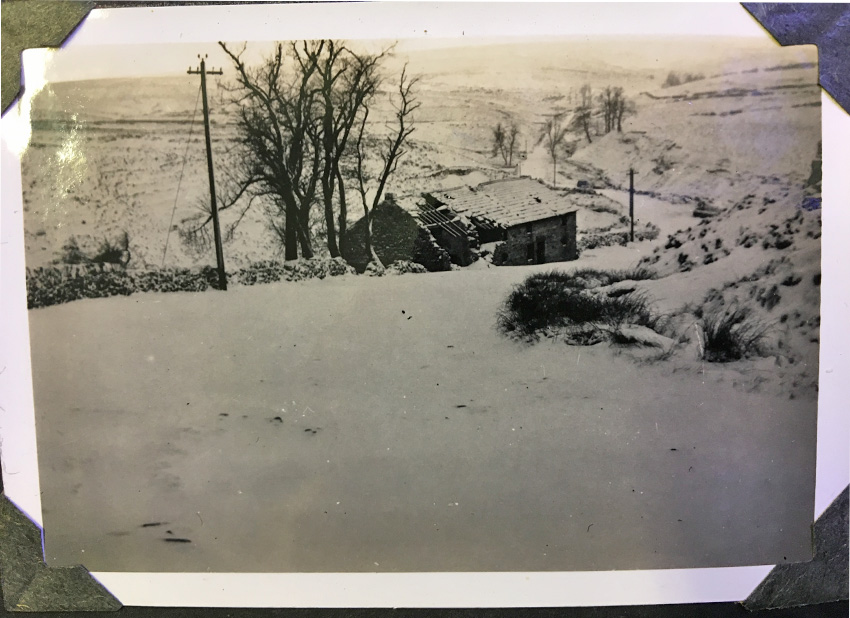 I'm sorry it's such a poor quality photo of what was already a poor quality photo (click to enlarge). But it wasn't easy to avoid the reflection of the overhead lights. And regulations didn't allow me to put it on the floor and use a tripod!
Click here for more information about Goyt's Moss Farm, as well as a couple of attractive water-colours painted when it was still a home.

Above: I'd always thought that the present Peak District Rangers' Hut at Derbyshire Bridge car park was built on the foundations of Goyt's Moss Farmhouse. But this fade clearly shows that's not right.