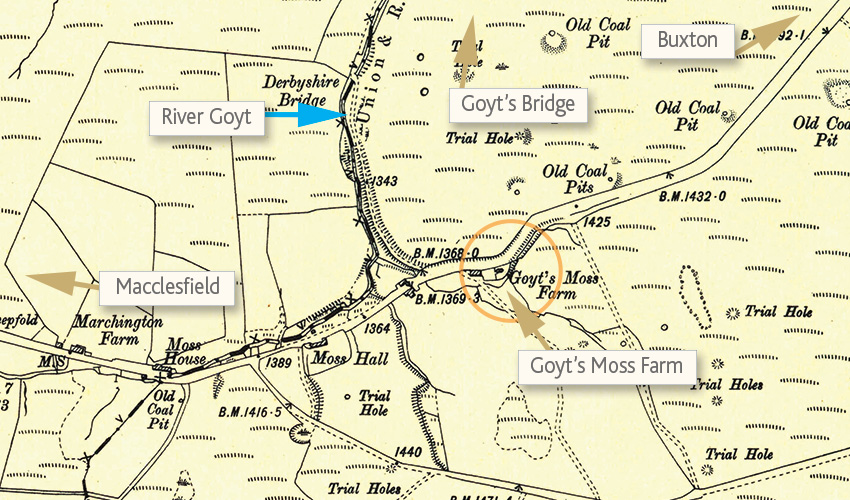 Above: This 1890 OS map (click to enlarge) shows the four buildings along this short stretch of the old Macclesfield to Buxton road, as well as the many small coal pits and trail holes which once pitted the landscape.
The Cat & Fiddle pub is a short distance to the left. The road to Goyt's Bridge runs north alongside the River Goyt (which is very much a stream at this point).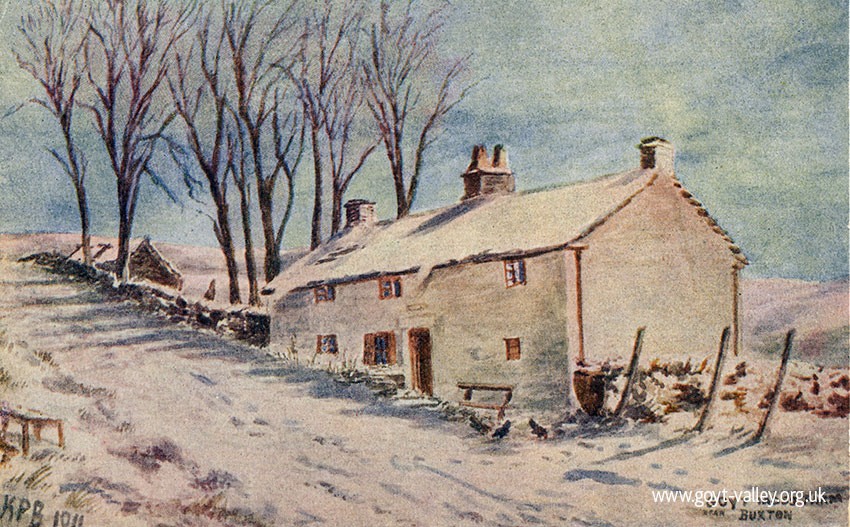 Above: Goyt's Moss Farm was a white-washed, stone-built farmhouse lying beside the Macclesfield to Buxton road. It's been completely rebuilt (I'm not sure when) and now functions as a Peak District National Park Rangers information centre and toilets, lying beside the small car park at Derbyshire Bridge.
Gotys Moss Farm
Goyt's Moss Farm was one of four houses lying within a quarter mile stretch of this once busy road (see below), just down from the famous Cat & Fiddle pub. There are very few traces of the other three buildings beyond some scattered dressed stones slowly disappearing beneath the moorland vegetation.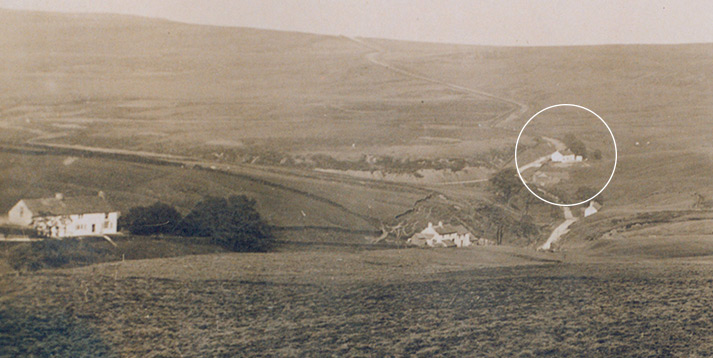 Above: This photo shows the four houses in Goyt's Moss. I've circled Goyt's Moss Farm. The old Macclesfield to Buxton road vanishes over the horizon. And the narrow lane to Goyt's Bridge goes to the left.
The Macclesfield to Buxton road was diverted sometime around the 1930s. The old road now provides a great route for walkers across the open moorland. (See walk 11.)
Goyt's Moss is surrounded by small coal pits which would have provided both fuel and income to the families who lived in this exposed and fairly remote moorland landscape.
My thanks to Mike for providing the census records below. I think some of them may be for Moss House, which was the next door property. I'll update this page if things become any clearer.

Page updates
I found this photo of the ruins of Goyt's Moss Farmhouse in the snow on the Picture the Past website (click to enlarge).
I'd guess it was taken in the mid 1930s, at the same time as all the other houses on the Errwood Estate were demolished.
Click here to view a 'then & now' fade which shows that I wasn't right in thinking today's Rangers' cabin was built on the same spot as the farm.
Surname
First name
Born
Relationship
Occupation
Birth place
1841 Census (Goits Moss)
Shufflebottom
John
c1791
Head
Stone mason
Shufflebottom
Sarah
c1791
Wife
Mycock
Jane
c1811
Servant
1851 Census (Goyts Moss)
Ward
David
c1800
Head
Banksman
Macclesfield Forest
Ward
Ann
c1813
Wife
Flagg
Ward
John
c1836
Son
Works on land
Goites Moss
Ward
Hannah
c1838
Daughter
Goites Moss
Ward
Sarah
c1841
Daughetr
Goites Moss
Ward
David
c1812
Son
Goites Moss
Mycock
Fanny
c1830
General servant
Flagg
Wilshaw
Joeseph
c1816
Agric. labourer
Goites Moss
1861 Census (Goites Moss)
Wards
David
c1819
Head
Farmer of 70 acres
Macclesfield
Wards
Ann
c1813
Wife
Derbyshire
Wards
Sarah
c1859
Daughter
Goits Moss
Wards
Joeseph
c1852
Daughter
Goits Moss
Moss
Martha
c1847
Servant
Chesterfield
Johnson
William
c1816
Servant
Macclesfield Forest
1861 Census (Goits Moss Cottage)
Ward
Hannah
c1874
Head
Macclesfield Forest
Ward
James (?)
c1844
Bollington
1871 Census (Goyts Moss)
Austin
William
Head
Labourer
Caulden
Austin
Mary
Wife
Mayfield
1881 census (Goyts Moss)
Ward
John
c1838
Head
No occupation
Goyts Moss
Ward
Sarah
c1839
Wife
Fairfield
Ward
Fanny
c1875
Daughter
Goyts Moss
Ward
Martha
c1878
Daughter
Goyts Moss
1891 Census
Keeling
John
c1847
Head
Farmer
Kingsley
Keeling
Jane
c1856
Wife
Staffordshire
Keeling
Ellen
c1878
Daughter
Harpur Hill
Keeling
Elizabeth
c1880
Daughter
Harpur Hill
Keeling
Thomas
c1884
Son
Harpur Hill
Keeling
Mary
c1888
Daughter
Harpur Hill
Newton
Sarah Elizabeth
c1887
Neice
Flash
1901 Census
Palfreyman
Mary
c1836
Head
Farmer
Staffordshire
Kidd
Sarah Annie
c1880
Daughter
Staffordshire
Goodwin
Sarah Ellen
c1888
Granddaughter
Ford
John
c1884
Servant
Farm servant
Chapel en le Frith
Keeling
John
c1850
Head
Farmer
Kingsley
Keeling
Jane
c1855
Wife
Staffordshire
Keeling
Ellen
c1878
Daughter
Harpur Hill
Keeling
Thomas
c1884
Son
Derbyshire
Keeling
Mary
c1888
Daughter
Derbyshire
Keeling
Jane
c1892
Daughter
Goyts Moss
Keeling
Charlotte
c1895
Daughter
Goyts Moss
Keeling
Ernest
c1898
Son
Goyts Moss
Keeling
John
c1900
Son
Goyts Moss
1911 Census
Keeling
John
c1847
Head
Farmer
Kingsley
Keeling
Jane
c1856
Wife
Quarnford
Keeling
Thomas
c1884
Son
Working on farm
Harpur Hill
Keeling
Mary
c1888
Daughter
Dairy work
Harpur Hill
Keeling
Jane
c1892
Daughter
Dairy work
Goyts Moss
Keeling
Charlotte
c1894
Daughter
Dairy work
Goyts Moss
Keeling
Ernest
c1898
Son
Goyts Moss
Keeling
John
c1900
Son
Goyts Moss
Phillips
Helen
c1878
Daughter
Harpur Hill
Phillips
James A
c1876
Son in law
Grocer
Cleveland
Barber
Walter Henry
c1886
Visitor
Chauffer
Cheadle Hulme