Above: The wonderfully picturesque view from the bridge over the Goyt at Taxal (point 3 on the map below).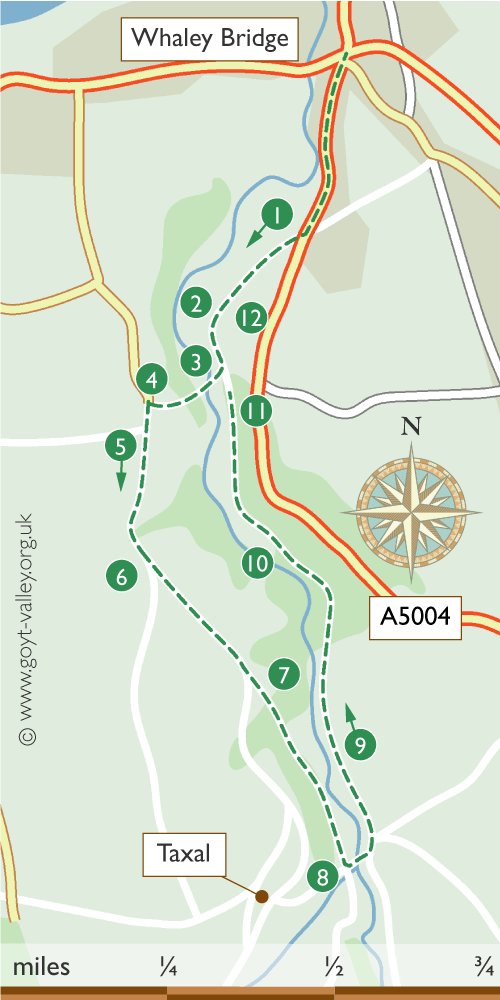 Above: click to expand map.
Some time ago Irene got in touch to ask how easy it was to get to the Goyt Valley using public transport. And my blunt answer was that it's not. There is a bus route along the A5004 Long Hill road, but there's no easy route from there down into the valley.
There is one walk from Buxton, which has good rail and bus links. But although it's one of the most popular walks in the series, it's also one of the longest, and can get both muddy and thick with ferns at times (click to view).
There were a couple of suggestions on the Goyt Valley Facebook Group. But again the walks had their drawbacks. So I was delighted to discover a new route that I stumbled on completely by accident.
It starts just a short walk from Whaley Bridge – which has a station on the Buxton to Manchester line, as well as bus routes from a wide area – and leads into the northern end of the Goyt Valley at Taxal.
This 'Relive' shows the route from Whaley Bridge (click to play and the expand button to view in full screen). From Taxal, there are attractive walks on both sides of the River Goyt, south towards the twin reservoirs of Fernilee and Errwood.