Above: The Murder Stone was erected in memory of William Wood at the very spot his brutally mutilated body was discovered, back in 1823.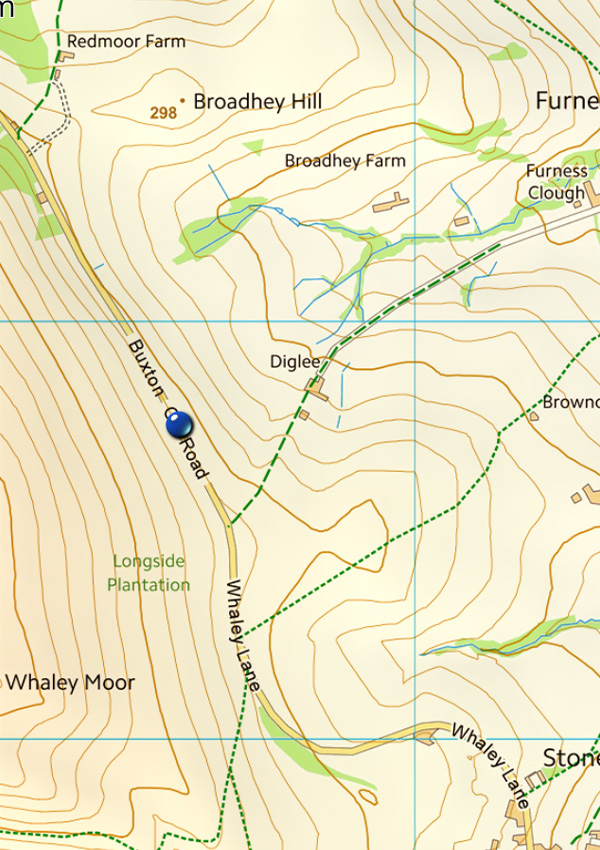 Above: The stone isn't easy to find. This shows its position on my phone's map app (click to enlarge). It's on the right if you're travelling from Whaley Bridge, just before a waterworks site on the left.
About a mile out of Whaley Bridge, beside the back road to Disley, stands a small stone memorial, half-hidden by undergrowth. The inscription reads: "WILLIAM WOOD EYAM DERBYSHIRE HERE MURDERED JULY 16TH A.D. 1823 PREPARE TO MEET THY GOD".

It commemorates a brutal murder that took place at this very spot nearly two centuries ago; at around 7pm on Wednesday 16th July 1823. It's quite a story, and I think the best way to tell it is to split it into a series of episodes. First, the facts as reported in the Manchester Mercury of 22nd July; six days after the murder…
Highway Robbery and Murder
On Wednesday last, about seven o'clock, Mr William Wood, of Eyam, Derbyshire, was discovered robbed and murdered by the road side, between Disley and Whaley-bridge, on his return from Manchester Tuesday's market.
This atrocious murder, there is every reason to suppose, was committed by three men, dressed in sailor's clothes, who were observed to follow him through Disley, up the old road, both parties having, it appears, previously met by accident at a public-house, in How-lane.
Mr Wood, having refreshed himself, (being on foot,) left the house, and was followed in about ten minutes by the three men, who taking the same road, came up with him within a short distance of Whaley, where he was found his pockets turned inside out, and his head beaten in the most dreadful manner possible.
The villains, not content with using their own bludgeons, had even taken the stones from the wall, and used them for their hellish purpose; as a large basket-full have been picked up and removed along with the body to the Cock Inn, for the decision of the Coroner's Jury.
Mr Wood is a married man, about 30 years of age, and has a family of three children; and there is too much reason to fear, the murderers have had a considerable booty, as he received a large sum in Manchester, though he had paid several accounts on the day of the murder, one to a gentleman in Stockport.
We had forgotten to state, that the unfortunate man, when found, was buried under the stones of the wall, which they had pulled upon him to conceal him. No trace has yet been made of the assassins, though they were observed to take the road leading to Buxton.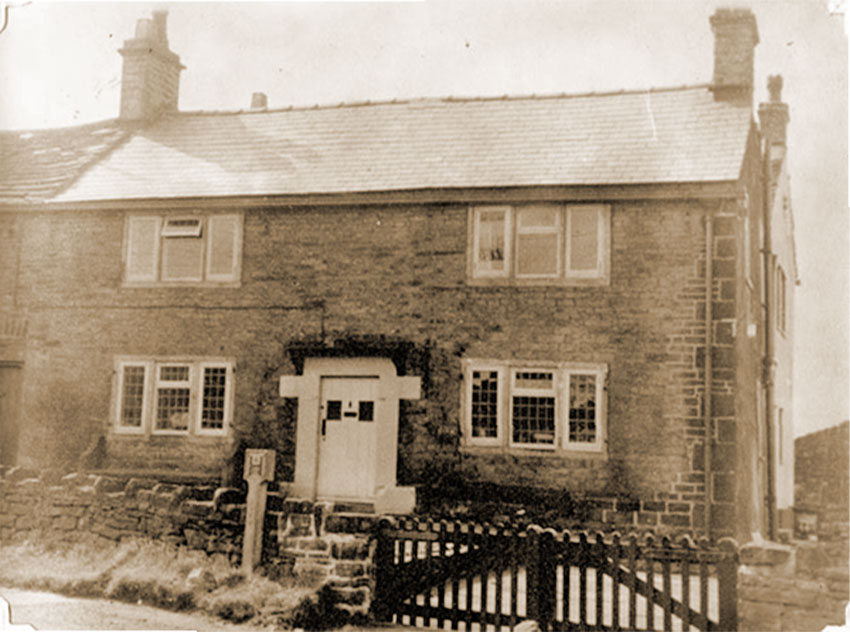 Image courtesy of Cheshire Archives & Local Studies, ref c08255.
I think this was where Mr Wood supped his last pint. It's now a private house on Buxton Old Road. The newspaper report above says it was on Hows Lane. But I don't think that was correct. The photo caption reads:
Disley: Stoneseat, the old Bulls Head Inn. This was a coaching inn, probably even before the Rams Head which was built in 1640. The oak staircase to the upper rooms, and the wide stone stairway to the cellars can still be seen. In one cellar is a well.

After ceasing to be an inn it became a 'skewer shop'. In 1881, the Forget-me-Not Order of Foresters bought this part of the inn for their headquarters. The building had been made into three dwelling houses. Stoneseat consists of what originally were the public rooms of the inn, which had its licence transferred to the White Lion in 1829.