Above: This illustration shows Chestergate, one of Chester's most ancient streets, around the time Dale was incarcerated in the nearby gaol.
He may well have passed this way on the back of a horse-drawn cart, through crowds of spectators, to his execution.
The story of William Wood's brutal murder on the back road between Whaley Bridge and Disley in 1823 draws to its inevitable conclusion. 19-year-old Joseph Dale, a man described in court as "a very peaceable, quite lad, always good tempered, and kind to his parents", was the only one of the three accused to face justice.

Taylor had hung himself whilst waiting for trial, and Platt had escaped capture. The jury had found Dale guilty after just two minutes' deliberation. An appeal had been turned down. And now Dale would pay the ultimate price.

I've reprinted two press reports of the execution below. The first from the 24th April 1824 edition of the Macclesfield Courier…
On Wednesday morning at about five o'clock this unfortunate young man was delivered up by the Sheriff of the County to the Sheriffs of the City, to be executed according to his sentence.
During the previous night he enjoyed sound repose for about an hour and a half – Mr Keeling sat up with him. Before he slept he was particularly anxious to be awake again at three o'clock "because you know" said he to Mr Keeling "we should devote as much as possible of our time to devotion."
Early as was his removal from the County gaol to the city, many persons were there to witness his transit, and with as many as came within his reach he cordially shook hands, bidding them an affectionate farewell. He did not appear so badly in health as was generally expected.
Arrival at the city gaol, the whole morning was spent in conversation and devotional exercises with Mr Keeling, in which Dale gave Mr Keeling, well grounded assurances of his hope in death, and expressed his surprise that death could be met with so much happiness as he then felt in its contemplation.
Great crowd of spectators
As the time for the execution began to approach, Dale expressed an anxiety almost amounting to impatience for the arrival of the officers, and as soon they arrived he begged to be immediately led out to the place of execution, which request was complied with, by which means the execution was over earlier than usual, not withstanding which a great crowd of spectators was present.
According to the declaration of Dale made at a time when he could have no earthly motive for concealing the truth or uttering a falsehood, he was not the actual murderer of Mr Wood.
He says that he had little or no previous acquaintance with the two men he met with on the road, Taylor and Platt, (the latter name he says should be Pratt, a person who was discharged from the Castle of Chester only a few days before,) and he believes that when they overtook Mr Wood, none of them contemplated murder, and if robbery was contemplated by the others it was unknown to him.
When he saw them use Wood roughly, he begged of them to desist, and was answered by a threat, that they would serve him in the same way.
He then attempted to leave them but was threatened again, and by threats and ridicule was induced to remain in their company, partake of their booty, and be, as it appeared upon the trial, their servant.
The sum of four shillings and sixpence is all the other two allowed him of the spoil. He says he was not aware that Wood was killed for some time after. Wood had engaged him as a workman*.
*Note: This is the only reference I've seen that Wood and Dale knew each other.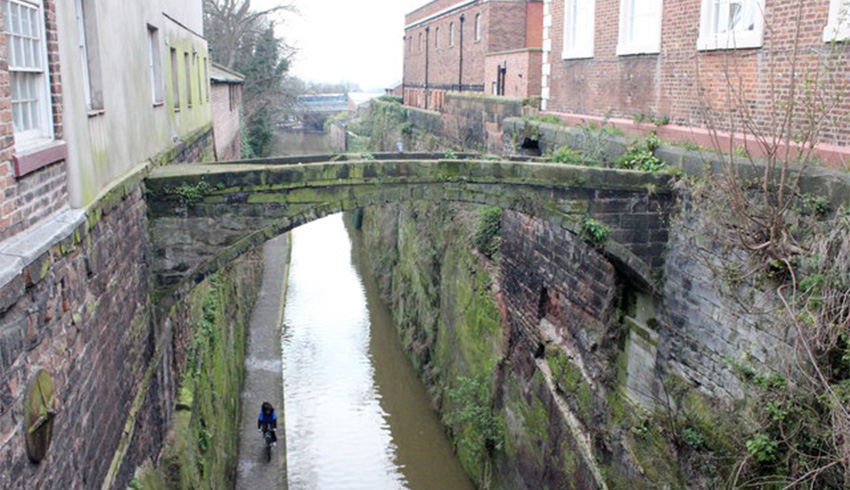 Above: The Bridge of Sighs in Chester connected Northgate gaol (left) to a chapel in the Bluecoat School to allow condemned prisoners to receive the last rites before their execution.
This report of Dale's execution is taken from the 25th April 1824 edition of Bell's Weekly Messenger…
Wednesday last closed the miserable existence of Joseph Dale. Since his sentence, his composure has been singularly remarkable, and his deportment in every way becoming his awful situation.
Mr. Keeling who has been very attentive to the culprit since his trial, sat up with him the whole of the night of Tuesday, and on the following morning Dale evinced an astonishing degree of firmness.
About a quarter after five o'clock, he was conducted to the execution cart, then waiting for him at Glover's-stone, the boundary of the city.
They crowd was very great, but Dale walked with much firmness from the lodge-door to the place where the city cavalcade were waiting for him.
During the passage along the streets to the city goal, he was supported by Mr. Keeling in the cart, and scarcely opened his eyes till he arrived at the North-gate gaol-door.
He then shook hands with a number of people who pressed around him, and was assisted into the gaol.
Exactly at 12 o'clock, the arrival of the city Sheriffs was announced to him, and this information appeared to be highly pleasing.
The executioner then made his appearance, and proceeded to pinion him. He stood up firmly, and gave his hands to the cord with amazing fortitude.
A smile upon his countenance
Whilst his arms were pinioning, he observed, with a smile upon his countenance, to Mr. Ayckbowm, "This is an easy way to get to Heaven." He was then led wards the drop, which he surveyed with undiminished firmness.
Mr. Ayckbowm and Mr. Keeling then took leave of him, the cap was drawn over his face, and in less than a minute he was no more.
The drop fell at four minutes past 12 o'clock – nearly an hour earlier than the usual time at which executions take place. Thus terminated the life of Joseph Dale, who, on 15th of Aug. next, would have been only 20 years of age.
Of Dale's guilt there is no doubt – he has made a full confession: he was present on the watch whilst Platt and Taylor perpetrated their barbarous murder of poor Wood, he has stated that he had called out to them not to kill the man, and he has frequently expressed his contrition for the share he had in the crime.
After hanging one hour, the body was cut down, and subsequently delivered to the surgeons for dissection.
Dale's features were rather prepossessing, and a cast was taken of them: they bore the characteristics of all the murderers who have been executed here for the past 14 years – viz. light complexion, light eyes, and light hair.
This certainly is a singular coincidence.

Innocent or guilty?
I'm not sure what point the last writer is making about all the executed murderers looking the same! But it's interesting that the first report says Dale was still professing his innocence, right up to the end…
'According to the declaration of Dale made at a time when he could have no earthly motive for concealing the truth or uttering a falsehood, he was not the actual murderer of Mr Wood.'
Whereas the second report says he made a full confession.
I don't think there can be much doubt that the other two were the actual killers of William Wood. But even today, Dale would have faced a charge of murder as an accomplice.
One thing I'm curious about is how Dale knew Taylor and Platt. We know that Taylor had been released from prison the day before the murder. And that his fellow-prisoners thought him 'a very evil-disposed youth'.
We also know that the three youths had been seen drinking together in a Manchester pub on the same day Taylor left prison. The report of Taylor's suicide says '…the other characters are equally young and have but a short time since left the New Bailey.'
So perhaps Dale had met the other two in prison and wasn't the mild-mannered, kind-to-his-parents character portrayed by his defence counsel.
It would be interesting to discover more about the families of William Wood and Joseph Dale. And particularly what happened to Platt. Did he go on to enjoy a happy and fulfilling life, perhaps emigrating to some far-flung corner of the empire?
Although he managed to escape justice, I can't help thinking he wouldn't have slept peacefully in his bed at night. At least I hope not…