The previous post covered the arrest of one of the murder suspects, 17-year-old Charles Taylor, in a Manchester pub. And the escape of his two co-accused, who were last seen fleeing across fields in the direction of Oldham

Taylor was taken to New Bailey Prison in Manchester, where the story takes another turn, as the Manchester Mercury of 29th July 1823 revealed…
Self destruction of one of the Murderers
Charles Tayor, the person apprehended at the Greyhounds public-house, was discovered about one o'clock on Friday afternoon, by Mr Evans, the turnkey, at the New Bailey, suspended on the stove-pipe, which crosses the room where he was confined.
The wretched murderer, it appears, had tied his stockings together, and with the assistance of his gaiters, was enabled to make them sufficient for the fatal purpose. He was not quite dead when found, but had so far effected his fatal purpose, that he had not been able to speak since, and he died on Sunday morning, about three o'clock.
He was a native of Salford and has lived for some time in Oldfield Road, is 17 years of age, and has been twice convicted of felony. The other characters are equally young and have but a short time since left the New Bailey; they are so well known that they cannot with any degree of probability remain long at liberty.
Last night, an Inquest was held before John Milne, Esq. Coroner, at the Dangerous Corner public-house, Long Millgate, and a verdict returned of "Felo de se*," the Coroner therefore issued his precept, to dispose of the body agreeable to the new Act of Parliament, which will be found in another part of this Paper.
*'Felo de se' is latin for 'felon of himself', an archaic legal term for suicide.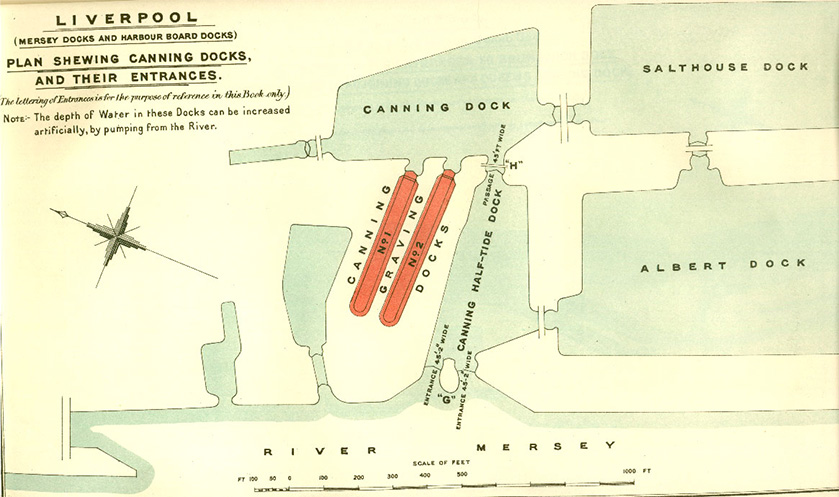 Some three weeks after William's murder, the Manchester Mercury reported that another of the suspects had been arrested, at Liverpool's Salthouse Dock (above).
Late Murder of Mr Wood, near Disley
We are happy to inform our Readers, that another of the miscreants, (Joseph Dale), supposed to be concerned in this cruel and barbarous murder, has been apprehended at Liverpool.
It appears he had attempted to enlist, and was taken on board the Mary, of Great Yarmouth, lying in the Salthouse Dock, by the active and laudable exertions of Serjeant-Major Eyre, of the recruiting staff at Liverpool.
On Friday, Mr Lavender, our worthy Deputy-Constable, went over, and on Saturday returned with his prisoner, and lodged him in our New Bailey Prison.
Yesterday he was removed to Whaley, where he will undergo an examination before a Magistrate of that district, and from thence be conveyed to Chester Castle, to take his trial.
Platt, the other accomplice, has not yet been taken.
It is worthy of notice that Charles Taylor, who assisted in the murder of Mr Wood, and afterwards hung himself in the New Bailey, Manchester, on the 18th ult. as mentioned in our last, had been confined in Chester Castle, six months for felony, and was only liberated the day before the horrid murder was committed.
Whilst under confinement he was thought by some of the discriminating part of his fellow-prisoners, to be a very evil-disposed youth.