Above: Work started on Fernilee Reservoir in 1932 and was completed in 1937. I'd guess this photo showing The Hollows still standing in the midst of the construction site would have been taken around 1934.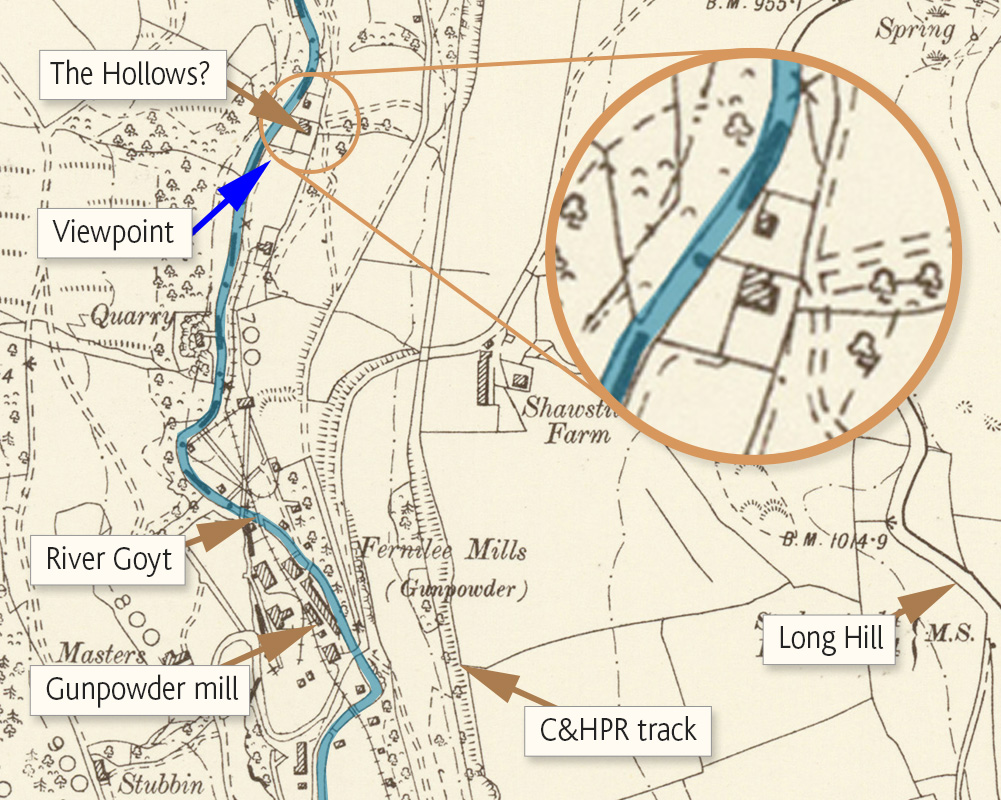 Above: I've circled The Hollows, and shown where I think the photographer was standing to take the photo at the top of the page (click to enlarge).
Following on from the previous post about identifying The Hollows, both Bill and Chris have been in touch to say that I've been looking in the wrong place on the 1890s map. I thought it was south of the gunpowder mill. And in fact it was north.
Bill wrote to say: "The line of cranes across the centre of the photo is digging the trench which was filled with puddle clay. Which is now under the line of the road."
Chris added: "You can see The Hollows still standing during construction. Behind it you can make out the puddle bar which is the centre of the Dam. And if you look at the tree line on the right, which is to the right of bottom lodge, that should give you bearings."
This 'then & now' fade shows how close to the dam wall The Hollows once stood. I've highlighted the Goyt in blue. The gunpowder mill, which closed in 1920, is to the south. (Click here for more information about the gunpowder mill.)
Chris explained that the house once belonged to the gunpowder mill:
"It was formerly two cottages, called Powder Mill Cottages. You find that buildings changed occupants fairly frequently, mainly work-related.

"With the powder mill employing such a lot of local people, men had to walk to and from work. Which before and after a twelve hour shift in the winter cold rain and snow, made for a very long day!"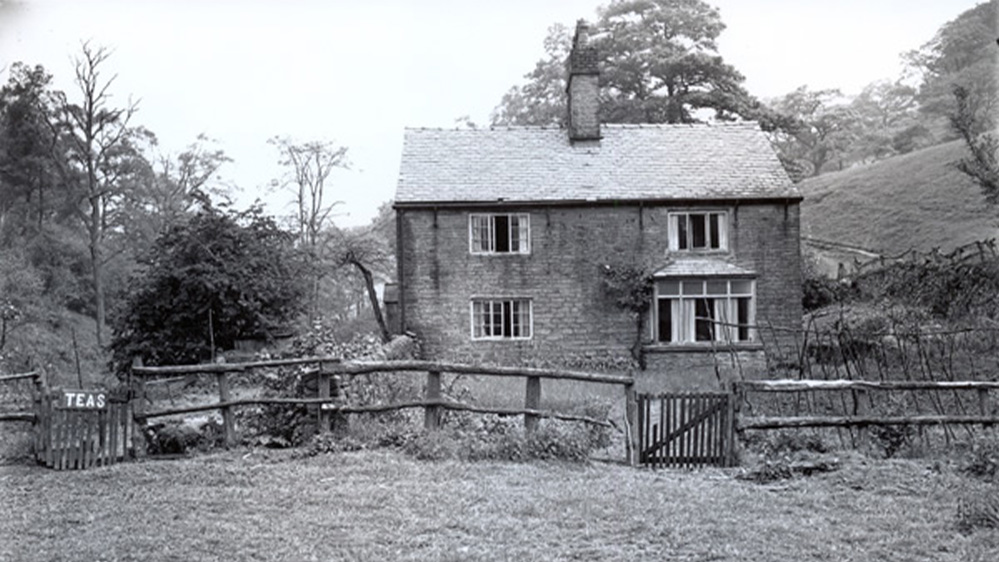 Above: This photo of The Hollows was taken in the early 1930s, very shortly before construction work started on Fernilee Reservoir (click to enlarge).
The sign on the gate shows that it once served teas to visitors who enjoyed this very picturesque spot beside the Goyt. (Although perhaps not so peaceful – or safe – when the gunpowder mill was in full production!)

Page update
This later map shows the building in greater detail (click to enlarge).
The arrow shows the direction the photograph above was taken. Looking north, the Goyt is on the left with trees on the opposite bank.
On the right of the house, a narrow footpath leads up the hillside to join The Valentine, and on to Fernilee.