Above: It's wonderful to see the picturesque packhorse bridge returned to its former glory, and reopened for walkers.
The historic packhorse bridge that once lay in the heart of Goyt's Bridge has finally been repaired and the barriers removed. It took United Utilities the best part of three years to do the work, and there was a real risk that it would either collapse into the Goyt, or be replaced by a less troublesome metal version. So it's a great relief to see it restored to its former, picturesque glory.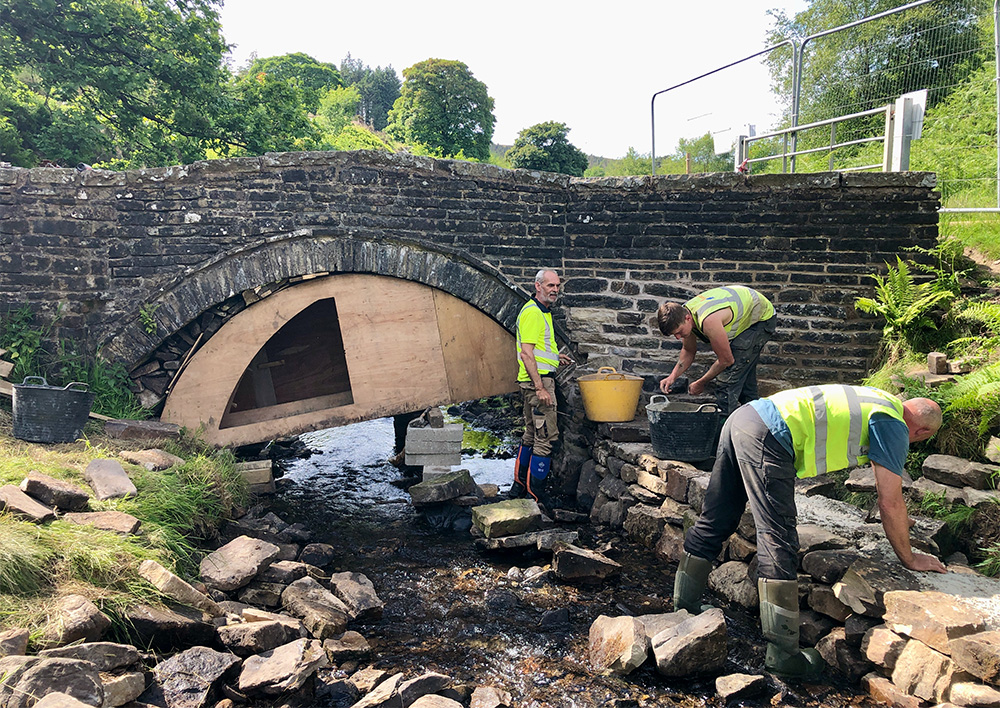 Above (from left to right): Barry Davies, Andrew Eckersley and boss, Peter Isherwood, have done a fine job repairing the ancient landmark.
I first noticed water getting between the stones at the foot of one of the supports back in September 2019 (click to view). UU put up barriers to prevent anyone using it in April 2021, but showed little interest in repairing it. All enquiries about when they were going to do the work and reopen it were either ignored or met with "as soon as possible".
The first glimmer of hope came from local MP, Robert Largan. I'd written to him at the end of 2021 asking if he could help. He received a response from UU putting me in touch with Mark Seymour, UU's Catchment Manager for the area. And it was Mark who assured me that work should start in late Spring, and that he was "in full support to save the bridge".
Peter Isherwood's company made the repairs. He's a Trustee of the Dry Stone Walling Association and told me that the bridge was in quite a dangerous condition, with one side supported on just one solid stone.

No point in spoiling the ship!
Above: The empty frame of the long-gone display board. And the ugly metal pillars at both ends of the bridge (click either to enlarge).
There's lots of information and old photos on this website about the bridge (click to view). It was only moved to its present location in 1965, during the construction of Errwood reservoir, a mile or so to the north.
There used to be an information board above the bridge describing its rich history, but it was removed some years back and never replaced. I've asked Mark if UU could install a new one, and will update this page when he gets back to me.
I've also asked if the unsightly metal posts used to secure the twin barriers could be removed. After all – as my ol' granny used to say – "there's no point spoiling a ship for a ha'porth of tar"!

Page update: Mark from UU has got back to me to say: "I will arrange removal of the four posts. This will just take some small time due to the post being cast in concrete but I will ensure this is completed in the near future. On the information board, please leave this with me. I will speak with UU land agents on this matter."