Above: Chris's eagle eyes had spotted the arch of a bridge at top right.
This postcard view dating back to the early 1900s popped up on ebay the others day, captioned 'Goyt Valley'. But I struggled to make out where it was taken. I thought it might be further up the Goyt – perhaps between Taxal and Whaley Bridge. Or maybe even further north, close to the Torrs near New Mills.
I posted it on the Goyt Valley Facebook page and my co-admin, Chris, recognised it, confirming that it was indeed taken in the valley, in the tiny hamlet of Goyt's Bridge.
Her eagle eye had spotted a bridge arch on the right, just beyond the end of the wall, and thought it must be Errwood Bridge. This was the larger of the two bridges within the hamlet. The other being the packhorse bridge which was saved when the valley was flooded and moved further upstream where today it spans the Goyt at Goytsclough.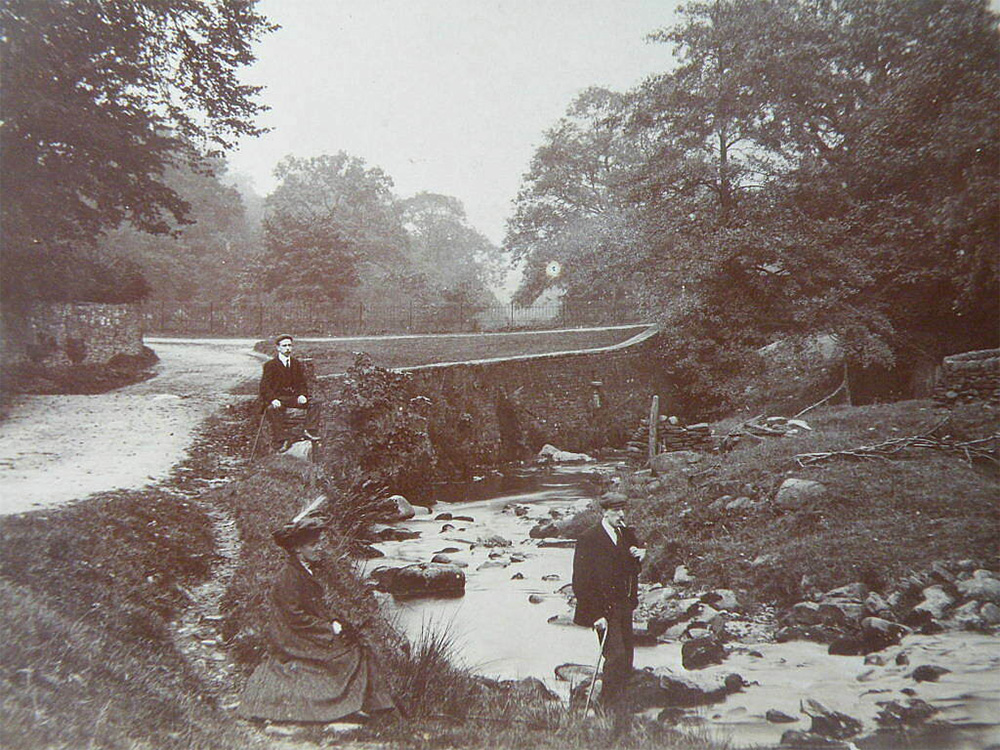 Above: the full photo (click to enlarge).
I have to admit that I still wasn't convinced as I've never seen any photos showing the railings which are just visible across the centre of the image. And I didn't think there was a slope leading down to the river. So I checked a photo of the bridge Chris Belton sent me, from 1958, before Errwood Reservoir was flooded (click below to enlarge).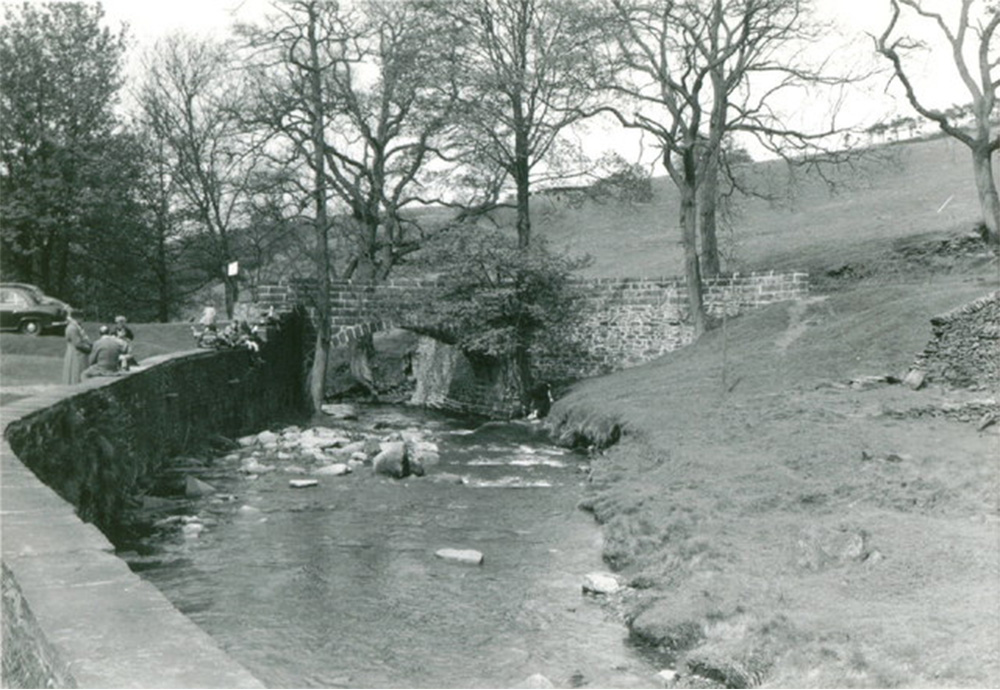 This clearly shows the same wall on the left of the Goyt, confirming Chris's suggestion. But it also reveals that it must have been extended at some point as it's no longer possible to walk down to the water's edge on the later view.
The curved wall on the left of the older photo once bordered Errwood Cottage. This was demolished soon after Stockport Corporation compulsory purchased the land in 1930, after the death of Mary Grimshawe, the last of the family that once lived at Errwood Hall.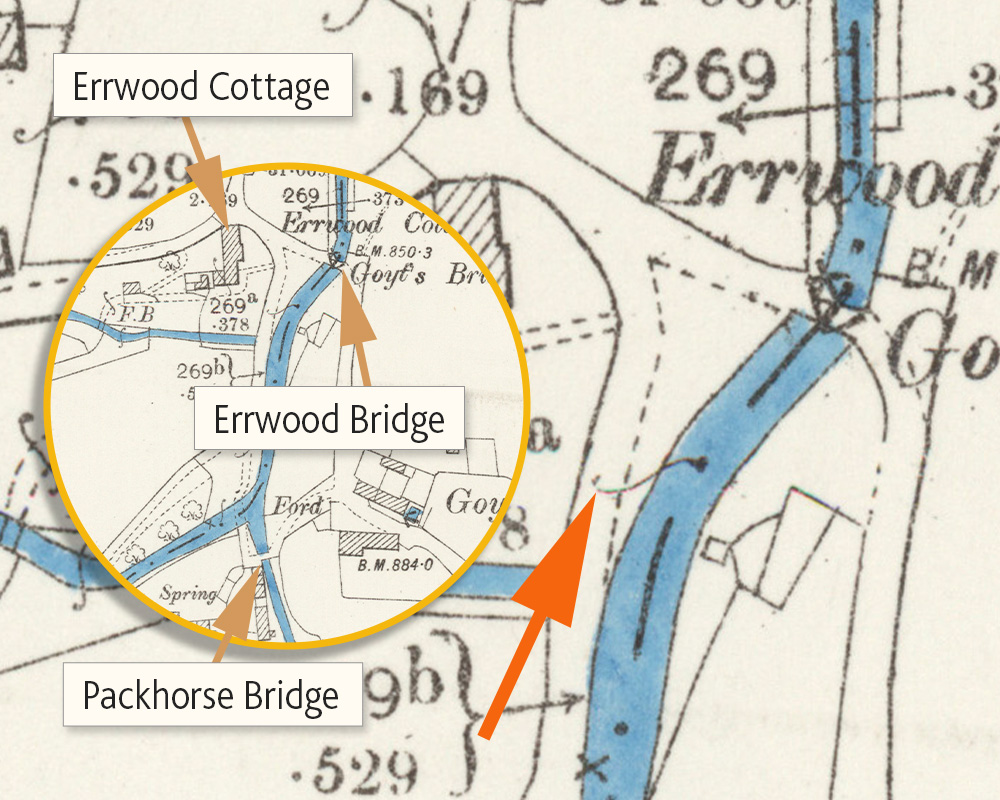 Above: The larger orange arrow on this early 1900s OS map shows where the photographer must have been standing (click to enlarge).
Postscript: Errwood Bridge has very occasionally appeared above the water when the level of Errwood Reservoir drops. Click here to view a series of photos taken by Gary Dixon in 1984.
I did try and bid for the postcard on ebay but wasn't successful. I'd like to have taken a high-res scan so I could really zoom in to the photo. If anyone reading this was the successful bidder, I'd be grateful if they could get in touch.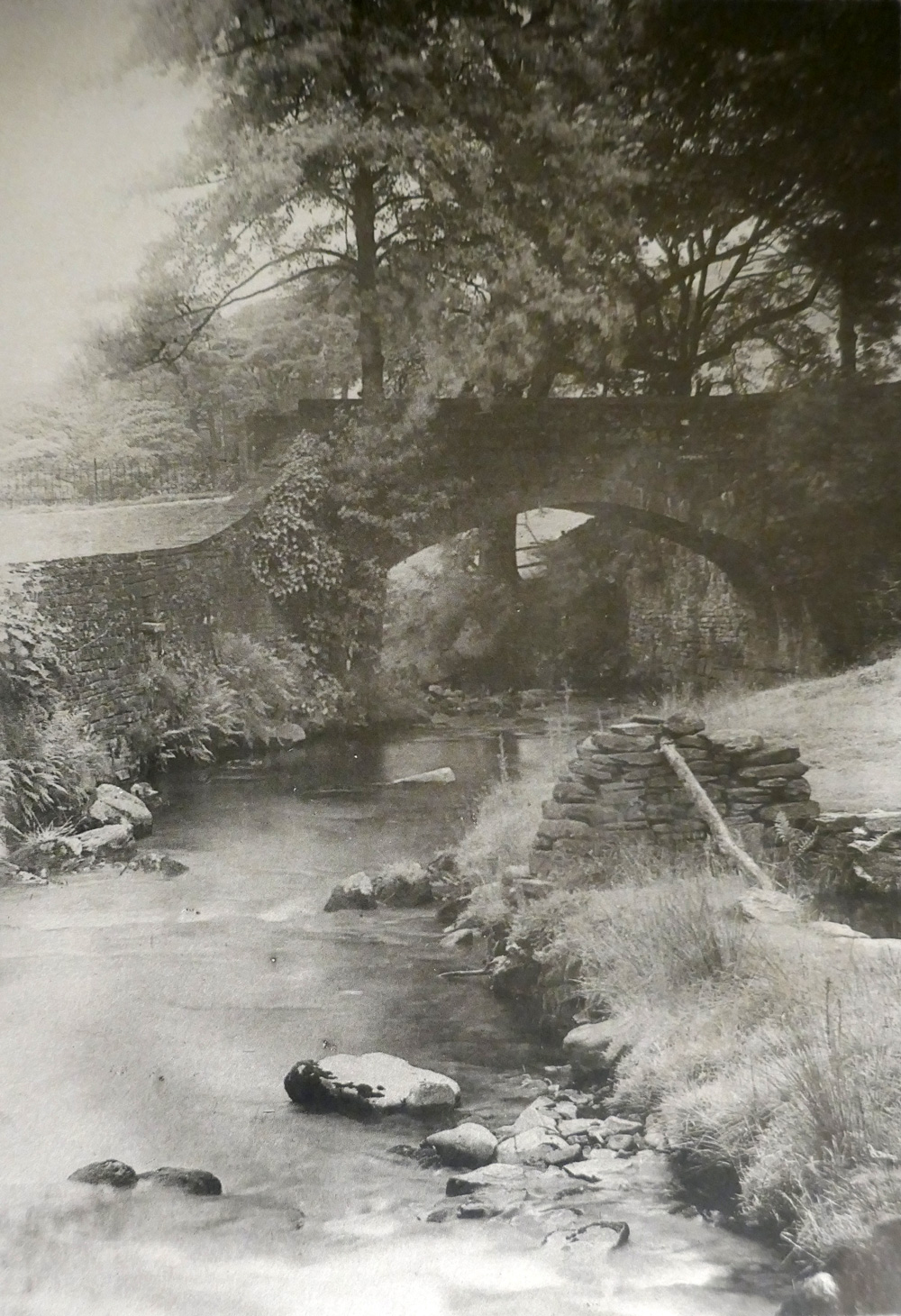 Page update 21.2.22: Many thanks to Ralph for sending this photo of Errwood Bridge which he found in a book (click to enlarge). Ralph thinks it dates to around 1910. The railings are just visible running from the far side of the bridge.