Above: This illustration, which appears on the cover of Gerald Hancock's wonderful booklet on the valley, would have been painted around 1900.
My thanks to Michael Baines for allowing me to scan some of his wonderful postcards of the Goyt Valley. They include an image I've long tried to trace – an illustration of a young girl crossing the stepping stones in Goyt's Bridge which appears on the cover of Gerald Hancock's 'Goyt Valley Romance' (above).
The stepping stones look fairly precarious when the Goyt was in full flow. But I think the painter has used some artistic license to make them appear even worse than they actually were. I'm sure the scale of the girl has been reduced to make her appear a lot smaller in relation to the stones. The hand-painted photo (inset) shows the same scene.
Many of Michael's extensive collection are already featured elsewhere on the website (see Corrie's collection), so I've only included those that don't appear on other pages.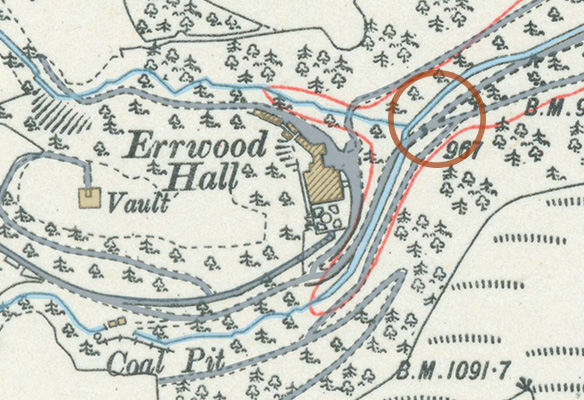 Above: This late 19th century map shows the lane leading down from Errwood Hall to Goyt's Bridge (click to enlarge). I've circled where I think the photo was taken, with the path leading up the slope to the right.
At this time the lane ran alongside Shooter's Clough, all the way to the gates beside Errwood Cottage. But it was diverted during the construction of Errwood Reservoir, and now exits above the slope leading down to Errwood Hall car park.
When the water level is low, it's possible to spot the lane as it runs under the modern bridge, just before the car park.