Above: The view today and in the 1960s. There's a small car park beside the pond which is an ideal starting point for a short walk along the old railway line. It ends after about a mile at a blocked up tunnel.
Walk 12 follows the entire line – as much as possible – from Burbage all the way to Whaley Bridge, returning by train. And passes the pond along the way.
Here's another image I discovered in Matlock's Public Records Office last week. It was in a personal album of local photos taken around Buxton. I forgot to make a note of the date, but from memory it was the early '60s. The hand-written caption says 'Skating on reservoir Goyts Lane'.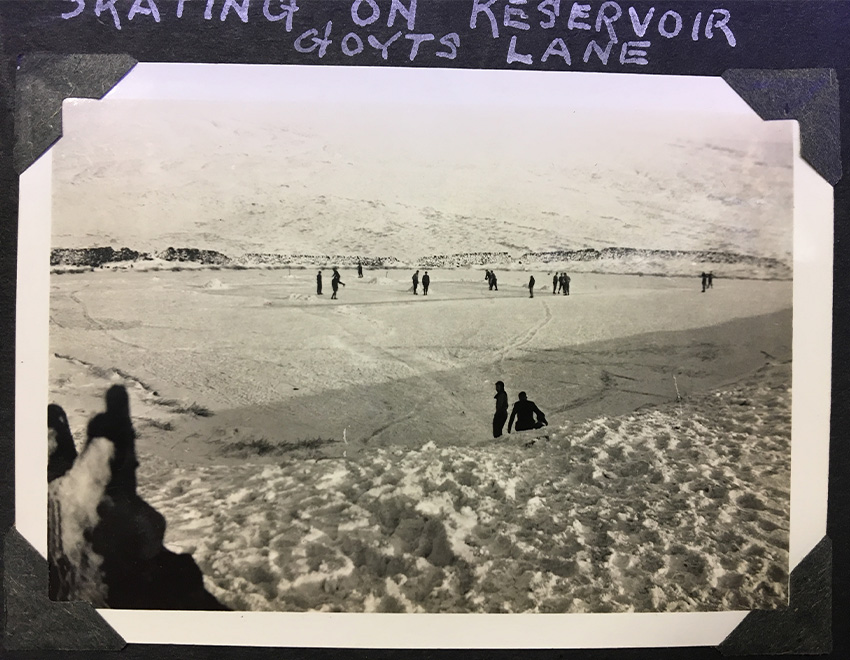 At first I thought they were skating on one of the twin reservoirs, Fernilee or Errwood. But a closer look shows it's the small water reservoir at the head of the Bunsal Incline (click to enlarge). This dates back to the Cromford & High Peak Railway, which opened in 1831.
It was one of two small reservoirs on the incline (the other was half way down on the right) which provided water for the steam-driven trains, as well as the engines that pulled them up and down the steep slope.
It brought to mind a description of a winter walk taken by one of my favourite chroniclers of the Valley, Strephon. This excerpt is from an article that appeared in The Buxton Advertiser in 1880. He writes about the pond in his typically florid style…
Here we are regarding the skaters on the little lonely tarn among the moors, and picturesque enough is the scene. The atmosphere has the rich softness of a Claude landscape.

There is such a golden mellowness in the November sunshine that the afternoon seems to swim under the lemon sky; across the ice, virgin white, save where some frozen-out labourers have swept broad black rings for skating, the westering sun, a ruddy copper shield, shines with a red horizontal light across wild tracts of hilly moors, with just a suggestion of snow relieving their somber shade.
Click here to read Strephon's article in full.
This fade compares the pond in a mid 1890s map with today's satellite view. This section of the C&HP Railway – from Ladmonlow, near Buxton, through to Whaley Bridge – was closed in 1892 when an easier route, with no steep inclines, was opened between the two towns.
It does look like the perfect spot for ice skating. I must remember to dig out my old skates the next time it freezes over. (Or maybe that's not such a great idea!)

Above: I used the photo from Walk 12 to create this fade between the old and the new. It's not perfect and I'll go back to see if I can get a closer match.