Above: Unfortunately I haven't been able to find any images of Samuel Grimshawe. His two daughters, Mary and Genevieve, are pictured above standing either side of the Queen of Spain. Mary (far right) was the last of the Grimshawes. She died in 1930.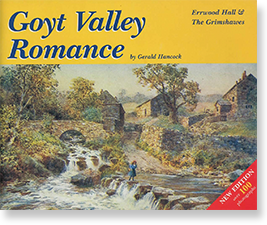 Much of the information I have on the Grimshawe family and their Errwood Estate comes from Gerald Hancock's wonderful little book, 'Goyt Valley Romance' (above).
Samuel Grimshawe purchased 2,064 acres of the Taxal Valley – stretching from the Cat & Fiddle pub on the Cheshire  Derbyshire border, north to the village of Taxal – from John Jodrell of Yeardley Hall in 1834.
It was his son – also called Samuel – who managed the construction of Errwood Hall, starting the works some time around 1840. And when his father died in 1851, Samuel inherited the large estate.
He and his wife Jesse lived in the Hall until his death in 1883. They had one son (again called Samuel but known as Arthur) who died in infancy. And two daughters; Mary and Genevieve. Jessie died in 1893, leaving the estate to her two daughters. Genevieve died first in 1929. And Mary a year later in 1930.
All are buried in the hilltop graveyard which stands above the ruins of the Hall (click to view).
The estate is sold
The two sisters had known for some time that the land was to be compulsory purchased by Stockport Corporation to create the twin reservoirs of Errwood and Fernilee. And within a matter of months of Mary's death, the purchase had been completed.
Errwood Hall survived for a few years as a youth hostel. But in 1934 the Hall and 13 outlying farms on the estate were demolished. The attractive hamlet of Goyt's Bridge was left to rot, and the ruins finally vanished under the cold waters of Errwood Reservoir in 1967.
I've divided the text from Gerald's small book on the Grimshawe family into three sections. Click below to read them.