Above: Goyt's Bridge is on the left of the fold, and unfortunately damaged by a slight tear in the fragile paper.
Goyt's Lane to Buxton runs off the right hand edge of the map, past the small reservoir at the top of the Bunsal Incline on the Cromford & High Peak Railway line.
Trains were hauled up and down the slope with steam-powered cables. The engine house is marked on the map, alongside the small reservoir which provided the water for both the pulleys and the trains.
Today, this track is the main route into the valley for visitors coming down from the Buxton to Whaley Bridge 'Long Hill' road.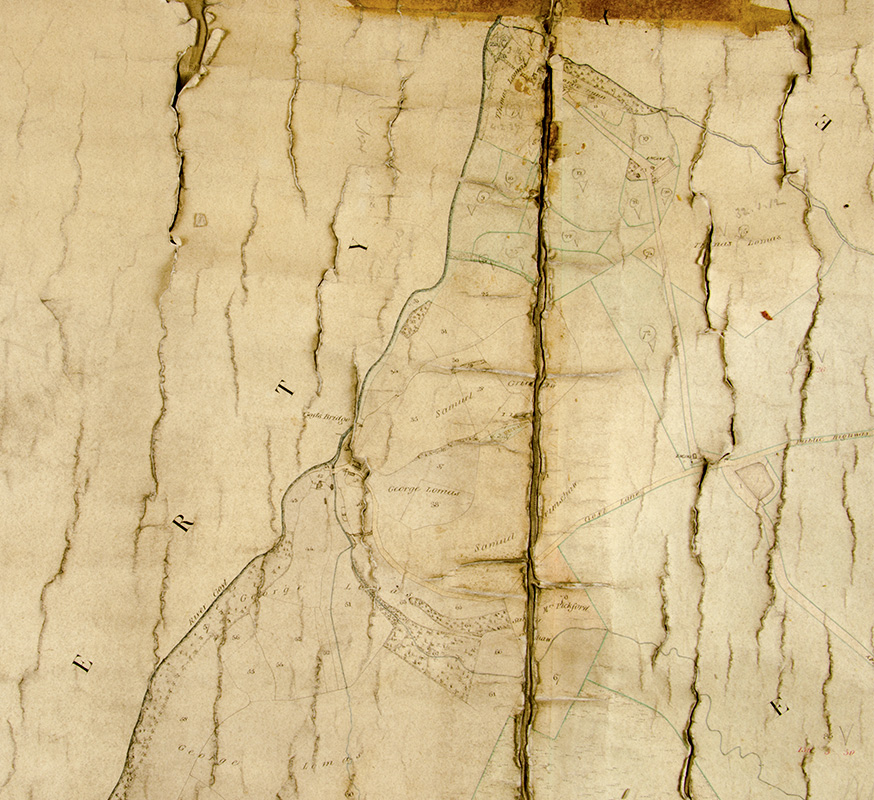 Above: Click the map to view a larger version without any captions.
Devonshire Mss., Chatsworth, Map 2084
This is the oldest detailed map of Goyt's Bridge I've managed to discover. It's dated 1853 and was drawn by Charles Robertson of Chesterfield. It's now held in the Devonshire Collection at Chatsworth House.
Goyt's Bridge was demolished in the 1930s and the ruins now lie beneath the waters at the southern end of Errwood Reservoir. But it was once an ancient crossing point over the River Goyt, between Cheshire and Derbyshire.
Assistant Archivist, Aidan Haley, explained; "There is no legend to the map suggesting what it is for, but as the fields all have parcel numbers I think it was probably used mainly for estate management. It will have come to us when the Devonshire Estate office in Buxton closed in the 1950s."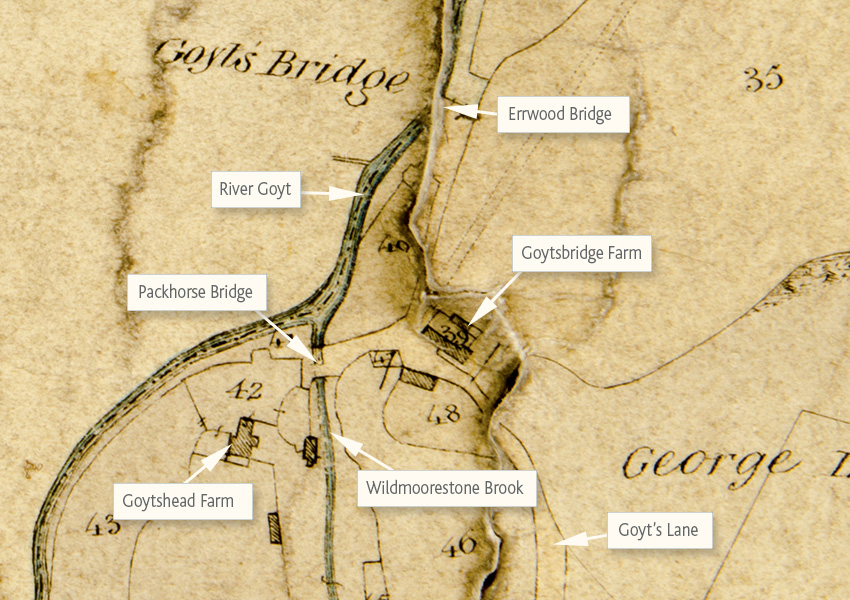 Above: Click the map to enlarge this detail of Goyt's Bridge.
Although Errwood Hall was built in the early 1840s – more than 10 years before the map was drawn – it's not included. Presumably because it was on the Cheshire side of The Goyt. Likewise with Gatehouse / Errwood Cottage.
Click here for more information about Goyt's Bridge.

My thanks to Chatsworth Photo Librarian, Diane Naylor, for providing the image. (I did find a reference to a similar map of Goyt's Bridge dated 1614, but unfortunately this hasn't been so easy to track down.)