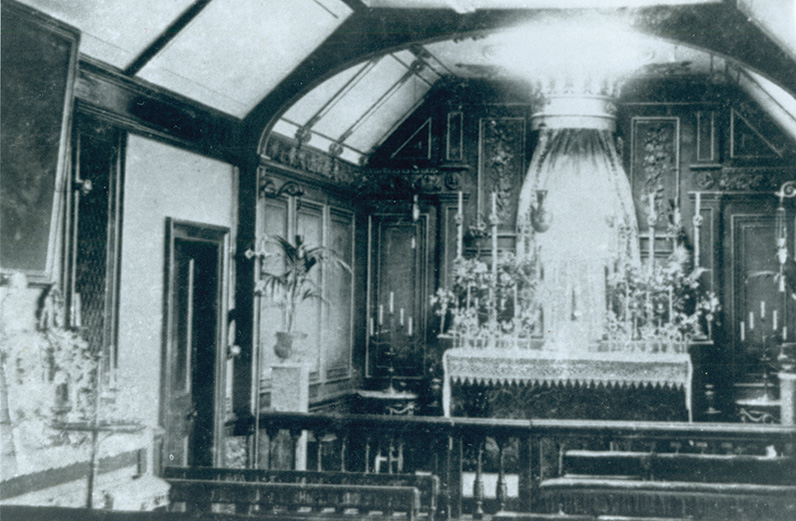 Above: This is the only photo I've managed to find showing the interior of Errwood Hall (click to enlarge).
This is the family's Roman Catholic Chapel which was situated at the top of the three-storey tower.
It's said that a lamp was kept permanently alight in here which could be seen for miles around.
James writes: Hi, I have been fascinated by Errwood Hall for many years and love looking at your website. I like to get up to the Goyt Valley as much as possible with my partner and our dogs.
I've been trying to piece together some idea of where things were in the Hall and was wondering whether you are aware of any interior photographs other than the famous one of the chapel, or whether floor plans are held in an archive somewhere.
This is entirely for personal interest, but trying to put a picture of the interior together in my head has driven me mad on and off for years!
Also do you know of anywhere I might be able to see a copy of the auction catalogue?
The two pages on the site are tantalising and a few years ago while walking near the hall, I stumbled across a piece of a really delicate blue and white china coffee can which was clearly from a good quality dinner service.
I would love to know whether it matches anything that was put up for sale in the auction. Sadly the piece I found is long lost.
Thanks for your comments about the website, James. Unfortunately, I don't know of any other interior photos of Errwood Hall apart from the top-floor chapel (see above). Or of any floor plans. But I'll update this page if any come to light.

As for the auction catalogue, it's mentioned in Gerald Hancock's 'Goyt Valley Romance' (view info on this website). And I'd guess that a copy would have survived somewhere. But again, I've never seen one. Gerald says the auctioneers were Turner & Sons of Macclesfield. But a quick search on Google drew a complete blank.

If anyone has a copy, please do get in touch. Or leave a comment below.