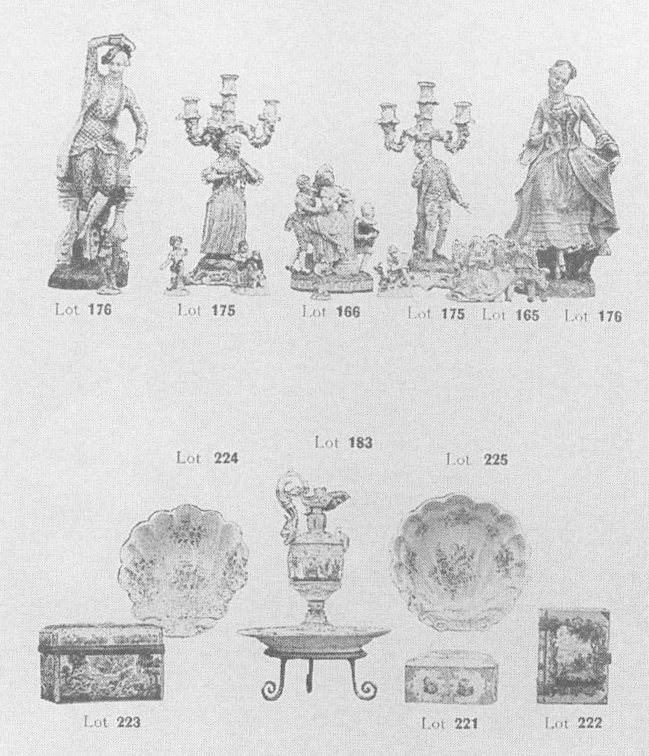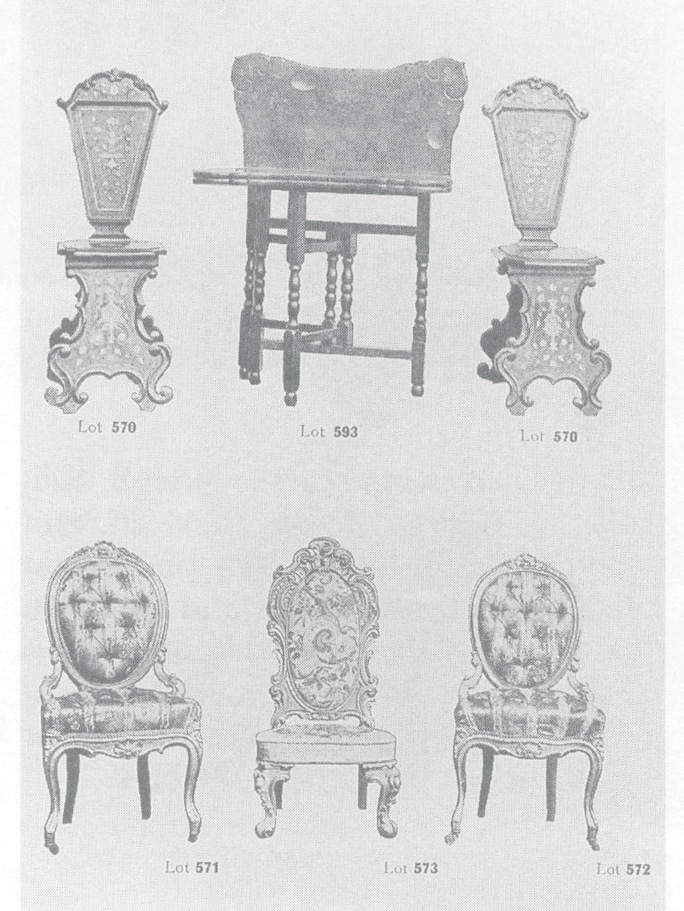 These two pages from the auction catalogue show the high Victorian style of the Hall's interior. Click either image to enlarge.
Mary Grimshawe-Gosselin of Errwood Hall died on 23rd February 1930. She was the last surviving descendant of the Grimshawe family. Plans for Stockport Corporation to compulsory purchase the estate to build the twin reservoirs were already well advanced. And the sale went through within a matter of weeks of Mary's death.
The auction of the contents of the hall was held over five days – from June 16th-20th 1930, and conducted by Turner and Son, the Macclesfield auctioneers. There were more than 1,800 lots in total. It's not recorded what the total amount raised would have been. Here are just a few examples (reproduced from Gerald Hancock's Goyt valley Romance):
Lot 166: Group of three Dresden figures, 'Man, Woman, Child and Dove'.
Lot 175: Magnificent pair of Dresden figures, supporting four candelabra. 21ins high.
Lot 176: Pair of elegant Dresden figures, 26ins high, 'The Dancers'.
Lot 183: Magnificent Capo di Monte rosewater ewer, 20ins high; on dish and brass stand.
Lot 223: Beautiful Capo di Monte jewellery casket with raised figured panels, brass bound 9/2 x 5/2 x 6/2 ins.
Lot 222: French porcelain do. in the form of a book, 'Boileau Despreaii Passage due Rhin', 1667.
Lot 224-225: Porcelain plates.
Lot 212: Pair of Worcester vases 21ins high.
Lot 213: Pair of tall Sevres vases 21ins high.
Lot 591: Rare antique Buhl table.
Lot 366: Magnificent brass and oimolii timepiece with embossed Gladiatorial panel surmounted by Charist with Charisteer and two horses 19ins high.
Lot 367: Pair of ormolu rose leaf stands, 20ins high supported by three figures.
Lot 570: Set of six very rare Italian walnut chairs.
Lot 571: Pair of handsome gilt chairs.
Lot 573: Lady's gilt chair.
Lot 593: Genuine William and Mary card table.
Some ornate plasterwork from Errwood Hall has survived. Click here for details.

Auction catalogue
Many thanks to Janette for sending these scans from her copy of the original auction catalogue. Simply click on any page to enlarge and scroll through them using the arrows.


Renaissance Masters
Janette also did some research on some of the paintings listed in the auction catalogue, many of them by Renaissance masters including Velazquez, Canaletto and Caravaggio. She was particularly intrigued by lot 466 described as "Small old oil painting on panel 'Virgin and Child' by Albert Durer". Janette explains:
"I'd seen Durer's Virgin & Child with St Ann in the Met in New York. However the Met website states it was a bequest in 1913, so they already had it before the Errwood sale of 1930, so it must be another version.

"Also the one held in the Met is larger than the one in the auction catalogue. I found a second one, gifted to them in 1917, so that's not the Errwood version either.

"It looks like Durer churned out a few of these paintings and the one from Errwood isn't in the Met after all, assuming their website is correct. This page gives more details about both Durer and the painting."