Many thanks to Peter Jordan for sending me this article from 'Cycling' magazine which includes a wonderful description of a 1932 cycle trip through the Goyt Valley.

It was one of two articles Peter kindly sent me. Click here to read Peter's entry on the Guestbook. And click here to read the second article.
Click on any image below to enlarge.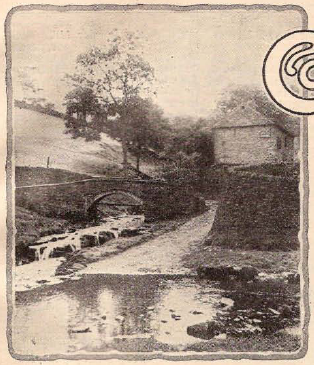 Goyt Bridge, a picturesque spot near Buxton.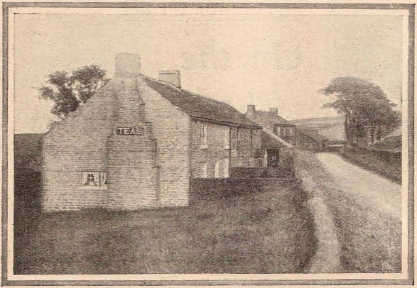 The hospitable Blue Boar Farm, Rainow, where many cyclists gather each weekend.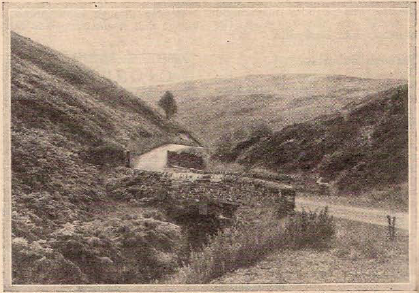 Amongst the rolling hills of the Goyt Valley.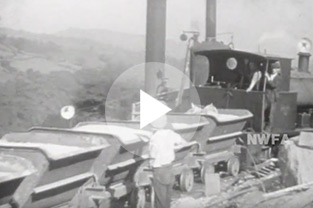 The writer, Fergus MacRannal, cycled through the valley at the same time as the cine film featured above was taken (
click to view
). He describes the…
"…little green engines and towering jib cranes, brown earth workings and the white chips and stumps of felled trees". Whilst adding the wry observation "…all proclaim the triumph, if triumph it is, of Man over Nature".
I DIDN'T feel like going out with the club. They were going too far. It would be an out-and-home race over Derbyshire and Yorkshire moors, finishing over the rough setts of Gee Cross, Woodley, Bredbury and Stockport. No, thank you. I would go by myself and be content with Cheshire.
Not that I dislike hills and moors. On the contrary, I knew that I should probably see more hills than they, for my route included a few lanes and tracks in the Cheshire borderland, in what was once Macclesfield Forest. Only one limit was set to my wanderings: I would try not to cross the boundary into Derbyshire.
Through Suburbia
Threading my way through the maze of suburbia , I entered the Buxton road near Hazel Grove and climbed up to High Lane and Disley. Here I turned off into the hills and was soon walking up past the church, which looks down on Disley from a wooded crag. Two cyclists were taking a rest by the roadside a bit farther up and we passed the time of day, but did not know that we were destined to meet again.
From the top, Whaley Moor, I had hoped to get a view of the Derbyshire hills: Cobden Edge, Chinley Churn, Eccles Pike, and, perhaps, behind them all, Kinder Scout itself; but no, it was too dull and hazy and it was scarcely possible to see across the valley to New Mills. I was now now approaching Longside Plantation, where there is a stone marking the spot at which, in July, 1823, William Wood of Eyam was found murdered. Who the murderer was, and what his motive, is not known.
On I went. down the steep hill towards Whaley Bridge; but soon turned off for Kettleshulme, along a steep, rough road, leading round the head of the reservoir. The descent to Todd Brook, which runs here in a deep wooded cleft, is, in particular, very rough and precipitous, a place where one is thankful for good brakes.
Passing through Ketleshulme, a village that seems isolated in these bleak hills, I turned off the Macclesfield road to follow Todd Brook Valley up to Pym Chair and Jenkin Chapel, and decided to photograph the road up to Charles Head.
I pushed up to Pym Chair, past Ladbitch Wood, and encountered snow in places; sometimes just sprinkled on the road, sometimes drifted to a depth of four or five inches. I was glad not to have it deeper. At the former place I turned right for Jenkin Chapel. Down and down, round nasty corners on a tricky surface; but not fast. The road falls 500 ft. in just over a mile; that is roughly 1 in 11, and that is quite steep enough for a rough road; and as some parts are level, other parts are very far from it.
The last hairpin just above the ford is a terror. And then up the other side to Roundknoll. Tile climb here is only 300 ft., but it is accomplished in a quarter of a mile – 1 in 4 1/2, and feels like it. But it is worth it. The views, both up and down the valley, are superb. Cat's Tor was covered in snow, and Ladbitch Wood stood out black against a snowy foreground.
Home from Home
I found Mr and Mrs Marshall at Blue Boar Farm, Rainow, "mythered to death" by some 40 or 50 guests-cyclists, hikers and motorcyclists; but they had time, as always, for a few cheery words. Soon after my arrival some more ramblers turned up and also a lad from my own club. At lunch I found myself opposite the two cyclists I had seen near Disley, and at the end of the table were another half-dozen cyclists of our acquaintance. Truly, this was a gathering of the clans, and a merry hour was spent. discussing cycling and rambling and other topics.
After lunch, amid cheery farewells and injunctions to be careful and good and so on, I proceeded down the hill to Nab End, passing that mysterious stone inscribed, "At this spot was found John Turner, who was cast away in the snow in or about the year 1733." And on the reverse, "Near the spot where he lay was found the print of a woman's shoe." The mystery has never been solved.
Before the Deluge
I soon came to the Macclesfield Buxton high road, which I crossed to descend into WildboarcIough. It is glorious down here at all seasons, by the brook and the woods, but I decided to keep to the left by Clough House and the climb back towards the "Cat and Fiddle," for I wanted to see the Goyt Valley again before it was submerged. Up past Crag Hall I went, through the woods, and still up on the Collgleton road, up Dane Clough, between Bleak Knowl and Cheek Hill, on to the moors.
There are glorious views to he had up here when it is fine and clear, but it wasn't then, so I didn't get them. Another object of mine was defeated, too, for I had to choose between riding a mile or so in Derbyshire and carrying my machine across the moor. I preferred Derbyshire, and soon was gliding down Goyt's Moss to the road through the Valley. This top part is very wild: a stony track leading down by the brook through rolling moorland. Farther down, the valley is deeper and wider and full of trees and shrubs and boulders.
I passed Goyt's Bridge Farm, which is to be demolished, and entered the lower stretch of the valley, where the second reservoir will be. They have already begun work by the Powder Mill. Stacks of timber, terraces of quarry tracks, little green engines and towering jib cranes, brown earth workings and the white chips and stumps of felled trees – all proclaim the triumph, if triumph it is, of Man over Nature. I decided against crossing the river at this point and, entering a gate on the bend above the bridge, kept straight on along a grass and dirt road.
Around the Bend
Rounding a bend, the road began to drop swiftly to another brook that comes down a deep wooded clough from Ladbitch Wood, and here the scene reminded me of County Kerry. A little whitewashed cottage at the end of a pine-wooded clough, or glen, and a sparkling stream bouncing over the stones – but a "No Road " notice forbids exploration, so I climbed and climbed up a steep, rough, narrow road that winds round awkward corners, and came to Overton Farm.
Here I turned right, through a gate, and found a better road that led me down to Taxal Church, right at the bottom end of the Dale of Goyt. A sharp climb brought me out on to the main road at Horwich End, and I turned homewards, entering Derbyshire once more for half a mile, then down the main Manchester road, past Furness Vale, Newtown and Disley, and on through Hazel Grove to my house – and supper.
Thus with solitude, rough roads, superb scenery and friends all the way, I had spent many happy hours and retired to bed feeling that one day, at least, had not been wasted.

Finding the route
It would be fascinating to get an up to date view of the route to see how things have changed over the last 80 years. So if there are any cyclists out there with helmet action cameras who might be up for the challenge, please get in touch.