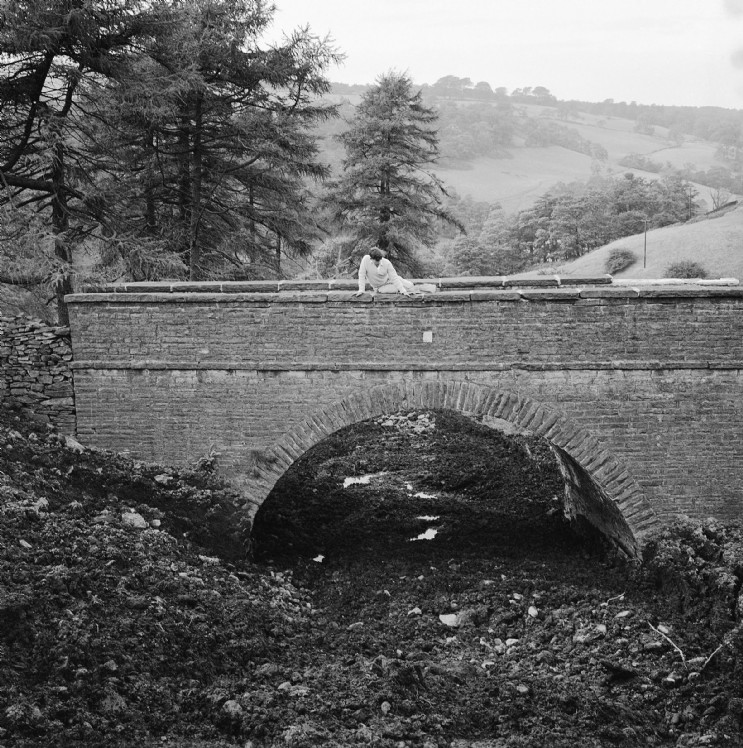 Above: Click the photo to view the full image. It was taken looking down the incline. Fernilee Reservoir, which was completed in 1937, lies in the valley behind.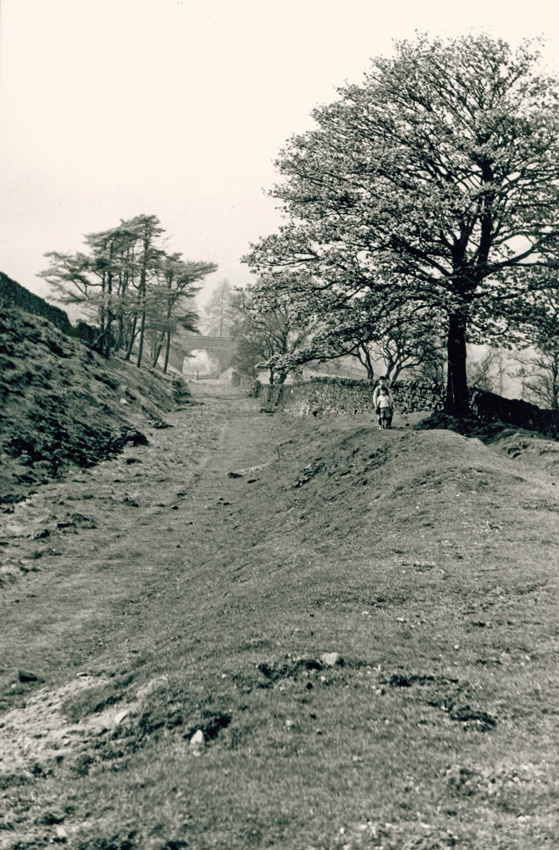 Above: Another photo of the Bunsal Incline before it was tarmacked in 1967 (click to enlarge). With the bridge just visible in the far distance.
Mike recently sent me a link to this photo which is captioned 'Bridge at foot of Bunsal Incline. About 1966'. It was taken by Dickie Bird. I've tried to contact Dickie to get permission to reproduce it, but haven't been able to get a response. I'm hoping he won't object since it's on a public website. But if anyone knows him, please get in touch so I can make sure he's ok with me posting it here.
Dickie's caption reads: "The Bunsall Incline was metalled when the Errwood reservoir was constructed in the 60s and this bridge was filled in at the time. Not completely destroyed, however, its blocked up arch can still be found to the rear of the car park at the foot of the incline."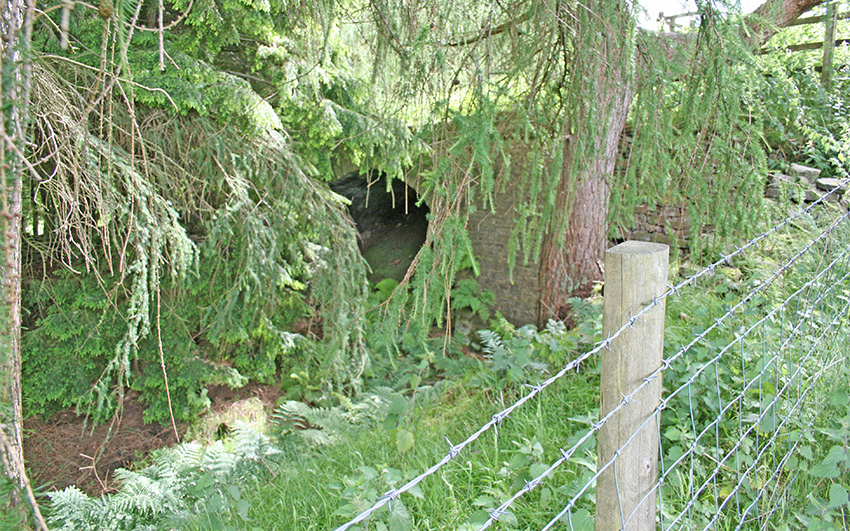 This is the best photo I can find of the bridge today, well hidden in the undergrowth (click to enlarge). It's not very good, and I'll replace it as soon as I can take a better one. It's a lot easier to spot during autumn and winter when the undergrowth is a little less dense.
To find the bridge, simply take the path signposted at the far corner of the small car park at the foot of the Bunsal Incline, and look over to your right.
The Bunsal Incline was once the longest incline on the 33-mile Cromford & High Peak Railway, which connected canals, and later main-line train stations, at Cromford and Whaley Bridge. Today it forms the main entrance into the valley from the Buxton to Whaley Bridge 'Long Hill' road.
The section running through the Goyt Valley was closed in 1892 when an easier route was opened. And the incline lay abandoned until shortly before Errwood Reservoir was completed in 1968, when it was tarmacked.
Earlier photos I've seen of the abandoned incline show it looking less wet and muddy, and easily walkable (see left). Dickie's mid '60s photo shows the effects of all the construction work around the bridge at the time it was being part-filled. And during some fairly wet weather by the look of things.

Then & now
I've circled the position of the bridge on both an 1888 map and a satellite image. Click the 'Then' and 'Now' buttons to fade between the two. Or simply drag the green slider button.
Errwood Reservoir is to the south and Fernilee to the north. It's just possible to make out the small car park at the foot of the Bunsal Incline.