Above: This attractive footpath is at around point 9 on the map below.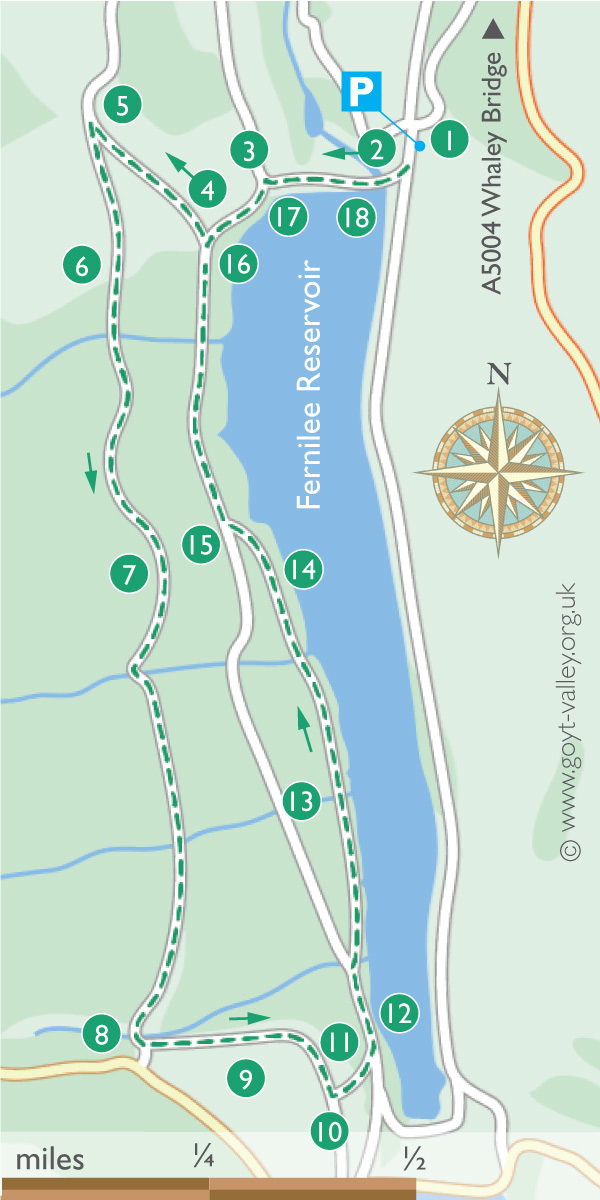 Above: The walk starts from the small carpark at the northern end of Fernilee Reservoir. (Click to enlarge.)
I've just added walk 18 to the series:
Fernilee Reservoir west bank
. It's the first to start from the small car park at the northern tip of Fernilee Reservoir.
An alternative starting point would be the main car park between the twin reservoirs; simply follow the footpath signs to Fernilee Reservoir and start at point 12 on the map.
Recorded just before a mini heat-wave in June 2017, it's a very easy 2.5 mile circular stroll around the western side of the reservoir.
After crossing the dam wall, the walk rises up a gentle slope before turning along a wide, mile-long gravel track (which is perfect for dog-walkers). Before dropping down to the reservoir and returning along the picturesque shoreline path.
Fernilee is signposted from the A5005 'Long Hill' road, about a mile south of Whaley Bridge. It's on the left if you're coming from Buxton. I haven't yet managed to check the postcode for satnavs, but I think it's SK23 7HB*.
*Please leave a comment below if you can check the Fernilee car park postcode for me.