Above: This view is taken from Goyt's Lane as it approaches the hamlet of Goyt's Bridge. The packhorse bridge spans Wildmoorestone Brook, just before it flows into the Goyt.
Goytshead Farm lies at top right, and a barn belonging to Goytbridge Farm is top left. (Goytsbridge Farmhouse is just out of the frame on the right.)
I've been spending some time updating the various photo galleries on the website. I've also added a new one; showing some 100 fairly poor quality photos that I think must have been taken in 1930 as a record of the Goyt Valley before construction work started on Fernilee Reservoir.
With the help of Chris and Alec, I've been able to caption many of them. But there are still around 30 we're struggling to identify. I've put these on this page. If you think you know whereabouts they are in the valley, please click the link on that page to send me a message.
Many of the photos are fairly indistinct views, but they do provide a unique record of the valley before it was flooded. So I think they're well worth including on the website.
Click here to view a page which includes 'then and now' fades of the valley with links to most of the places shown in the 1930 gallery.

David has been in touch to say; "I've been thoroughly fascinated by the 1930s gallery you've added. Re image 40602 – as soon as I saw it I recognised the curve of the Old Goyt's Lane in the top left. Reckon it's from Errwood Hall carpark. Click here to view. They had a slightly higher vantage point but near enough!"
As David says, the 1930 photo is taken from a higher vantage point, but it's close enough to see that the Google image is the same view. Drag the slider to compare.

Gail has discovered this press clipping from the Manchester Guardian of 19th February 1931 (click to enlarge).
I don't know whether the photos on this page are the ones mentioned in the paper.
I'd have thought they'd have been far better quality if taken by members of a photographic society.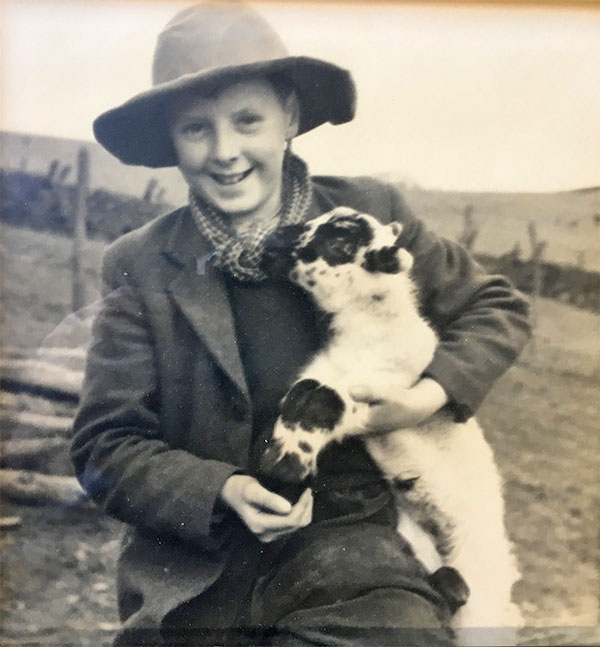 Bill pictured at Oldfield Farm in 1953.
76-year-old Bill Brocklehurst has lived and farmed in the valley for most of his life. So he knows the area like the back of his hand.
Bill got in touch to offer his help to identify all the views I couldn't caption. And to correct the many mistakes I'd made.
But even Bill failed to identify some of the images. Click here for details.