Above: The two Grimshawe sisters, Mary and Genevieve (I'm not sure which is which), pictured in the doorway of Fernilee Village Hall after they had opened it on 4th December 1926.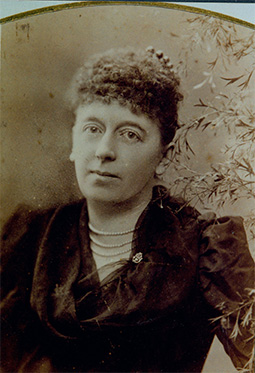 It was only a few weeks after the death of Mary Gosselin-Grimshawe (above) in 1930 that Stockport Corporation completed the compulsory purchase of the entire Errwood Estate to construct the two large reservoirs which now dominate the Goyt Valley.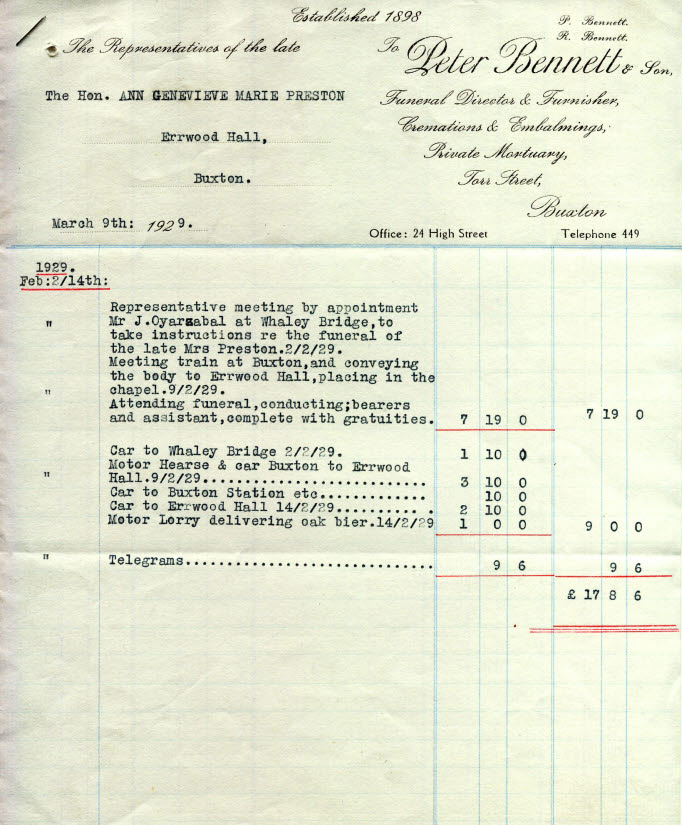 Above: The funeral director's bill for arranging the burial of Genevieve Preston (nee Grimshawe) on 2nd February 1929 came to the grand sum of £17 8s 6d (click to enlarge).
Anyone standing on the sad ruins of Errwood Hall can't help but wonder about the history of this once-magnificent country house, and the family who lived here. Construction work on the hall started some time around 1840, but it was demolished less than 100 years later – in 1934, after the last of the family had died.
She was Mary Gosselin-Grimshawe, grand-daughter of Samuel Grimshawe. He had purchased the 2010 acre Errwood Estate in 1832 for £9,520 from John William Jodrell. On his death in 1851, the estate passed to his son – also called Samuel. He died in 1883, leaving everything to his wife, Jessie. And it was on Jessie's death in 1893 that her two daughters, Mary and Genevieve, inherited the hall and surrounding lands.
Although both sisters married – Mary to Hellier Gosselin and Genevieve to Captain Preston – neither had any children. Stockport Corporation had already identified the Goyt Valley as a perfect site for the construction of two large reservoirs. So when Genevieve died in 1929, and Mary in 1930, the corporation moved quickly to compulsory purchase the entire Grimshawe estate.
Errwood Hall became a Youth Hostel for a few years but was demolished in 1934, along with 13 outlying farm houses and all the buildings within the ancient hamlet of Goyt's Bridge. It's said that the planners feared their drains would pollute the waters of the reservoirs. But I suspect it was because it was easier to demolish rather than protect them.
Unfortunately, I haven't been able to find portraits of the first Samuel Grimshawe, or his son and his wife, Jessie. And it's only recently that I've been able to identify either of the two sisters in photographs – all of which are shown on this page.
Left: The king and queen of Spain (seated) pictured with Mary and Genevieve Grimshawe in Biarritz (click to enlarge). I'd guess that Genevieve is on the left and Mary on the right.
The Grimshawes were a staunch catholic family, and had met the Spanish royal family on a number of occasions during their travels on their ocean-going yacht, The Mariquita.