Above: I think this is where the toilets once stood, not far from the small packhorse bridge that now spans the Goyt. It seems incredible that such gruesome events took place in such a tranquil spot, and within living memory.
Michael recently got in touch to ask whether I'd be interested in some papers and photos that had been passed to him following a house clearance. They cover a double murder, and one attempted murder, that took place at Goytsclough (close to where the packhorse bridge now spans the Goyt) in 1984. I'd never heard of the crimes, but a few on the GV Facebook Group remember the events. Micael explains…
Many of us walk the paths of this lovely valley, but not too long ago it had a macabre history! I joined the Magistrates Court Service in 1990, based at High Peak Court in Buxton – this was a few years after these infamous murders took place in 1984 – but the murders were already the stuff of legends!
All cases in English Courts, even murders and other serious crimes, still start in the Magistrates Court, and 95% of criminal cases are dealt with to conclusion there – very serious cases are sent to the Crown Courts to be heard.
Nowadays these are fast tracked in a week or so to the Crown Court, but until a few years ago all cases stayed with your local Magistrates Court for a long time – and alleged murderers were brought (in custody from the prison) each week before
The Justices, to authorise continued prison detention, while evidence was gathered and their cases were prepared – this was often weeks or months, so Justices and staff at Buxton Court were very much involved in dealing with the murderers. So I do know a little about the background, from "folklore" at the time – many of the people I worked with, well remember details of the case.
Some of you will remember the toilets being in place in Goytsclough Quarry (we call it Pickfords Quarry for obvious reasons, but I note at the time it was referred to, in evidence, as "Paint Mills Quarry") You can still to this day, see the base and foundations where the toilets once stood.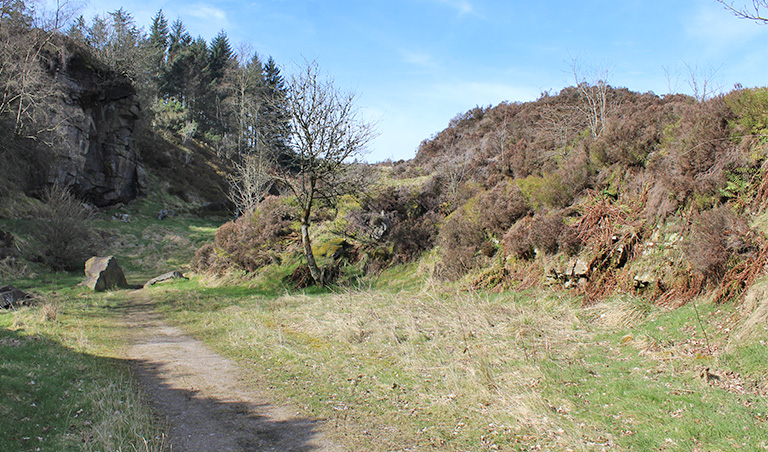 Above: I think this is where the toilets once stood. Although I couldn't find the foundations Michael describes.
It seems a group of homosexuals (illegal activity at that time of course) used to meet regularly, down in the Goyt Valley, around Goytsclough quarry toilets. I think their activities went on for a long time largely unnoticed.
I understand that a young criminal was arrested in Stockport for shoplifting – when he was being interviewed, he said something to the effect "If you drop this charge, I will tell you about something much more serious".
He then went on to tell the police about the activities at Goytsclough Quarry – and the fact that young boys had been tortured, brutally assaulted, and two had been murdered there! Of course that led the Police to The Goyt Valley and the crime scene – and eventually the bodies.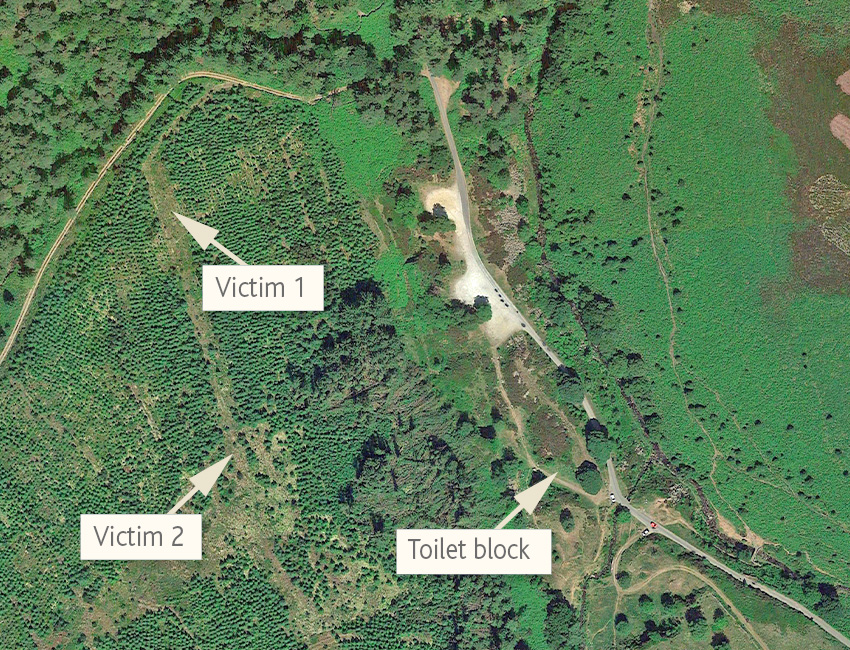 Above: The two bodies were found buried not far from where they were murdered.
The case went through Buxton Courts and eventually was committed to Manchester Crown Court – and Peter Bailey, described as the ring leader – together with three others, were given life sentences.
I do not know how, but all these papers, ended up with someone who died in Wales recently – a Buxton friend was helping clear her house, and came across an envelope with all this in – it was passed to me as they knew about my connection to the courts.
I'll publish a follow-on post with scans of Michael's papers and more information about the ring-leader, Peter Bailey.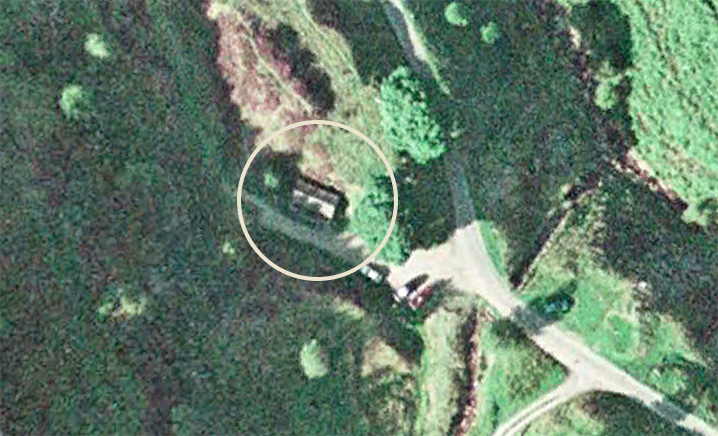 Page updates
Richard has managed to find a Google Earth satellite image taken in 1999 which clearly shows the toilets. They're a lot larger than I thought.
Click here to view a more recent post with details about the murders.