Above: The Nall family pictured at Castedge Farm Cottage. Brenda Hewitt is on the right. Brenda helped Gerald with his research when writing his 'Goyt Valley Romance'.
The Hewitts had lived in the valley for many generations. The earliest records I can find are in the 1851 census for Intake Farm.
I've often wondered what happened to all the families who were forced from their homes when Stockport Corporation compulsory purchased the Errwood Estate in 1930 to create the twin reservoirs. Many of them had farmed the land for generations.
The press clipping above is taken from the 26th March 1936 edition of the Nottingham Evening Post. Under the heading 'Final exodus from Goyt Valley' it reports that the last six families had moved out – many taking all their belongings the short distance to Whaley Bridge or Kettleshulme.
It goes on to say; 'Livestock and effects were moved in a few hours by means of heavy motor lorries and horse-drawn vehicles'. Only one farmer is said to have moved away completely, after selling all his property.
With help from Gail and Mike, I've been trying to trace these families, and the homes they once lived in. Some of the buildings now lie under the water of either Fernilee or Errwood Reservoirs. Others can only be identified by the remains of stone walls hidden under undergrowth.
It will take me a while to discover them all. As ever, any information or photos would be very much appreciated. Click here to get in touch. And click the link below to see progress so far.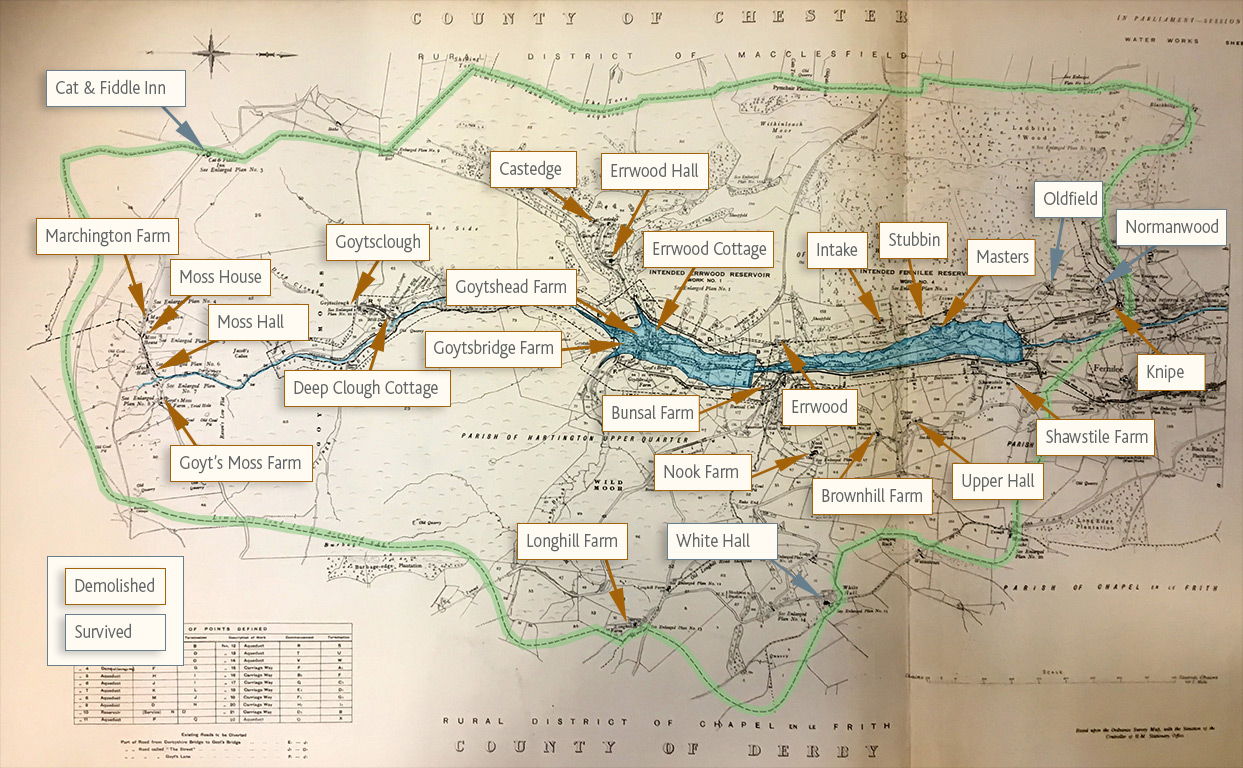 Page update: I recently found this map, published in 1930 by Stockport Corporation, in a bound volume of plans detailing the construction of the twin reservoirs (click to enlarge).
I've highlighted the boundary in green and captioned all the buildings within the estate. I had thought that around 14 houses had been demolished, but it looks like the number was closer to 20, including Errwood Hall.
A few buildings on the edge of the estate have survived, including the famous Cat & Fiddle pub on the Buxton to Macclesfield Road, as well as White Hall which is now an outward pursuits centre.