Above: Rev. Samuel Evans pictured outside Taxal Church with the newly recast bells.
He was said to have been a generous benefactor of the church and may have paid for these from his own pocket.
I was taking photos inside Taxal Church last week and came across a copy of the 1922 obituary of Rev. Samuel Evans, who had been rector of the church for some 35 years. The 87-year-old clergyman caught a chill conducting a funeral a few days earlier, which is thought to have led to his death.
The booklet was subtitled 'A Remarkable Clergyman'. And the details of Sam's life were fairly unusual, to say the least. He belonged to a wealthy Irish family, joining the army before being ordained as a priest in 1863. This would have made him 30 at the time. (Although census records seem to show he was seven years younger.)
The obituary paints a fascinating picture of the rector:
The aged Recotor's death removes from the countryside its most remarkable and picturesque figure. A man of magnificent physique and massive build, and moreover one who had had an army training. He would, even when bent with the weight of years, have attracted attention anywhere.
The obituary went on to say that Sam was:
…an Orangeman of Orangeman… Taxal under his regime was an ultra Protestant church, and nothing which he considered High Church, was allowed there no matter what the occasion might be.
He seems to have ruled his parish with a rod of iron, allowing no-one to interfere or question his word. Local families who may have preferred another clergyman to conduct a funeral service were firmly put in their place:
…if their clergyman was supposed to favour 'High Churchism', the Rector was adamant.
And the bellringers don't seem to have fared much better:
…if they did not please him he would throw them out of the belfry and ring one himself.
Sam seems to have cut a very solitary figure:
…he was never married and lived alone in the lonely rectory at Taxal Woods. For more than thirty years he would not have male or female servants residing there. Nor did he care for visitors. Sometimes, and more particularly in recent years, he conducted business through an open window.
The obituary adds:
…his manner was very brusque, which may have been due to his army training, and he had a staccato form of speech, which probably frightened children, which he never intended.
I was interested to find out more about Rev. Evans. And with Mike's help, we discovered a report headlined: 'A pugilistic parson tackles a lieutenant-colonel. The extraordinary scene in Taxal Church. The rector bound over.'
More to follow!

Page update #1:
R.S-S from the Whaley Bridge Local History Group has been in touch to say:
There is a great amount of information on our website about Sam. From collecting the new church bells at WB station, and falling out with the bell ringers so the bells remained silent for a year. He also beat Edward Hall up in the church which resulted in Edward leaving the church and building the Holy Trinity Church in Horwich End. He used to swim in a deep part of the river Goyt every morning and that place, though now silted up, is still known as Parson's Pool. I swam there as a kid.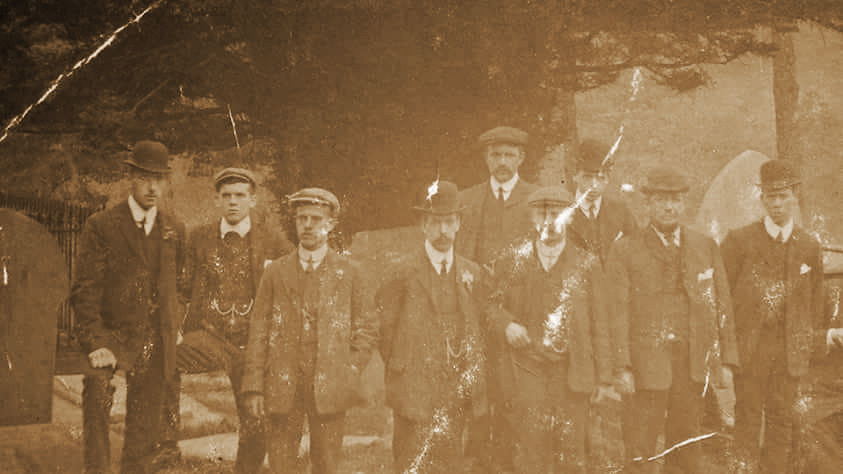 Page update #2:
Many thanks to Elizabeth from the Goyt Valley Facebook Group for sending this photo of the Taxal bell-ringers taken on the day the recast bells were interred: "My Grandad, George Morten, is at far left, and Gt. Uncle Ralph Morten is third from the right on the back row with the bowler hat."


Topic tags (click for similar posts):
Taxal