Above (From left to right): Andrew (pictured with his daughter Isla), has regularly walked the route since 2000. Esme only discovered it during the recent lockdown. But John holds the record as having walked it the longest – since 1938.
It's now a couple of months since I was contacted by the people at Plex Farm asking me to remove walk 12 on this website because it went across their private land. (See links at the bottom of the page.)
Since then I've been contacted by a number of people saying they'd been confronted – often quite aggressively – and forced to turn back. And on a walk they've been taking for many, many years. John left a typical comment under the most recent post:
I took my children for a walk along that route in February, the woman on the farm was absolutely vile towards myself and my children, screaming at us saying it was private and should not be walking along it. I've been using this walk for over 30 years, never had an issue and then on this day came over shouting at us.
A few weeks back, cow slurry was sprayed across the entrance to the route to prevent walkers using the track (see this post).
The only option we face is to accept the situation and no longer walk the path. Or apply to have it recognised as a public right of way (PRoW) on the basis that it's been walked unopposed for over 20 years. It seems that many people feel we should stand up for our rights.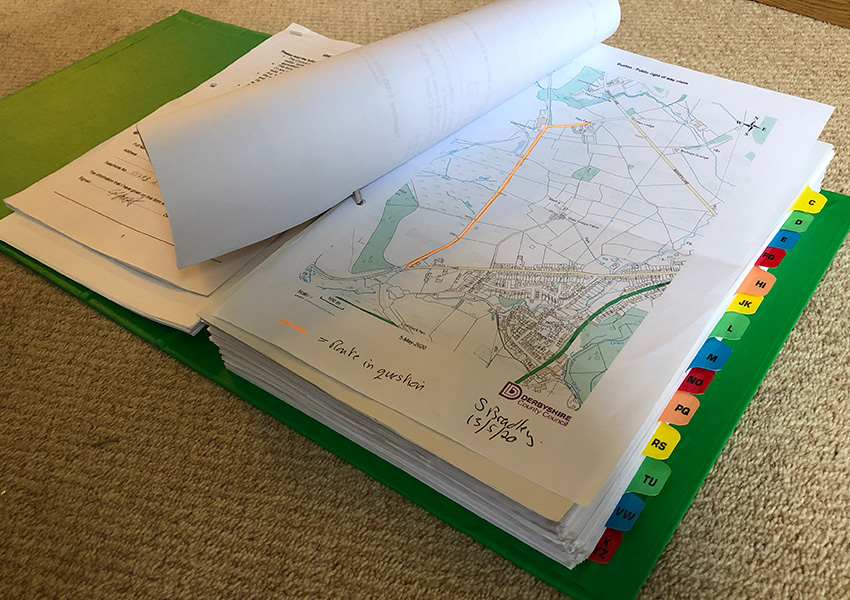 Above: A bulging folder of evidence forms.
Over 250 people offered their support for the campaign. And more than 50 have submitted evidence forms. Many from people living in Burbage, close to the route.
The next stage is to produce a document with maps, photos and other evidence, to accompany the forms. And then present it all to Derbyshire County Council.
There are quite a few similar claims in the pipeline since the government announced a nationwide deadline of 1st January 2026. So it could be a slow process. Particularly if the main land-owner, Richard Lomas (the man with his name is on all the lorries), is true to his word and fights it in the courts.
Although there is a rumour that he's considering making it a permissive footpath. But I can't get that confirmed. And I'm not sure how much difference it would make if the other land-owners – at both Tunnel and Plex Farms – don't agree.
I'll update this page if there are any further developments. In the meantime, there's still time for you to have your say by submitting an evidence form. Click here to download a copy.

Page update: Application now filed
Derbyshire CC has now filed our application to make the route a public right of way on their website (click here to view). I'm fairly confident it will succeed. But if Richard Lomas (the man with his name on all the lorries) is true to his word and fights it through the courts, it could take a long time.

Page tags (click for similar posts):
Plex PRoW