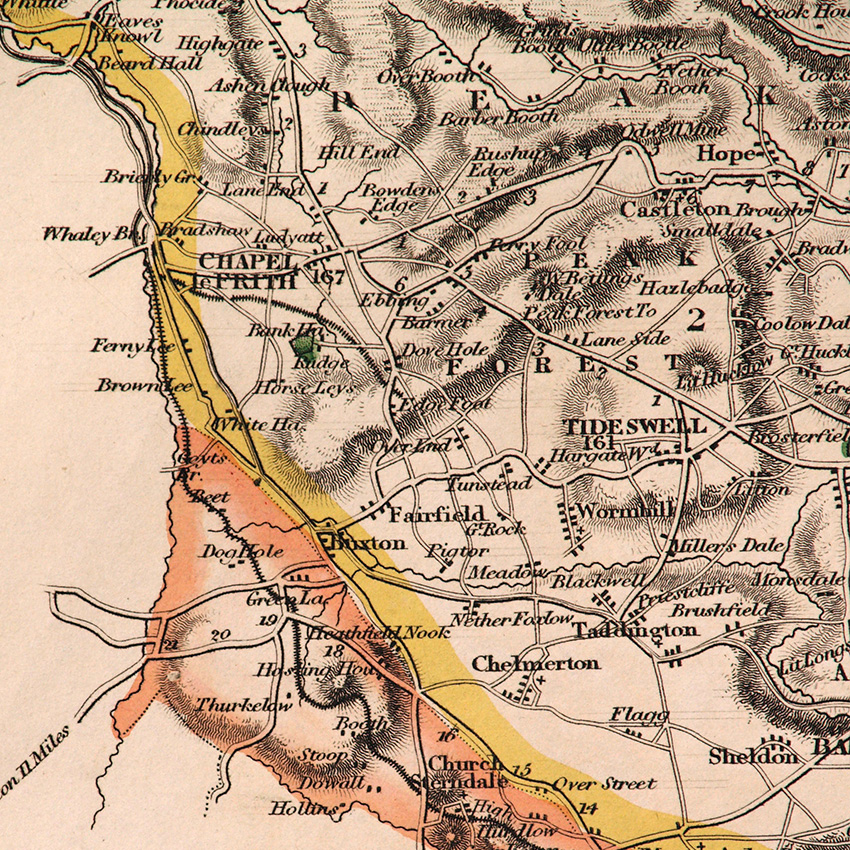 Above: Click map to enlarge.
Map courtesy of Copperplate Antique Maps. (Click to view a comprehensive stock of original antique county maps.)
T.L. Murray (1830)
By Kevin Welch of Copperplate Antique Maps.
In 1830 Murray published 'An Atlas of the English Counties'. Although his maps are of good size, they tend to show less topographical information than some others of similar dimensions (e.g. Rowe/Teesdale or Ebden/Duncan).
Nevertheless the Derbyshire map is interesting as it's probably the first to show the line of the 'High Peak Rail Road' running along the valley from Whaley Bridge to Goyt's Bridge, and continuing to Cromford, with canal connections at both ends.
The railway was not completed until 1832, and opened in stages, but was under construction at the time this map was drawn. It was not unknown, however, for map-makers to include proposed new railways on their maps even before they had received Parliamentary approval. Sometimes the cartographers were left with egg on their faces when schemes did not proceed, but not on this occasion.
The justification for the railway was commercial rather than passenger traffic, and at first the carriages would have been pulled by horsepower along more level sections, with stationary engines being used to haul the carriages up the severe inclines. Locomotive (i.e.moving) engines came later.
The map image shown is from the first, 1830 edition of Murray's atlas.