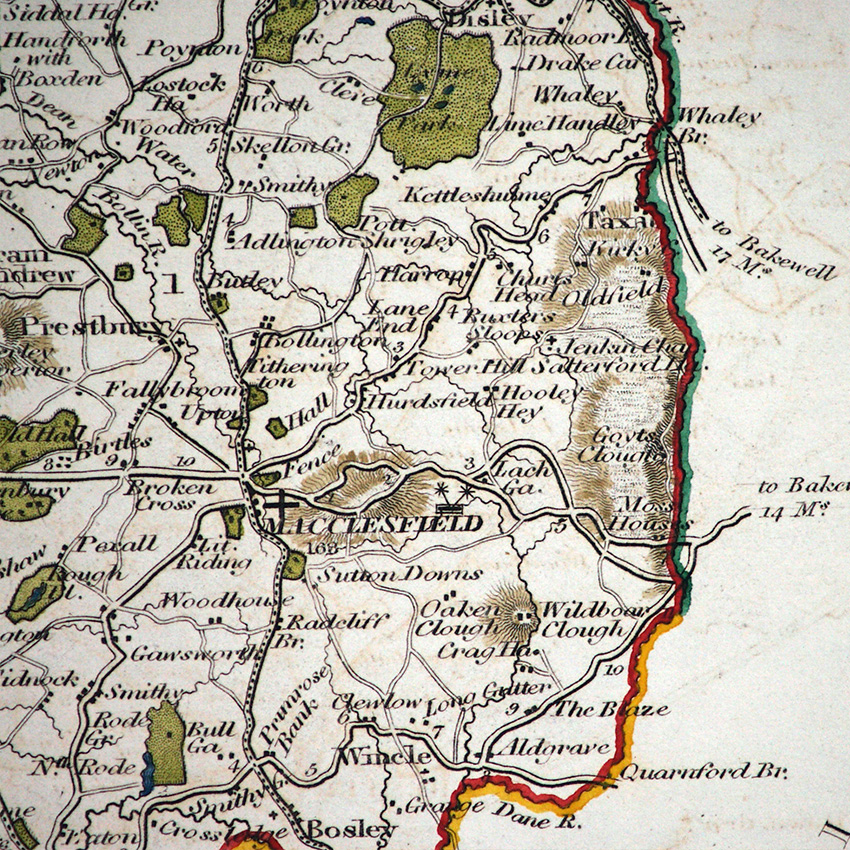 Above: Click map to enlarge.
Maps courtesy of Copperplate Antique Maps. (Click to view a comprehensive stock of original antique county maps.)
Above: First issued between 1824-8, this image is copied from W Ebden and J Duncans' 'A Complete County Atlas of England and Wales'.
William Ebden (1824-28)
By Kevin Welch of Copperplate Antique Maps.
Between 1824 and 1828 William Ebden engraved a set of English county maps. They were large enough to show good local detail, and probably only sold as single sheets, rather than collected in an atlas. These first issues bearing Ebden's own imprint are quite rare, suggesting they were not a commercial success.
The printing plates were soon afterwards acquired by James Duncan, who made some amendments to the maps and published them in 1833 in a thematic atlas: 'A New Atlas of England and Wales'. These included changes to electoral representation brought about by the 1832 Reform Act.
The Cheshire maps is interesting in that it shows for the first time the minor road from Jenkin Chapel to Goyts Bridge now continuing upstream along the west (Cheshire) bank of the river, to join the main Macclesfield to Buxton road at Moss Houses.
It doesn't, however, name Goyts Bridge – probably because most of the buildings were on the Derbyshire side of the Goyt – but it does mark and name Goyts Clough, possibly for the first time on a map.
This image is taken from an 1837 edition of the map as issued by Duncan, but the topography of the area shown would have been identical in the map's first edition.