Goyt's Bridge has always been an important crossing point. During roman times, travellers and traders passed though here on their way to and from the popular nearby settlement of Aquae Arnemetia, or Buxton as we know it today. The name means 'The waters of the goddess of the grove', and reflects the importance they placed on the pure waters which sprang up at several wells within the town.
The roman road ran northwest from Buxton for a few miles before dividing into two. The western section dropped down into the Goyt Valley along what is today the main access route. And then along the track known as 'Old Goyt's Lane'. This led to a crossing point over the River Goyt and Wildmoorestone Brook which now lies under Errwood Reservoir. And it was here that the hamlet of Goyt's Bridge eventually formed.
Once over the Goyt, the road headed up the other side of the valley, past Pym Chair and on towards Rainow. It's shown on modern maps at 'The Street' and passes beside the main car park. But when the Romans left Britain, all roads fell into disrepair. And it would be more than 1200 years before anything much was done to improve them.
The packhorse trains
Throughout history, many people lived, worked and died within a day's walk from where they were born – perhaps 30 miles at most. But there were some essential supplies that had to be transported across country. These included coal to power the blacksmiths' forges, and salt to keep the meat fresh. Without these, an already harsh life could become impossible to survive.
The only way of transporting these goods along narrow, muddy and uneven country tracks was by horse. Teams of up to 40 sturdy packhorses, each carrying up to 240lbs and travelling some 30 miles a day, transported everything from salt and coal to stone and cloth. But even small rivers could prove a serious hazard for these packhorse teams. Which is why packhorse bridges were so important.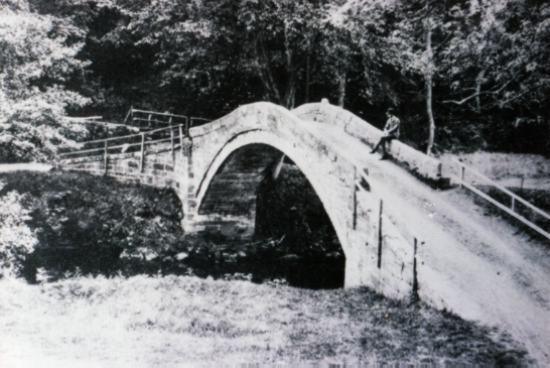 Above: The packhorse bridge at Taxal was dismantled after being seriously damaged in a flood. It spanned the Goyt alongside the ford, and was replaced by a small wooden footbridge. (Photo courtesy of Whaley Bridge Local History website.)
There were at least three packhorse bridges across this part of the River Goyt. As well as the one at Goyt's Bridge, there was another a few miles further south at Goyts Moss. And another further north at Taxal (above). (The other bridge in Goyt's Bridge – Errwood Bridge – was built some time later, and made wide enough for horse-drawn carriages and carts.)
Many of the packhorse trains crossing the Goyt bridges carried salt from the Cheshire brine springs. They would have travelled through Macclesfield and Rainow, following the old roman road to Buxton and beyond. These routes were known as 'saltways'. And many of the names along the way reflected this connection.
The village of Saltersford was close to Jenkin Chapel. And Saltersford Hall is nearby. It was on these tracks that John Turner lost his life in a snow storm as he led his packhorse team home in 1735 (click for details).
For anyone interested in the history of these ancient tracks, there's lots of information on the Whaley Bridge Local History website.