Above: Janette thinks Joseph may be the baby sat on his mother's lap, alongside his father Ignatius, and his elder brother and sister.
The recently discovered photo on the left shows him in his Sunday best. I'd guess the book is the bible. You can see the resemblance between father and son.
Many thanks to Janette for sending me a couple of photos of Joseph Oyarzabel, the son of Ignatius, who was Samuel Grimshawe's butler. The family lived at Gatehouse Cottage, beside the entrance drive to Errwood Hall.
Gerald Hancock mentions Ignatius in his Goyt Valley Romance book:
…the Oyarzabals lived at the 'Gatehouse & Gardener's Cottage', which had a huge greenhouse at the back with a large vegetable garden, most of which would have supplied the Hall.

Ignatius Oyarzabal, the head of the family, came from Spain. His was an adventurous story, for he came to Errwood in 1871 as a young lad abroad the 'Marquita', the Grimshaw's private yacht. The family in that year had holidayed in the Mediterranean, visiting Italy and Spain.

He repaid Samuel Grimshaw's kindness by working hard, and rose to the rank of butler, while his wife Bridgett, who had worked at the Hall, ran the school which was not far from the rear of their cottage. Their second son, Joseph carried on family tradition and became estate manager.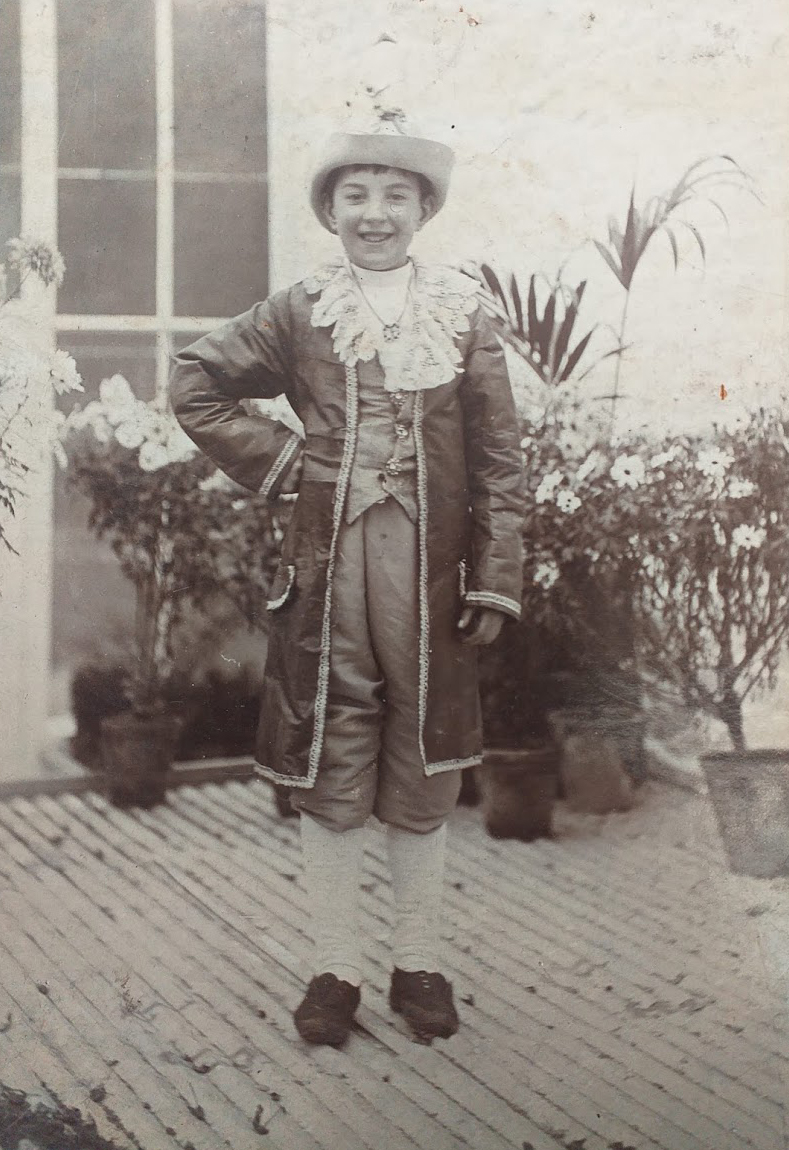 Above: Janette's second photo of Joseph looks as though it was taken at a similar time, but perhaps during a fancy dress party (click to enlarge).
Janette's mother went to school with Joseph's two sons, Vincent and Anthony. She gave the photos to Janette, along with an original copy of the Errwood Hall auction catalogue. Janette explained:
"Joseph died in 1960, aged 73. So the photo of him as a baby would have been taken around 1887. He had a brother and sister, but I don't know their names. If anyone has an Ancestry subscription, any descendants should be discoverable. But there are a few different spellings of their surname."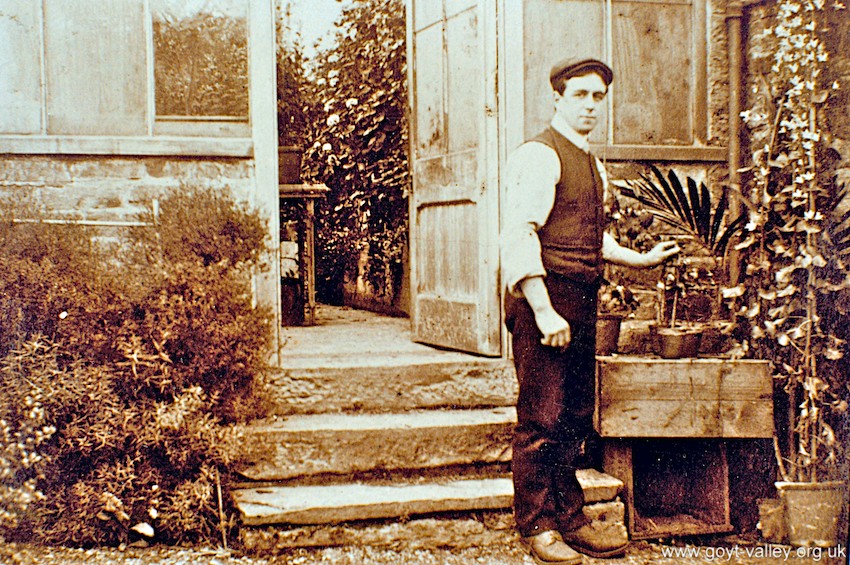 Above: This photo appears in Gerald's 'Goyt Valley Romance' and is captioned "Joseph Oyarzabel. He became Estate Manager, pictured in 1909". There was a large greenhouse at Errwood Cottage, so the photo may well have been taken there.
Confusing census
There's an 1851 census return for Errwood Cottage at the bottom of this page which lists Ignatius and Bridget, together with two sons, Francis and Joseph. Both sons are described as 'Gunpowder works labourer', but unfortunately – and unusually – it doesn't give their ages.
It maybe that the census records aren't correct, or I copied them over incorrectly, because if Joseph was at working age in 1851, he can't be the same Joseph who died in 1960. Or perhaps Janette's mother may not be right in thinking the baby in the photo at the top of the page was Joseph.
And just to muddy the waters even further, I think the older boy on the left of the family portrait looks very similar to Janette's two new photos. But perhaps that's confusing things too far!
I'd guess that the photo taken outside the greenhouse in 1909 shows Joseph in his early 20s. This would mean he was born around 1890. Which ties in with Janette's suggested date of 1887.
So it's a very confusing picture, which is why it would be great if someone with an interest in genealogy, and a subscription to Ancestry, could do some research and hopefully discover the facts. If anyone can help, please leave a comment below, or get in touch using the contact page.


Janette has managed to find the Ignatius family on a census record dated 1901 (above – click to enlarge). This confirms that the 1851 census date was wrong (I've now corrected it). And also that the couple had three sons and no daughters – Francis (16), Joseph (14) and Ignatius (8). Which just goes to show how a simple mistake over a census date can completely throw the amateur off track!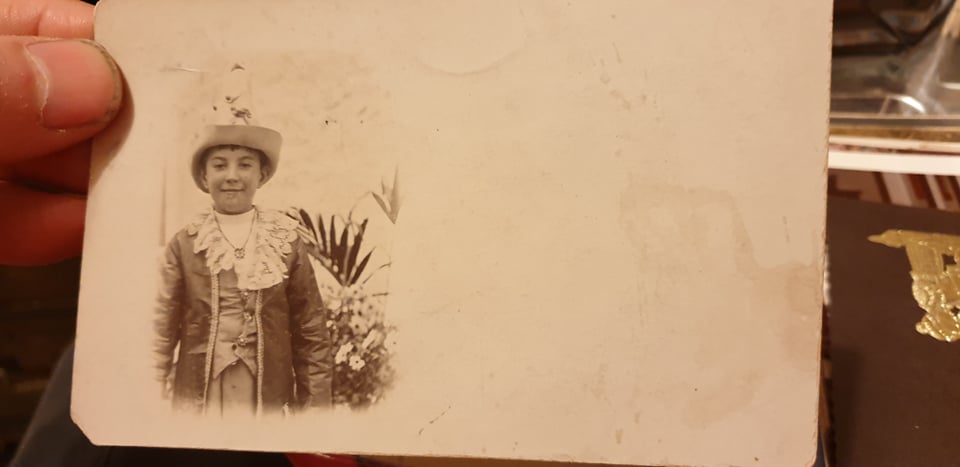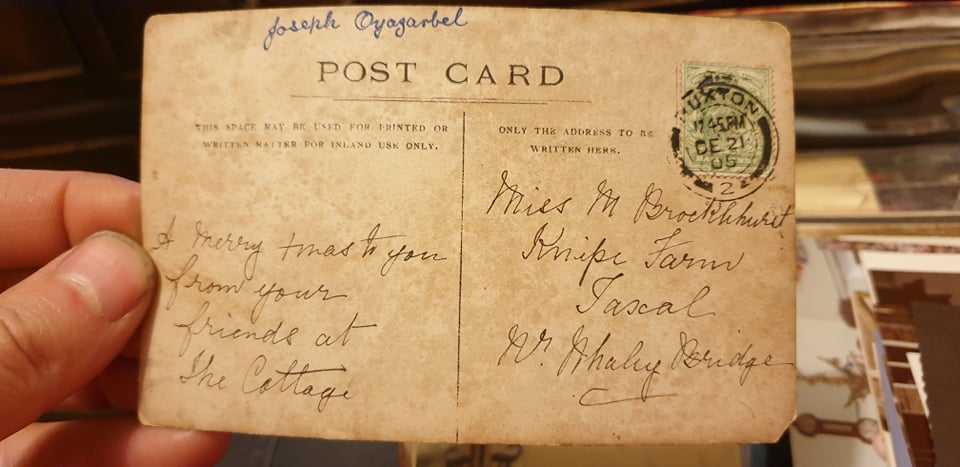 Above: The postcard of Ignatius in fancy dress dated 1905 (click to enlarge). The reverse incorrectly stated that he was Joseph, which is how the confusion arose.
Janette also explained:
The census record reveals that the family photo (when the baby would have been about a year old) was taken in 1893/4. Francis is on the left, age 8 (born 1885), Joseph is the child on the right, age 6 (born 1887) and Ignatius is the baby. It's a case of mistaken identity on the photos previously labelled Joseph.

"The photo of the boy in fancy dress was on a postcard dated 1905. So by deduction, I think he must have been the youngest son – Ignatius, age 12. He emigrated to Canada in 1911 and changed his name to Joseph Bell. He died aged 65 in 1958.

"This ties in with your photo of Joseph in the greenhouse in 1909. He would then have been 22. Confusion arises with the names: Joseph's full name was Ignatius Joseph, and the youngest was Ignatius William."