Above: This scenic spot now lies under the waters of Errwood Reservoir. But it once drew visitors from far and wide.
I came across this wonderful image during my search for the Stonyway Turnpike map at Matlock Public Record Office (see previous post). It's a fairly large print – around 12 x 8 inches – and mounted on card. I'm sure that at one time it would have been framed to hang on a wall.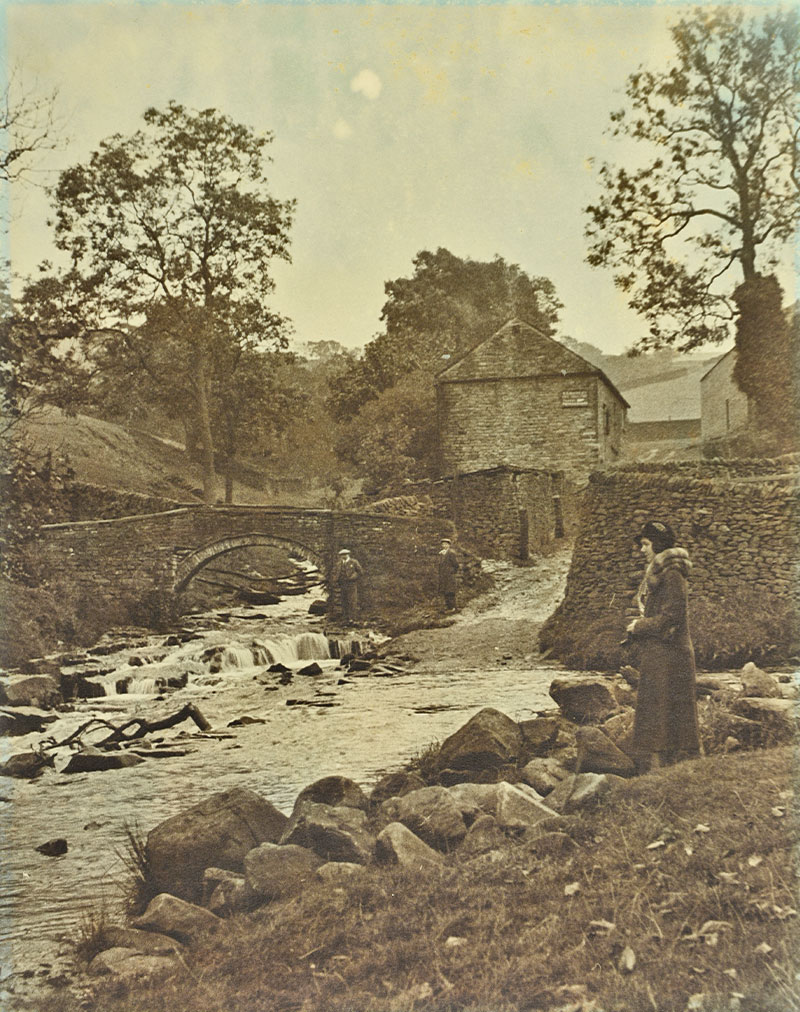 This view of Goyt's Bridge was popular with artists and photographers, as well as visitors (click to enlarge). But the quality and composition stand out from most of the others I've seen. From their dress, I'd guess it was taken sometime in the early 1920s. Perhaps even earlier.
It seems to tell an intriguing story, inviting the viewer to imagine what the lady is thinking as she stares into the waters of the River Goyt. Watched by two men standing beside the old packhorse bridge on the other side of the river. Presumably one is her husband and the other their son. But why are they standing apart?
The majority of families at this time would have had friends and relatives killed, badly injured or missing during the First World War. Perhaps she stands in this picturesque and peaceful spot remembering a lost loved-one.
The scene
Wildmoorstone Brook flows under the bridge, to join the River Goyt which comes in from the right. The level of both is high, and it wouldn't have been easy to cross the stepping stones, which have all but vanished beneath the water.
The only way for the family to get back together would have been to use the main bridge, which was behind where the photographer was standing. The men would have had to cross the packhorse bridge and turn left along the road to reach the same bridge.
More views
There are more fine views of Goyt's Bridge in Corrie's collection of postcards. And a map on this page highlights the main places of interest within the lost hamlet.