Above: It will be interesting to see how quickly the landscape recovers. I'm just hoping the Forestry Commission don't replant the fir trees.
It's great to see that the footpath along the western shore of Fernilee has finally reopened, some four months after it closed for the felling of large swathes of fir trees. (Click for details.)
The footpath was very muddy when I went today, and it all looked a bit of a disaster area. But I think it will make a great improvement once the undergrowth has recovered. It's opened up some wonderful views across both sides of the valley, and should allow the more attractive deciduous trees to flourish.
In a previous post Alex, a professional tree surgeon, said the trees were being felled because of an outbreak of the disease phytofra. And explained that it was unlikely that the area would be replanted with more firs. Which I think is good news as very little grows in their shadow.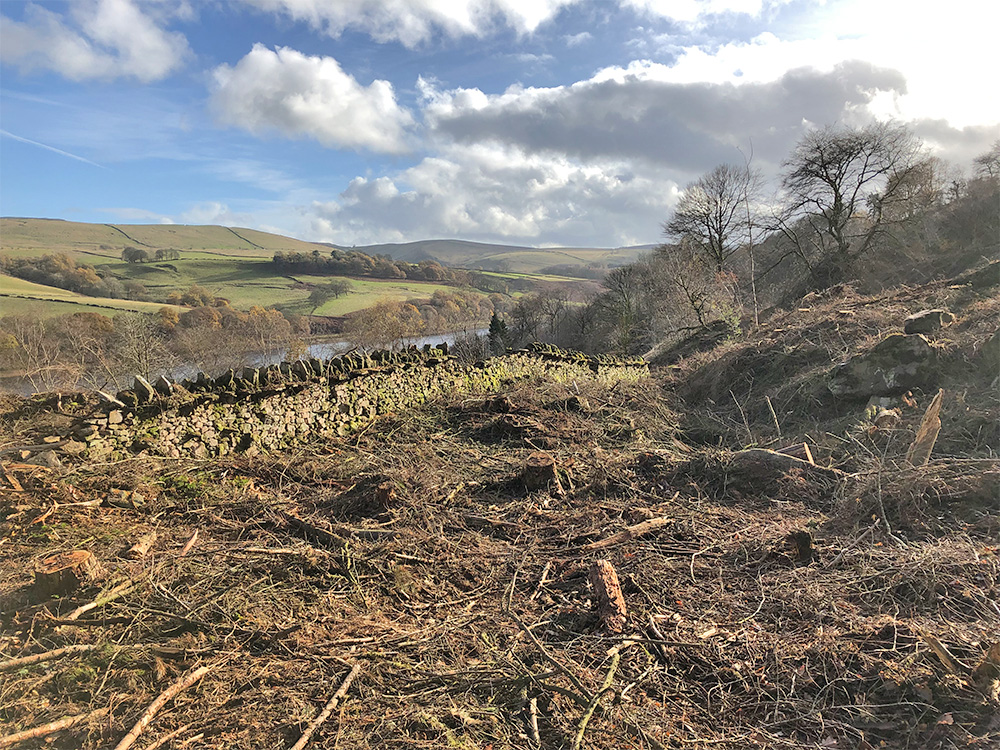 The tree-felling has revealed a lot of features that have been hidden for many years. I spotted this line of capped stone-walling near the old workings of Issue Tor Quarry and went up to take a closer look (click to enlarge).
The circle on the fade below shows the position of the wall on an old map. Clicking the 'Now' button reveals how well it was hidden beneath the dense canopy of fir trees.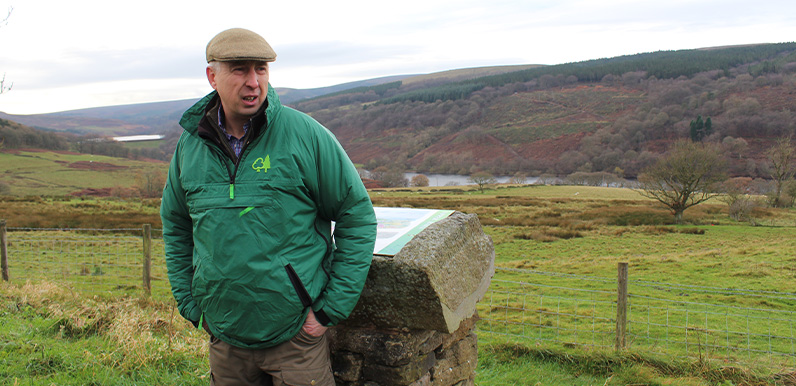 Page update: 23/11/20
Andy Powers (above) and Richard Topley from the Forestry Commission were kind enough to meet me and explain their plans after the recent felling of so many trees in the valley due to the outbreak of the disease phytofra. It seems my hopes that they wouldn't replant yet more firs were misplaced.
Replanting is due to start next year, although they do say there will be a wider mix of varieties, including Douglas fir, Western and Japanese cedar, and some spruce.
Andy added that although they'd cleared around 40 hectares, there's still another 50-60 hectares due to be felled next year, around Errwood. He also said they'll be clearing even more of the rhododendron. Which as regular visitors to this website will know, I think is a great pity.